Publication Update: I have seen and approved the cover for Twentieth Century Drifter: The Life of Marty Robbins. As soon as copyright issues are settled, I'll post it for all to admire. I think you will be as pleased with it as I am.  I also approved the back matter for the paperback release of Live Fast, Love Hard: The Faron Young Story. My editor says, "We are now targeting a February pub date for Twentieth Century Drifter to coincide with the paperback release of Live Fast, Love Hard."
BIRTHDAY OF MARTY ROBBINS
If Martin David Robinson were alive today, he would have celebrated his 86th birthday on Monday, 26 September. He would also have held in his arms his one-day-old great-granddaughter, Brooklynn Grace Bachmann. The new mom, Courtney Robinson Bachmann, wrote on Facebook, "I was scheduled to be induced so I was excited for her to share Grandpa Marty's birthday, but she decided to come a day sooner on her own." Proud grandparents are Ronny and Cathy Robinson.
LETTERS
Michael McCall writes from the Country Music Hall of Fame® and Museum, "Someone may have passed along information on the Cherokee Cowboys by now. I was late getting a chance to read your newsletter. I talked to Ray Price about this in interviews we did for our museum exhibit on Ray back in 2006 and for the final cover story in the Journal of Country Music. According to Ray, he combined the names of the Drifting Cowboys and the Western Cherokees, a Texas band that had backed Ray and Lefty Frizzell in Texas. Once Ray decided he had to change bands to get away from his comparisons to Hank Williams, he recruited some members of the Cherokees to join him. When Ray had an Opry appearance with his new band, George D. Hay asked him the name of his band. Ray said they didn't have one. Hay said he better come up with one quick, they were going on in ten minutes. On the spot, Ray thought of combining the names of his old band with the name of the band in which some of his new musicians had played. So as he was about to go on, he told Hay the band's name was the Cherokee Cowboys. It has been said in some places that Ray chose the name because he was born in Cherokee County, Texas. But that wasn't true. He was born in Wood County."
Ken Johnson adds, "According to author Rich Kienzle in the Bear Family Ray Price CD box set, the creation of Ray's Cherokee Cowboys band dates back to 1954. Hank Williams' Drifting Cowboys band provided backup for Ray until early 1954 when the departure of several key band members and financial difficulties forced the dissolution of that group. In August 1954 Ray and his manager Hal Smith hired a group that had formerly been touring with Lefty Frizzell, The Western Cherokees. The Cherokee Cowboys name was created by merging the names of both bands. . . . Tommy Hill was an inaugural member of the newly-named band that also provided Ray's musical nickname."
Jon Philibert writes from the U.K, "First, a big thank you for including Janet's inquiry into the newsletter. Also please tell Jean Earle that I have just reviewed the Frank Jennings album for Country Music People and gave it a pretty positive review. I had been thinking of emailing you about it as there are a couple of Faron's hit reworked on it, namely 'Three Days' and 'You'll Drive Me Back Into Her Arms Again' and yes, his vocal style is reminiscent of Faron's."
Anna Jane Grossman, sister of Leila Grossman of Grannis Photography in Nashville, sends this note: Leila underwent surgery for breast cancer in August. She had a double mastectomy. She is doing well. Leila is a self-employed single mother of two small girls and has been juggling a lot during this time. I have been working to try to help organize her friends, family and work colleagues to get through this time financially. Specifically, we're hoping to raise enough money so that she can have as much time as possible to recover without stressing about her business finances. Leila, who has hardly taken a week off since she purchased Grannis Photography in 1997, normally works seven days a week. She is going to be recouping in bed for some time to come. . . . She recently started selling prints from her collection of original vintage images of Nashville taken by Bob Grannis in the mid 1900s. If you'd like to support her by purchasing one of these fine prints, you'll certainly be getting something very special in return. You can see the images at http://grannisphotographyproofs.com/vintage."
Betty Smith in Toledo, Ohio, says, "So good to see and hear about Faron's band members. Known them all for many many years wayyyyyy back. They all was like family to me, my husband Chuck and our daughter Cindy. And Faron well he will forever be family, Spent a lot of time and years with him. The memories of going to his home, and taking him bowling, going to tv show tapings and so many more will forever be Precious Memories. Love and miss him every day. Never be another like him. Can't wait for your book on Marty to come out. Good luck and looking forward to your book release."
Terry Counts writes from White Bluff, Tennessee, "Great to see those nifty pics…Dave Hall is/was a great buddy of mine, when he had offices next door with Roger Ball….what a couple of characters!!!! I remember when Dave was driving for the Kendalls, also."
Carolyn Babin says, "What a sweet picture of you and Faron. I never knew Dave Hall. You sure were a cute little thing!!! Thanks once again for sending these news letters. I look forward to reading them."
Noel Clarke writes from Australia, "Just read your latest edition of the newsletter great to hear the Marty book is nearing release I'll be looking for it. Diane I'd like you to listen to the best tribute I've ever heard about the great Marty Robbins, was written & recorded by a very easy to listen to Jim Reynolds titled 'Marty Remembered'. Jim wrote this on his way home from a gig after hearing the news of Marty's passing whilst sitting in the back of a mini bus. Jim was kind enough to allow me to use it as background for Helen's Website www.martyrobbins.250x.com. Congratulations on your monthly newsletter."
Diane Jordan remembers, "When I was searching for a cosmetic surgeon to 'bob' my nose in 1970, I settled on Dr. Greer Ricketson for one reason:  I had heard he was the gifted surgeon who had reattached Faron's tongue after his auto accident. During the surgery, I was awake and talking, and high on drugs, I might add. I said, 'I hear you sewed Faron's tongue back on; did you make him talk any cleaner?'  Dr. Ricketson laughed and diplomatically replied, 'Faron is quite a guy.'  That, he was!"
SIDEMAN SIDEBAR
Skip Jackson played steel guitar for Faron Young for the first half of the decade of the '70s, after which he became a professional photographer. During the 2000 Country Deputy reunion, Skip told the group, "For each one of sitting here, it was an opportunity. You were raised, I was raised, every one of us were pups when he got ahold of us. We experienced everything we did, boys, cuz we loved that man. All that stuff we're talking about, we liked it, or hell we wouldn't be there." Skip recalled the "Tell it like it is" segment of Faron's shows at the end of the Vietnam era: "It was all off the top of his head. We would play 'Just a Closer Walk With Thee' or something, as background for his speech. Every night it was different. Every night you're sittin' there, you can't hardly play, listening to what he's saying. He is entertaining you as much as he is them. You didn't know what was gonna happen. It was just as exciting for every one of us."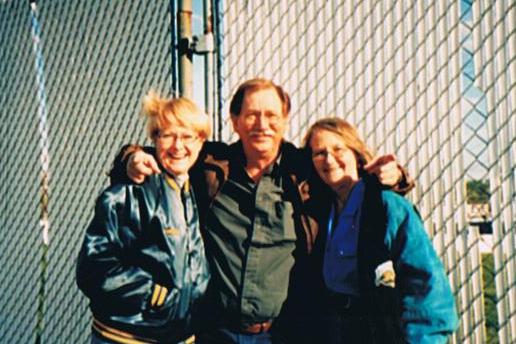 Kayo Paver, Skip Jackson, Diane Diekman at the Fairgrounds Speedway 4/7/2007