FAREWELL TO RAY EMMETT
Ray Emmett died in Nashville on June 2, 2013, at the age of 75.  He had been ill for quite awhile. Ray fronted Faron Young's Country Deputies band and played electric bass from 1973-1980 and from 1988 until the end. He also sang harmony on Faron's records. Ray hosted one of my Country Deputy reunions in his log cabin home and helped me track down several of the Deputies. He also put together the band when Darrell McCall hosted the Country Deputy Reunion on the Ernest Tubb Midnite Jamboree the night we celebrated the release of Live Fast, Love Hard: The Faron Young Story. Ray had a solo career for awhile in the 1980s, and that might be when I saw him at the Nashville Palace. I don't remember the year, just that I didn't introduce myself because I didn't think someone famous would talk to me. Ray and Renee lived at the end of the road in the Goodlettsville forest in a large log cabin built from historic wood. His funeral is being handled by Cole & Garrett Funeral Home in Goodlettsville, with visitation this evening 6-8 PM. Services will be tomorrow afternoon at St. Joseph Arimathea Episcopal Church in Hendersonville, with burial at Forest Lawn Cemetery in Goodlettsville. I wish I could be in Nashville this week.
Faron Young, Ray Emmett, Richard Bass at the Wagon Wheel Ballroom in Oklahoma City in 1977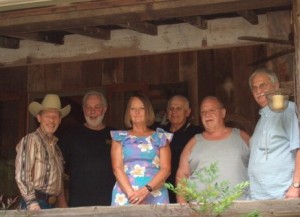 Kenny Sears, Ray Emmett, Diane Diekman, Jerry Merhar, Richard Bass, Cootie Hunley at Ray's house in 2005
Darrell McCall, Ray Emmett, and Cootie Hunley on the Midnite Jamboree in 2007
LETTERS
Terry Counts writes, "Congratulations and big fat hugs!!! I suspect that in the years to follow, your books and li'l ole you will be one of the most widely known and respected writers in the genre!!!! I have started on my book and gawd it's hard to sit down and do it!" About Ray Emmett, she says, "He was a very good friend of mine for 40 years and I loved the heck out of the rascal. I will miss him very much."
Gideon Smith writes from Pretoria, South Africa, "Thanks a lot for making contact with me, and for adding my e-mail address to your Newsletter recipient list. It was such a pleasure meeting you in Nashville. I greatly enjoyed reading your books and will make very sure that the signed notelets you gave me go straight into my copies. I have about 275 books on country music, and scores of magazines. I know the number of books in that section of my library as it's the only component that's catalogued. The rest of my collection of about 15,000 titles is 99% on plants, so yes, I am addicted to books and have been collecting them for a long time. Congrats on the award you received for the Marty Robbins book. Richly deserved!"
Response: How amazing was that for someone from South Dakota to walk into a Nashville store and meet someone from South Africa who owns her books! If the Opry Originals Gift Shop on Lower Broad hadn't had Twentieth Century Drifter on the shelf, we would never have met.
Terry Ruud in Dilworth, Minnesota, says, "Nicely done, Diane! You deserve this, especially after all the work and time you have put into this! Congratulations!"
Bev Anderson says, "Congratulations, Diane, You have done some amazing work!! Thank you for keeping our country music alive."
Ralph and Carol Larson in San Antonio, Texas, send this note: "What a pleasant surprise and congratulations to read of you recently receiving the Belmont Book Award. Carol and I were in Mooresville, NC and saw Marty Robbins #42 Chevrolet Monte Carlo. Thank you very much for your informative newsletter as I learn something every time I read it."
David A. Cole says, "Congratulations on your award!  Now I know someone famous!"
Ray Starr writes, "First of all, I want to compliment you on Faron Young's book. I'm glad NIS recorded this book for the Blind. I'd sure like to see the Marty Robins book recorded so I could enjoy reading this book too. Have you considered reading the book and recording an audio edition? What suggestions do you have so an audio edition of Marty Robins book is produced? Keep up the good work writing on Country music legends."
Steve Clark says, "I would like to add my congratulations for the Belmont award, ole Marty would be proud."
Dominique "Imperial" ANGLARES writes from France, "Thanks for all these great pictures of you and for the newsletter. I appreciate much to have in print my farewell and Maurice Bowers' word to Carol Blair. She was a sweet Lady I am glad to know she got friends all 'round that world. Here is a picture showing her and Faron in 1959. They now reunited in the peace of the Lord for an everlasting rest."
Alan Potter in Great Britain says, "Congratulations for your award. I wish you'd write on Wynn Stewart, one of the greatest ever country stylists. For pure country second only to George Jones. He was influential in the Bakersfield sound & in the careers of people like Merle Haggard,Buck Owens, Moe Bandy, etc."
Cowboy Joe Babcock writes from Nashville, "Congratulations on your book being named 'Book of the Year.'  I've thoroughly enjoyed it myself."
Joan Fitzberger says, "I wanted so much to let you know how much I enjoyed the book you wrote about Faron Young.  He was my all-time favorite and I followed his music from the beginning.  I have read many articles about him and I want to know a couple things….the color of his eyes and his height. Also Faron was my age.
Frank Jennings in Great Britain writes, "Congratulations on your award. Thank you for continuing to send the newsletter, which I read thoroughly and save in my Faron folder. You know you couldn't have chosen two better people than Faron – my inspiration and Marty. I asked Faron once who was his favourite performer – I'd just told Faron he was mine – he said Marty Robbins. I asked him why and he said because he was such a good entertainer and versatile singer. I was thrilled skinny because Marty was my second favourite. Do keep up the good work and my best to you of course."
Don Powell says, "Congratulations on the 2012 book of the year award. I know you put a great, great deal of work and time into it. The books you have written on Marty and Faron are really great. I have both of them. So glad Phyllis and I were able to add something to them."
And a note from Bill Anderson: "Just saw some pictures of you accepting your award at Belmont. Congratulations….and very much deserved!!"
Summer Reading
The University of Illinois Press is offering Twentieth Century Drifter:The Life of Marty Robbins as an e-book for $2.99 for the month of June. Here's the link: http://e2.ma/webview/y94fg/a2556a8c5e0335b6e51f25bdc04291d0