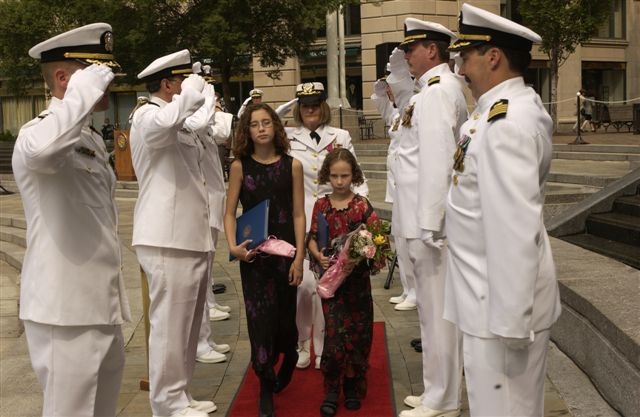 CAPT Diane Diekman, USN — August 18, 2004
Almost 32 years ago I enlisted in the Navy–and wondered if signing away four years of my life was the right decision. But by the time I graduated from boot camp, I knew I'd be a lifer. At my sister's Navy retirement ceremony in 1991, she said she'd always have a Navy contact because Diane would be in the Navy forever. Well, Kayo, forever has arrived.
I welcome all of you to today's ceremony here at the Navy Memorial in downtown Washington DC. I'm honored you took the time to attend, and I'm especially honored by the presence of one of my leadership heroes, James Webb. Thank you, Mr. Webb, for agreeing to speak today.
Thank you, Admiral Church, for hosting the ceremony, and welcome to Ms. Loftus.
Chaplain Gary Clore and I were stationed together in Japan six years ago. When I started planning this ceremony, and learned he had orders to the Naval Academy, I called to ask if he'd be arriving from San Diego in time to participate. Thank you, Gary, for fitting me into your schedule.
I dedicate this ceremony to the memory of my younger brother, Kenneth Diekman, who died one year ago today of an aneurysm. He had been a second lieutenant in the South Dakota Army National Guard until hepatitis destroyed his health.
This is where I planned to say how happy I am that my little brother, Sergeant Ronald Diekman, came from Iraq for my retirement. His South Dakota National Guard unit has been deployed to Iraq since January. On Sunday morning Ron began his journey home. After hours of bus travel and waiting, his flight left the Kuwaiti airport Monday evening on the way to Dallas. But the plane immediately returned to the airport because the landing gear wouldn't retract. So Ron waited another day and I'm not sure where he is right now.
Our family has Army men and Navy women. Dad was in the Army during World War Two. Mom was a World War Two WAVE, and my sister, Kayo (Lorraine Paver), is a retired Navy senior chief. Don't they look great in their uniforms?
Kayo's sons, Casey and Kellen, are here today. And you've already met my daughters, Amanda and April. My older brother, Keith, is home on the farm in South Dakota, and we lost Dad to Alzheimer's disease last September. That's my family.
In 1991 I was a department head at Naval Air Station Jacksonville. I'd volunteered to organize the annual POW/MIA ceremony and needed a guest speaker. One day at a Moving Wall display, I saw someone who looked like a possible candidate, and I introduced myself. Carl Creamer had been a prisoner of the Japanese during World War Two, and he agreed to speak at the ceremony. We've been friends ever since. Carl and his son Roger, both retired Navy chiefs, drove from Florida for today's ceremony.
To encourage my sailors in Jacksonville to exercise, I invited them to run with me on Tuesday mornings. Rick Robison, now a retired senior chief, ran the six miles with me more frequently than anyone else. He and his wife, Kim, are here from Pennsylvania today.
The Navy friend I've known longer than anyone else is retired Captain John Paron. We were classmates in aircraft maintenance officer school in 1978 and stayed in touch over the years. He's one of the first who encouraged me to become a writer. Welcome, John and Carolyn.
I'd like to welcome all my coworkers from the Naval Inspector General staff, my fellow maintenance officers, former shipmates, and the people from our church and school. Debbie and France Moeller were my neighbors when I lived on the other side of town–in Springfield, Virginia. John Hauser helped me find my current house in Upper Marlboro, built in 1897 by the grandfather of Reg and Marge Traband, who are also here today.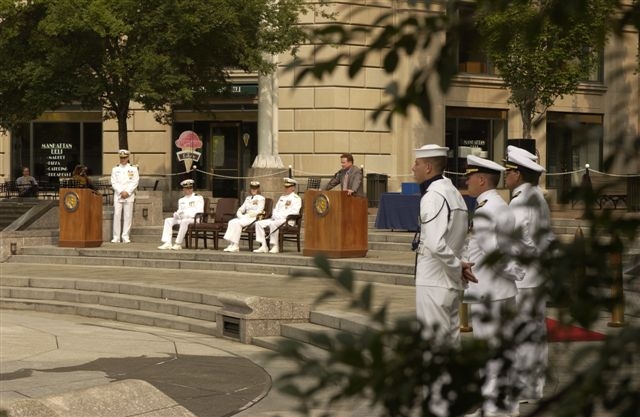 I enlisted in the Navy instead of starting with a commission because the women's officer program had no openings in 1972. One of my proudest moments was graduating from basic training with three green stripes on my sleeve, in contrast to the one black stripe my classmates wore. The green denoted aviation, and my college degree qualified me for the E-3 pay grade. To commemorate that occasion, Airman Stables is serving as one of my sideboys. The other sideboys are Navy IG coworkers and fellow AMDOs, and I thank you for being with me today.
My sister Kayo and I both chose aviation ratings, as had our mother before us. Those two worked with aircraft logbooks, and I became an aviation storekeeper–an AK. My goal when I joined the Navy was to make second class petty officer in two years. And I succeeded–Kayo and I both made second class off the same advancement exam. But by then I had already been selected for officer candidate school.
When I was commissioned in May 1975, my base pay doubled–from $500 to $1000 a month. It didn't take long to get used to the extra money. The first thing I did was buy my first new car–a red 1975 Pontiac LeMans.
My initial duty assignment as an officer was at a joint service organization, with Army LTC Langley Chavis in command. I'm going to send him a copy of this speech so he knows how important a role he played in making me a leader.
As an ensign, I had numerous collateral duties and I did them willingly–except for the job of race relations officer, which included giving quarterly training sessions to the command. The idea of speaking to a roomful of people terrified me, and I let my sergeants conduct the sessions. I told myself it was good experience for them.
Then one day LTC Chavis's secretary handed me a sealed envelope. The letter inside began with glowing comments about my performance, before going on to say I was failing in one area. I was shirking my responsibility as race relations officer by pushing the job onto my subordinates. LTC Chavis expected me to prepare and present the next session by myself, and he would record the outcome in my fitness report.
That experience taught me two valuable lessons. Being forced into public speaking made me realize I could do it, after all. I also learned how to counsel and discipline subordinates. I've used LTC Chavis's technique many times throughout my career, starting with that same command. I gave an Army staff sergeant a letter that explained what he was doing right, what he was doing wrong, what he needed to do to improve, and a deadline. He could either succeed or be fired. Not everyone is cut out to be a supervisor, and his office ran more smoothly after I demoted him.
I wanted to help all my subordinates do a better job. That ranged from correcting them to getting rid of their non-performing coworkers. I always gave a warning and a chance to improve. Once I suggested to a boss that he express his dissatisfaction with a certain lieutenant. My boss said, "He'll know I'm dissatisfied when I call him in and fire him."
That isn't my style of leadership. Every now and then I receive an e-mail that begins, "You probably don't remember me, but…." The writer goes on to explain when we worked together and how I helped that person's career or set a positive example. There's no greater reward than comments such as that.
Over the years I've heard people say, "the Navy made me drink," or "the Navy made me a smoker," or "the Navy made me cuss." I say, what the Navy made me was a speaker, a writer, and a leader.
My final assignment at the Navy IG is a special study on commanding officers. Having been a student of leadership for 30 years, I can't think of a better way to wrap up my Navy career than offering recommendations to improve command leadership.
Retirement speeches are supposed to contain advice, so I'll summarize my leadership philosophy in three words: example, integrity, dependability.
Leaders, like parents, are always role models. They have the choice of being good role models or poor ones, but they can't get away from being examples to follow.
Integrity cannot be compromised. I know of two captains who pressured their subordinates to lie for them or suffer career damage. In the first case, the subordinates acquiesced. When the captain got fired and punished, guess who went with him? In the second case, the subordinate refused to lie for his boss. The captain got fired, but the person with integrity continued his upward career path.
I know many people who keep their word, but my two favorite examples of dependability are Jim Webb and Ron Diekman. When they say "maybe," it's almost a yes. Those two stand out as people who follow through on their commitments.
That's enough lecturing. Let me tell you the two things I disliked about the Navy–urinalysis screens and physical readiness tests (PRTs).
I looked forward to turning 25 because–back then–only those under 25 were monitored for drug use. The year I turned 25, the Navy changed the rules and removed the age limit for urinalyses.
I looked forward to turning 50 because the PRT was optional for those over 50. I planned to end with my record of 22 consecutive outstanding PRT scores and never take the test again. The year I turned 50, the Navy changed the rules and removed the age limit for the PRT.
Whatever my age, I'll maintain a young attitude. I believe in staying physically fit, keeping a positive outlook on life, and looking to the future instead of the past. At age 40 I ran my first 40-mile ultramarathon. That was before I'd run any 26-mile marathons. At age 50, I became a mother when April and Amanda dropped into my life and I adopted them. Who knows what will happen when I'm 60? Maybe I'll get married.
For the time being, I plan to finish writing the biography of country music singer Faron Young, and then I want to start a series of nonfiction books on special operations warriors, written for teenage boys. I don't know whether we'll stay in Upper Marlboro or whether we'll decide next summer to take advantage of that last Navy move. After all, I'm used to finding a new home every three years. You'll see me around the office the next two weeks, writing the report for our special study.
Before closing, I want to acknowledge LCDR Vera Parker, who served as coordinator for this ceremony. She put several months of effort into getting ready for today. Our color guard is from the Dahlgren Division of the Sea Cadet Corps at the Washington Navy Yard.
Thanks also to CAPT Chuck Key, the master of ceremonies, to Petty Officer Ramone Jefferson for his assistance, to Petty Officer Sullivan for the National Anthem, and to the ushers and other participants. A special thanks to Ezell and the Navy Memorial for the arrangements and the use of this superb facility.
I will now read my orders.
Welcome and introductions by Vice Admiral Tom Church, Naval Inspector General, at the retirement ceremony for CAPT Diane Diekman, USN — 18 August 2004

Let me take the opportunity to welcome you all today to this wonderful time-honored retirement ceremony where we recognize the service of Captain Diane Diekman in nearly 32 years of service to her country. I think there's a saying I've heard over the years that goes something like this: Is this a great Navy day, or what? At least it is so far. This is a Navy Memorial–we didn't have this 15 years ago. It's a living memorial to all the sea services, and a heritage center inside. I hope those of you that are visiting will get a chance to see that. It's a wonderful location for what we consider a fitting closure to a unique and wonderful career.

Before I introduce our guest speaker, I'd like to recognize a few special guests. First of all, I want to extend a welcome to Diane's mother, Mildred. She's joined us from Clear Lake, South Dakota. She's a veteran of World War II, where she was a WAVE. I haven't seen this uniform in years. Mildred, would you stand up so we can all thank you for joining us? During the war, Mrs. Diekman served as an aircraft mechanic and later as a logbook yeoman at NAS Hutchinson, Kansas. Maybe this explains Diane's early interest in aviation maintenance.

I'd like also to recognize Diane's daughters, April, 11, and Amanda, 8. Lorraine, Diane's sister, and her two sons, Casey and Kellen. Diane's brother, Ron Diekman, a sergeant in the South Dakota National Guard, hoped to be here today, on leave from Iraq, but was delayed by mechanical issues with his flight. Diane assured me that was not a Navy aircraft.

Diane's also asked me to introduce one other special guest, Aviation Ordnanceman Chief Petty Officer Carl Creamer, United States Navy retired. Chief Petty Officer Creamer is another representative of the Greatest Generation, having served in World War II, having survived internment in a prisoner-of-war camp. Chief, I met you earlier and–why don't you stand, and let us recognize you, too? I know Diane's especially honored that you and your son were able to make the trip up here today.

Diane's biography is in your program, so I'm just going to hit a few highlights of significance. Captain Diekman graduated from Augustana College in Sioux Falls, South Dakota. In 1972 she enlisted in the Navy. She served for two and a half years as a sailor, and I think she'll tell you that the two and a half years formed a lot of her perspective on her later service as a naval officer. She earned her commission through Officer Candidate School in '75. She served all over the world, predominantly in aviation maintenance assignments, including AIMD tours in Guam and Jacksonville, Florida. She served on major staffs, and she served in command for three years.

She joined our staff in November 2002, where she's been a stalwart performer. Her impressive contributions to the Naval IG, to naval aviation, to the AMDO community will be formally recognized in a few minutes.

To Diane's mother, Mildred, I want you to know how much we appreciate you sending your daughter our way. And to Diane's daughters, April and Amanda, you are now going to get to enjoy your mother on a near-full-time basis, as Diane plans to stay at home and spend more time doing things she wants to do, primarily–I think–be a freelance writer.

For those of you that don't know–and I'm one of them–Diane's a published author. You always learn something at these retirement ceremonies, and sure enough, that's true again. She's written two books, A Farm In the Hidewood: My South Dakota Home, and Navy Greenshirt: A Leader Made, Not Born. It recounts her leadership development in the AMDO community. I had an opportunity to look these over last night. We talked about Guam earlier, and I started reading the part about AIMD Agana. I remember–that was a long time ago. That was pre-first-BRAC round. But I stopped short–I was looking at the index, and I came upon one of these chapters–here it is, Chapter Seven. The title is "Pilots, Planes, and Parties." I decided I'd stop right there and not read any further. Diane'll have to tell you about that later. Anyway, if you happen to be browsing on Amazon.com later this afternoon, here you go.

Our guest speaker today is the former Secretary of the Navy, the Honorable James H. Webb. Jr. Secretary Webb shares in common with Diane that they've both written about–and lived–leadership. James Webb writes about leadership through a different form. Whether its Midshipman First Class Fogerty, in Sense Of Honor, Red Lesczynski in A Country Such As This, or LT Hodges in Fields Of Fire, the characters in Mr. Webb's novels are leaders that impress themselves indelibly in the minds of his readers. Mr. Webb knows whereof he writes and speaks. A 1968 Naval Academy graduate, renowned for his success in the brigade boxing championships, Mr. Webb served as a combat Marine in Vietnam, where he was awarded the nation's second highest award for gallantry in combat, the Navy Cross, as well as the Silver Star, two Bronze Stars and two Purple Hearts. After leaving the Marine Corps in 1972, Mr. Webb attended Georgetown University Law School and pursued a career in the law and in writing. Mr. Webb has continued service to his country after leaving active duty. From 1984 to 1987 he served as the first Assistant Secretary of Defense for Reserve Affairs. From 1987 to 1988 he served as the Secretary of the Navy, the first Naval Academy graduate to serve in that capacity.

Mr. Webb has written six best-selling novels. He speaks and writes extensively on military and security affairs. We are indeed honored to have him here today as our speaker, to honor Diane's many years of dedicated service. Ladies and gentlemen, please join me in welcoming the Honorable Secretary James Webb.