CORN PALACE CONCERT REVIEW
Jeannie Seely, Johnny Lee, and Mickey Gilley performed in concert two weeks ago at the Corn Palace in Mitchell, South Dakota. It was most enjoyable to hear all that familiar classic country music. Jeannie opened the show with an energetic "My Window Faces the South" and followed with "Leaving and Saying Goodbye." I'd been hoping to hear that one, and Jeannie said she wrote it for a good friend of hers, Faron Young. There was never a dull moment in her show. Jokes reminiscent of Minnie Pearl were interspersed with the songs. "Some of the stuff I tell you is actually true," Jeannie said. "But don't depend on it." She reminded us that next year will be her fiftieth anniversary as a member of the Grand Ole Opry, and then she sang a senior citizen parody of "Are You Lonesome Tonight."
Johnny Lee's 5-piece band (lead guitar, steel, drums, bass, keyboard) backed Jeannie, with a great sound and the proper balance between voice and music. She sang for us the song she'd chosen for the Charlie Daniels Volunteer Jam, where she was concerned about the image she'd be portraying. "I didn't want to walk out there and look like some sweet little old lady," she said. "I'm not sweet." So she sang a song she'd written years earlier, called "Who Needs You, Honey." It included a verse about smoking a joint. "Don't Touch Me," which won her a Grammy fifty years ago, wrapped up her 40-minute set.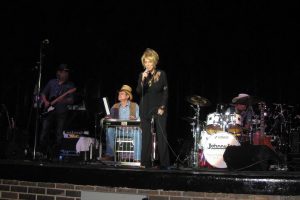 Jeannie Seely
Jeannie gave Johnny Lee a rousing introduction before leaving the stage. The songs were good, although his pace was slow and his jokes outdated. He did have some good lines: "When I get home, I'm gonna do some mechanical work on my recliner. I'm gonna put a rear end in it."
My favorite of his songs was "The Yellow Rose of Texas," where he was joined by Stephanie Hall, a Mickey Gilley backup singer with a great voice. Johnny's first new CD in ten years will be coming out this fall, and he debuted the title song for us: "You Ain't Never Been To Texas." He said, "I'm singing it for the first time tonight, in South Dakota." His 65-minute set ended with "Lookin' For Love (In All the Wrong Places)."
Johnny Lee
After a break to change bands, Jeannie gave Mickey Gilley a glowing introduction. But no Mickey appeared, until after a five-minute video of his life and career. It felt weird to be watching a person talking in a video, knowing the real person was standing backstage. When Mickey did appear, he described how he'd been helping a friend move in 2009, when he stepped out of the house carrying a sofa and fell backwards into a flower bed. He woke up paralyzed from the neck down. "My hands have not returned to play the keyboard," he said. He also hasn't played golf in seven years, but he will this summer. And he hopes to play keyboard again after that. His band had two keyboard players, along with rhythm guitar, lead guitar, drums, bass, and steel. His two excellent backup singers were Stephanie Hall (who sang earlier with Johnny Lee) and Penny Cardin, former member of the group Dave & Sugar.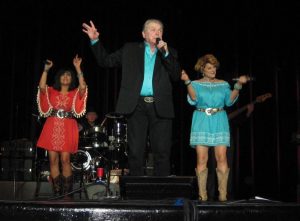 Stephanie Hall, Mickey Gilley, Penny Cardin
Mickey talked about his two famous cousins, how he used to try to be like Jerry Lee Lewis, and how Jimmy Swaggart made more money than he and Jerry Lee together. He jokingly described Jimmy's philosophy as, "I'm going to throw all this money up to the Lord. Whatever the Lord don't need will come back down."
I enjoyed the history and the stories in Mickey's 1½-hour show, although I wanted to see more today than yesteryear. At one point, he said, "Are you ready for the '80s? We've finished the '70s." By 1981, I was thinking about my 70-mile drive back to Sioux Falls. It didn't help that the man sitting behind me coughed at the back of my head the entire set. I hoped he was covering his mouth.
Johnny joined Mickey on stage for a duet to close out the show. Mickey Gilley, Johnny Lee, and Jeannie Seely all still sound good and have strong voices. In my opinion, Jeannie was THE ENTERTAINER of the evening. She didn't have to tell us how good she'd once been, and she didn't have to post old photos to remind us she'd been beautiful. She only needed to be on the stage in front of us, and we could see she still is.
NEWS
"I Drive Your Truck" has a special meaning to Ginger Gilbert, widow of Major Troy Gilbert, who was killed when his F-16C Fighting Falcon crashed in Iraq in 2006. The Lee Brice song made her remember her late husband's old truck and wish she could find it. Last year she told Lee his hit song meant a lot to her because her husband was forced to sell his 1992 Chevy Silverado 1500 before his final deployment. According to countryrebel.com, her story gave the singer an idea. Lee joined with the Folds of Honor Foundation to find the truck and restore it. On Memorial Day, they returned it to Ginger and her five children, ten years after the major's death.
A new movie, filmed in 2013 shortly before Randy Travis had his stroke, will be released on Netflix and DVD June 15. The Price stars Randy as a country music legend on his deathbed. He meets a son he didn't know he had, an aspiring country singer played by James Dupré from The Voice. Mary Davis Travis, Randy's real-life wife, plays the old flame who is the mother.
Lily's Driftwood Bay, a British pre-school animation show about a little girl who creates imaginary worlds, will have Dolly Parton as a guest next year. The special double length episode, "The Salty Chicken," will feature Dolly as the voice of Noleen, a famous singing chicken whose luxury yacht gets beached on Driftwood Bay during a storm. Dolly says in her press release, "I've never played a chicken before but I have been known to lay a few eggs."
Larry Cordle, writer of songs such as "Highway 40 Blues" and "Murder on Music Row," has been diagnosed with chronic lymphatic leukemia, a cancer that prevents the body from producing sufficient red blood cells. Bluegrass Today reports that he "anticipates being able to work his full schedule while undergoing treatment, and asks that everyone pray for him as he fights back."
Travis Campbell, son of Glen Campbell, contacted The Daily Banner for assistance in getting a tabloid to stop publishing untrue stories such as: "Devastating News From The Campbell Family Reveals That This Could Be Glen's Last Week." He wants people to know Glen is okay and still residing in a Nashville memory care facility. Thanks to Tennessee's new Campbell-Falk Law, all members of his family can now visit him.
The ashes of Guy Clark will be incorporated into a sculpture by Texas songwriter Terry Allen, in accordance with Guy's wishes. He died May 17 in a Nashville nursing home, at 74, after a long battle with lymphoma, heart disease, diabetes, bladder cancer, and other health issues. His biographer, Tamara Saviano, described the two-day wake that started in Nashville and ended in Santa Fe where his ashes were delivered to Terry Allen. Saving Country Music reports, "Numerous country music personalities and songwriters who were close friends of Clark attended the cross-country remembrance."
After Billy Joe Shaver, 76, canceled tour dates in May and June, the death rumors began. But, Saving Country Music reports, "he is still alive, despite currently residing in the hospital where he is recovering from an ongoing illness."
LETTERS
Rick Belsher in Edmonton, Alberta, Canada, writes, "I am always amazed at the number of country stars and celebrities, and their families, that write in to the newsletter, and give their news, and comments, and appreciate the interaction in the newsletter. I always think that they are too big, or important, or don't have, or want to take the time. But after all, they are just people like the rest of us. Eat, sleep, go to the bathroom, have houses, families, and problems, get sick, old, and die. Must be nice to just be ordinary down-to-earth person. Another reason I love traditional country music."
Tom Barton in Dallas says, "I met Johnny Seay years ago when he was driving a steam locomotive and still have his business card. We have written back and forth over the years, and I am so sorry to hear the news of his death."
Orlo Bjerk requests, "Please put me on your e-mail list."
Sharon Conkling asks, "Could I please be added to your newsletter email list? I received the newsletter from someone else and love it."
Joanie Brooking writes, "I just received your email and read it from top to bottom. You have some great information in it. Imagine my surprise at seeing my name following Bob Everhart's! I enjoy writing songs along with singing the older Real Country Music. I need to figure out the next step to get some published."
Al Townley says, "Thanks for all the info and your hard work. I really enjoy all the news. "
Patty Walley writes, "Enjoy all you write about. I have some pictures of the last show Merle Haggard did at State Line. What a show although he did look like he was sick but still did a great show. One of the greatest."
Robert Parker wonders, "I have inherited a bunch of albums, one of which is Faron Young, entitled Most Requested by Faron Young. It was produced by Faron Young Record Company and on the cover it has STEREO 001 and a pic of himself. It is also autographed on the back cover, 'To Peg – Faron Young.' I have looked as best I could, and I cannot find even a mention of this album, anywhere. Might you have any ideas about this?"
Diane: It's probably one of the albums recorded for the band to sell at concerts. They did a bunch of them, usually with serial numbers such as FYD 005 or DFYS 001. Peg would have bought it at one of his shows and had him autograph it. That's my guess, anyway.
Bob Hamburg, from my Navy days, writes from California, "I still get and enjoy reading your newsletter. I've learned a lot about the singers and songwriters through your newsletter. Still traveling though my health is starting to curtail that somewhat. The old office is still going strong though a lot of people have retired. Take care and keep writing."
SONG OF THE WEEK
In 1959 Mickey Gilley wrote and recorded "Ooh Wee Baby," trying to sound like cousin Jerry Lee Lewis. A half century later, he received a phone call from Yoplait Yogurt in Ireland, asking for permission to use the song in a commercial. He didn't know any copies still existed. For the three years they used his recording, they paid him $55,000. "Not a bad return on a $200 investment," he told us at the Corn Palace. He didn't say how they found the song, but I discovered the probable answer on YouTube, from a 1972 collector's edition of The Mickey Gilley Story published in the Netherlands. This is the Yoplait Yogurt commercial.
MEMORIAL DAY 2016
Here is the Memorial Day speech I gave this year. I was amazed to open the next day's newspaper and find our small-town ceremony had been profiled.