NEWS 
Chips Moman (1937-2016)
Lincoln Wayne "Chips" Moman, 79, died June 13 in his hometown of LaGrange, Georgia. He co-wrote "Luckenbach, Texas" and "The Wurlitzer Prize" (Waylon Jennings), "Hey Won't You Play Another Somebody Done Somebody Wrong Song" (B.J. Thomas), and "Do Right Woman, Do Right Man" (Barbara Mandrell). He produced recordings for the Highwaymen, Willie Nelson, Tammy Wynette and Ronnie Milsap. He also produced the Elvis Presley hits of "Suspicious Minds," "In the Ghetto," and "Kentucky Rain."
Country Radio Seminar (CRS) will present Randy Travis with its 2016 Artist Career Achievement Award, during its Country Radio Hall Of Fame Dinner and Awards Ceremony next Wednesday in Nashville. The award honors an individual "who has made a significant contribution to the development and promotion of Country music and Country radio," according to All Access Music Group.
"A couple of years ago my memory just started going," Kris Kristofferson said in 2013. "They tell me it's from all the football and boxing and the concussions that I got." He has now been diagnosed as suffering from untreated Lyme Disease, publicist Tamara Saviano said on the Halli Casser-Jayne Show. The Daily Banner quotes a Columbia University Medical Center statement that Lyme Disease includes problems with short-term memory, name or word retrieval, and slower speed of thinking. Patients typically describe having "brain fog."
Here is Randy Travis in his first music video appearance since his 2013 stroke: https://youtu.be/aARJb1qeg-4. Shane Owens is singing "Country Never Goes Out of Style."
During a private ceremony in Nashville, Tennessee, Dolly Parton and Carl Dean renewed their vows to celebrate their golden wedding anniversary. They will auction the photos to the highest bidder to benefit children's charities. They will also release an exclusive interview–a first for Carl–in which Dolly asks him questions submitted by fans. "I'm dragging him kicking and screaming into the next 50 years," Dolly said in a press release. "The only way I was able to get Carl to do any of this in the first place was that it was a great opportunity for us to raise money for some very worthy causes." On Hallmark Channel's Home & Family show, Dolly showed the gorgeous lacy gown she wore the second time around. "I wanted a big beautiful dress that I didn't get to have before," she said. "So this is actually my wedding dress. We got married, well, re-married, a few days ago. And my husband hates pictures, so I didn't bring any pictures. And I told him, 'You're worse than my first husband,' which was him!"
Jeffrey Allen Lynn, eldest grandson of Loretta Lynn, died unexpectedly on June 6. He was the son of Jack Benny Lynn, who drowned in 1984. Jeffrey, 47, lived and worked on Loretta's ranch in Hurricane Mills, Tennessee. Loretta's Facebook page reports he is survived by three children.
David Allan Coe, 76, was sentenced Monday in Cincinnati federal court to three years' probation, after pleading guilty to tax evasion and failing to pay $466,000 in back taxes, interest and penalties. He was ordered to pay the IRS more than $980,000. Calling him "a convicted felon," the New York Post quotes federal prosecutors as saying he "played more than 100 concerts a year between 2008 and 2013, but asked to be paid in cash to avoid paying Uncle Sam."
Saskatoon, Saskatchewan, recently saw the return of Garth Brooks after a 20-year absence. The Regina Leader-Post reports his 1996 concert set a record with a crowd of 14,605. The Thursday night concert of his current world tour was estimated at 15,400. And that was only the first of six shows scheduled. An estimated total of 92,000 fans is expected during the week.
A Washington Post reporter, Neely Tucker, recently wrote a feature article about trying to find Bobbie Gentry. He had talked to biographer Tara Murtha, author of 2015's Ode to Billie Joe, who "knew where Gentry now lives but had not printed it. She never spoke to Gentry but said she had sent letters through intermediaries that were never answered." Tucker found Bobby's location in a computer database and confirmed it with real estate agents. He writes, "Bobbie Gentry lives about a two-hour drive from the site of the Tallahatchie Bridge that made her so famous, in a gated community, in a very nice house that cost about $1.5 million. [It is] an 8,000-square-foot house with a great pool." He called the number, introduced himself, and asked for her. After a pause, the woman said, "There's no one here by that name," and she hung up.
The 1964 Plymouth Belvedere once owned and raced by Marty Robbins will be auctioned for charity in Indianapolis this weekend. Ray Evernham meticulously restored the car in 2013. He preserved as much of its originality as possible. The names and numbers were painted on the car by Ken Binkley, the same sign painter who had painted them for Marty. Evernham has now decided to offer the car to another collector, Hemmings Daily reports, "with proceeds from the sale going to the Evernham Family's Racing for a Reason Foundation in support of The Autism Society of North Carolina. Motostalgia predicts a selling price for the Plymouth between $80,000 and $100,000."

LETTERS
Jeannie Seely writes from Nashville, "It was a zoo getting ready for CMA Musicfest. Thank you so much for this wonderful review. I finally had a chance to sit and read your complete newsletter this morning with my coffee…. I always enjoy it. Your speech was written very well (of course) and I'm sure your delivery was. You brought out some points that would make anyone stop and think…and appreciate what the day really means. Bill Anderson called me aside last night at the Opry to comment on your review of my show….and I thank you again."
Carrie Moore-Reed of Third Coast Talent says, "Jeannie Seely shared your review with me regarding her show in Mitchell, SD. I just wanted to thank you for sharing this with your subscribers. After working with Jeannie for 20 years, I always knew she was the ultimate entertainer. Thank you for letting your readers know, too. You are appreciated."
Dominique Anglares in France says he sent this note to a friend: "I thought you may like to read Diane's newsletter and her report about your friend Mickey Gilley. Don't forget to read about 'Ooh Wee Baby' on the bottom of the page. 'Ooh Wee Baby'/'Tell My Why' (Minor MH-106) was Mickey's first record in October 1957. His next was 'Call Me Shorty'/'Come on Baby' issued on Dot 45-15706 early 1958. All great rockin' sides."
Ross in Tennessee requests, "Would you please be kind enough to send an amendment to June 1st's edition of your newsletter? You had written, and I quote: '(who sang earlier with Johnny Lee) and Penny Cardin, former member of the group Dave & Sugar.' (A group I still listen to from time to time — one of the best!) Yet under the photo read: 'Stephanie Hall, Mickey Gilley, Penny Curtin.' Would you please be kind enough to point out which is the correct spelling of Penny's surname?"
Diane: It is Penny Cardin. Thanks for giving me a chance to correct my error.
Tom Merrill writes from Fuquay Varina, North Carolina, "I wanted to thank you for your weekly email newsletter. I learn so much from reading it. I will soon be 68 and always loved classic country. We passed through Sioux Falls last summer on our way out to Wyoming and spent a day or two there. It is a beautiful spot. If you have written much on Ferlin Huskey, I have missed it. He and Marty Robbins are two of my favorite artists. His 'Gone' is a favorite. To watch him form the words with his curled lip is the key, I think, to his style. I also love Marty's 'Story of My Life.' Both of these seem to be on the edge between country and early rock and roll. Keep the news coming."
Diane: I told several stories about Ferlin and Faron in Live Fast, Love Hard: The Faron Young Story.
Larry Delaney of Cancountry writes from Ottawa, Canada, "I ran across this event poster for a June 22, 1963, blockbuster country event staged at The Hollywood Bowl in Los Angeles. I thought it might be of particular interest to you as FARON YOUNG was among the many featured attractions on the show, headlined by Johnny Cash. In several books I have in my library on Johnny Cash, it seems his management during those times had reservations as to whether or not he was in shape to pull off these major events at such a prestigious venue (The Hollywood Bowl), so they likely surrounded him with a 'can't miss' supporting cast. They sure made intriguing posters for shows back in the '60s. Nice artwork, even without photos of the headliners, they still were attractive promos."
Diane: I didn't know about that show, Larry. In the book I talked about the "Shower of Stars" at Hollywood Bowl a year earlier, June 15, 1962. That was also headlined by Johnny Cash. I guess it worked well enough to repeat the next year.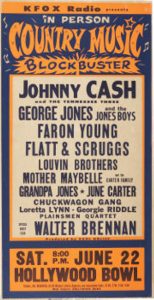 Bill Sparks requests, "Please add me to your newsletter. I am owner of The Legend, an internet station. We provide several hours of classic country every week."
Diane Jordan reminisces, "I was booked on a Country Cruise in 1977, on the MS Boheme, with Johnny Paycheck. We had been sailing about an hour and a half when we felt the ship turning around.  An announcement came over the PA telling us there had been a bomb scare and we were going back to Miami to search the ship. Dogs were brought on board. They didn't find a bomb, but they did sniff out Paycheck's drugs. The cruise resumed and Paycheck and his wife kept a low profile. They took all their meals in their cabin and didn't set foot on the sunny deck."
Dominique "Imperial" ANGLARES writes from France, "You may have heard about The River Seine flood. The flood is now over and I have started to bring back downstairs books, magazines, records, memorabilia … A huge work but we should have been flooded if the water has not stopped to rise 90 feet from the house. Quite scary. Thanks to the Lord everything is safe and there's no damage to our properties. Moving things I came with that 35 pages booklet written by Lillie Emma Nevitt dealing with her early years. I wonder if you had that booklet from Lillie when working the Twentieth Century Drifter. It is a valuable source about Marty's youth and family background. That booklet was sent to me by my late friend Carol E. Blair from Indiana. We came in touch and became friends thanks to your newsletter."
Diane: Yes, it was a great source about Marty's youth. Lillie's friend sent me the manuscript and I used the information in the book.
Johnny Western writes from Arizona, "I did a half hour interview with Tery Burford on June 1 on KZHE Classic Country in Magnolia, Arkansas, on Johnny Seay. It streamed on kzhe.com. I did mention you a couple of times on the show. Thanks for posting the photo of the plane. That is a better shot than the internet had after the crash."
BOOK REVIEW– The Grand Tour: The Life and Music of George Jones  by Rich Kienzle
A new and excellent George Jones biography has been published. The Grand Tour: The Life and Music of George Jones is by Rich Kienzle, long-time country music reporter and historian. I was impressed with the wealth of knowledge shown throughout the book, concerning incidents and people in the country music industry. I must acknowledge my surprise at finding Live Fast, Love Hard: The Faron Young Story listed in the bibliography. The book is divided into helpful multi-year segments that cover phases of George's life. For example, the first chapter, "1931-1953," ends with his discharge from the U.S. Marine Corps and his first divorce. Chapter 4, "1968-1975," is the Tammy Wynette period. Kienzle talks about two previous George Jones books, both of which are on my bookshelf. Perhaps I'll review them in an upcoming newsletter. They are Bob Allen's biography, George Jones: The Saga of an American Singer (1984), and George's autobiography with Tom Carter, I Lived to Tell It All (1996). The two sides of George Jones can be illustrated by the 1994 attempt to rename a bridge along Interstate 10 in his honor. The Neches River Bridge separated Jefferson and Orange Counties in Texas, and both counties would have to approve the change. Jefferson County, which contains George's hometown of Beaumont, strongly supported the idea. Those officials "cited George's local roots, fame, and triumph over adversity," Kienzle tells us. But people on the Orange County side objected to naming a bridge for a notorious alcoholic and said he "had no business being honored in this county." The original name stayed. After a tumultuous life, George died a happy, settled elder statesman of country music in 2013. He was 82 years old.