IN THE SPOTLIGHT – LES LEVERETT
"For my age and condition, I guess I'm doing pretty good," Les Leverett told me when I called him last week at his home in Nashville. "God's been awful good to me." Les is ninety-two years old and leads a busy life. One of his favorite events takes place the first Monday night of each month. A group from his church goes to the Maybelle Carter Retirement Home to sing for the folks who live there. Billy Smith, son of the late country music magazine writer Hazel Smith, is the music director.
Les can no longer drive because of macular degeneration. His left eye is 20/20, but his right eye has an almond-shaped black spot in the middle. Looking directly at an eye chart, he can't see the letters, although if he looks above or below or to the side, he can read them somewhat. He's learned to live with the problem, though. "It's almost to the point that I don't pay much attention to it," he says. "I go on with my work, my computer and my reading."
In 1960, Les took on responsibility for establishing a photography department for the National Life and Accident Insurance Company. He replaced four photographers–the National Life position he already held, WSM-TV, WSM radio, and the Grand Ole Opry. Upon learning the offer included the Opry, he'd responded, "I want that job."
When he moved to Gaylord employment in 1984, he continued as Opry photographer but spent much of his time at the Opryland Hotel. "I always said I worked eight days a week and 25 hours a day," he told me. In 1987, he suffered a heart attack while on the job at the hotel. After five bypasses, he continued working until 1992, when he retired immediately upon turning sixty-five.
Last year, his photos were on display during a six-month exhibition at the Acuff Theater. "We had a fabulous first night opening," Les recalls. "Then we all went over to Studio A at the Ryman, and Marty Stuart and I got up on stage." Album covers with Les's photographs were projected on the screen, while Marty handed Les a copy of each cover and said, "Tell us about this one." Les states, "I had a lot of fun explaining those things. Nearly every one of my covers has a story."
During his time as Opry photographer, Les did two hundred LP covers. The first one happened when Porter Wagoner asked him for a full-length picture, which then appeared on his The Thin Man from West Plains album. "I wound up doing 18 covers on Porter," Les says, "I did ten on him and Dolly together, and I did ten on Dolly." He also started doing all the Decca covers–Ernest Tubb, Loretta Lynn, Webb Pierce. "I've got every one back here in my office," he says. "I sure had a good time."
What excites Les now is the upcoming documentary in September, Country Music — A Film by Ken Burns. He has photos in all eight segments. "I've been working with the Ken Burns group for about seven years," he says. "A couple of ladies came here and spent days going through my files. I just turned it over to them and I got out of their way. They scanned thousands of pictures." The scanned photos will be donated to the Country Music Hall of Fame and Museum.
When Ken Burns hosted an all-star concert at the Ryman Auditorium in March, Les was there with his daughter and son-in-law. Country Music: Live at the Ryman will be shown September 8 on PBS. Following the show, a bus took special guests down the street to a Broadway nightclub for a reception. "The first people who came on the bus after us were Ken Burns and Dayton Duncan, who interviewed me," Les says with amazement. "I'll be durned if Ken Burns shook my hand and said I want to thank you for all you've done to put this thing together. It surprised me because I didn't know he knew me." He adds, "That thrilled me to death, because he's one of my heroes."
About three weeks ago, at Belmont University, another special show attracted a crowd of 5,000 people. "Kathy Mattea was the only entertainer on the show that night," Les says. "She's as pretty and as good as she's ever been." During the VIP reception that followed, Les again had a chance to meet and talk with Ken Burns. "That stirred me up even more," he told me. "I just can't wait to see that documentary."
Les had good words for me, too. "I can't get enough of that newsletter," he says. "When I see your name on my computer, all right, I've got to find time, pretty quick now, to read this. Sometimes I can't wait."
He wrapped up our conversation by telling me about his three children, two boys and a girl. "The oldest son was killed in a car wreck in 2001," he explained. "The other two have been so helpful to me since my wife died." He says he always warned his daughter, Libby, "Don't be a photographer. It's a hard way to make a living. And stay away from those musicians. So what did she do? She became a photographer and married a bassman." Her husband is Larry Crew, "the best son-in-law anybody ever had." Libby wrote a book in 2003, called Saturday Nights with Daddy at the Opry. "It's a wonderful little book," Les says. He can't read it without crying, because of all the family stories it contains.
"I've had more fun than anybody in the world," Les says. "I would not argue the point. I just think I have had."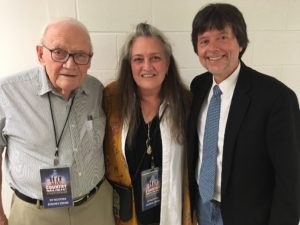 NEWS
Twelve candidates have been nominated for the Nashville Songwriters Hall of Fame, The Tennessean reports. The 49th anniversary Nashville Songwriters Hall of Fame Gala will take place October 14, at Music City Center. Two of eight in the Songwriter category will be selected, along with one of these four Songwriter/Artist nominees: Toby Keith, Brad Paisley, Eddy Raven, Dwight Yoakam. A veteran Songwriter and Songwriter/Artist, each with a hit at least 30 years ago, will be announced later, for a total of five inductees in 2019.
When a fire swept the Universal backlot in Hollywood in 2008, Universal Music Group (UMG) initially claimed the damage was relatively minor. But recent articles in the New York Times have revealed that more than 800 artists from all genres had irreplaceable master recordings consumed in the blaze. The Times insists UMG tried to cover up the disaster for more than a decade. A memo from 2009 states, "The West Coast Vault perished, in its entirety. Lost in the fire was, undoubtedly, a huge musical heritage." Many artists didn't know their masters were gone until the Times report emerged. The dozens of country artists include Reba McEntire, George Strait, Glen Campbell, the Oak Ridge Boys, Dolly Parton, and others as far back as The Carter Family, The Louvin Brothers, Faron Young, and Marty Robbins. The New York Times reporter, Jody Rosen, identified UMG's "slapdash inventory practices" as the reason an accurate accounting may be impossible.
The newest officer on the Country Music Hall of Fame board is producer Dave Cobb. Board members oversee operations and make policy decisions for the Hall, but they do not vote on Hall of Fame inductees. Vince Gill was reelected for his 18th consecutive term as President. Saving Country Music calls Dave Cobb "the go-to music producer in country music and Americana, prolific as he is revered." He has won multiple ACM and Americana Music awards, as well as CMA awards and a Grammy. He is also the Studio 'A' caretaker.
The Associated Press reports the death of drummer Jerry Carrigan, 75, who played in the first rhythm section for FAME Studio in Muscle Shoals. As a teenager, he and friends David Briggs (piano) and Norbert Putnam (bass) helped producer Rick Hall create the Muscle Shoals sound. Carrigan later moved to Nashville and played on numerous sessions, including many for Elvis Presley, George Jones, Kenny Rogers, and Porter Wagoner. He died in Chattanooga in mid-June.
Nashville's Metro Planning Commission has unanimously approved the controversial 87-page Vision Plan that will guide future development on Music Row. For several years, planning officials and community stakeholders have struggled to develop a plan that will, according to The Tennessean, "rein in rampant, haphazard development without pushing away desired new investments." The plan calls for parks, retail shops, and restaurants along 16th/17th/18th Avenues between Broadway and Wedgewood Avenue. High-rise developments will be concentrated on the northern end along Broadway, with building heights decreasing from 25 stories there to 5-12 stories in the core of Music Row. Many newly built developments are large apartment and condo complexes. Since 2010, 53 buildings have been demolished, including numerous older houses formerly used as offices. Historic preservationists have identified at least 55 properties to protect. One developer asks, "Is the goal to revitalize Music Row or to create Museum Row? We should be looking into the future, not backward." A preservationist says, "I implore you to keep the character of Music Row and not to build these gigantic buildings." She mentions tour buses, adding "Let there be some identity left on Music Row."
Sidney Singleton, 64, son of Shelby Singleton, and Donald Preston, 63, son of Frances Preston, were arrested in May and charged with selling drugs from a parked car in a grocery store parking lot on Belmont Boulevard. According to Stacy's Music Row Report, they offered to sell an ounce of marijuana to an undercover detective for $300. Singleton and Preston each posted a $10,000 bond after being charged with a felony for selling drugs in a school zone. The case is set for trial on August 12 in Davidson County General Sessions Court.
An Arizona man, 22, fell to his death from the top of the Ernest Tubb Record Shop last Thursday night, WKRN-TV in Nashville reports. Metro police said he ran into Mellow Mushroom on Broadway, up three flights of stairs, past security, and onto the roof. He jumped to the roof of AJ's Good Time Bar and then to the roof of the Ernest Tubb Record Shop. According to witnesses, he got a running start and tried to jump across the 14-foot gap to the Downtown Sporting club roof. He fell 50 feet to the pavement and died after being rushed to Vanderbilt Medical Center.
A 14-minute film that illuminates the 94-year history of the Grand Ole Opry can now be seen in The Circle Room, a custom-built state-of-the-art studio in the Opry House lobby. Billboard reports the film is hosted by Garth Brooks and Trisha Yearwood, features more than 100 acts, and contains clips of performers being invited to join the Opry or giving emotional speeches during their induction ceremonies. Legends such as Minnie Pearl, Little Jimmy Dickens, and Roy Acuff appear in the film. "I thought they did a great job of spanning the generations and covering a lot of people," says Opry member Jeannie Seely. "This is a wonderful thing for the fans…It's about as lifelike as you could make it without them being there."
The Christian Post reports Jo Dee Messina has a new song to sing during her performances. She was diagnosed with cancer in 2017, unable to tour due to her health, and in financial difficulty as a single parent with two sons. "I was at an all-time low," she recalls. "I was trying to sustain a career. I had a lifestyle and a family and everything, all on my own, and I couldn't do it. I was standing on my porch one day, and Jesus Christ walked out and said, 'She's mine.' I just knew it, in the middle of my spirit and my soul, I'm like, 'That's Jesus.'" The encounter led her to record and release a popular gospel song, "Reckless Love." Jo Dee says, "I spent my entire career, my entire life glorifying myself. It's time for Him. He gets the glory from this point on."
The Illinois Department of Agriculture has canceled the appearance of Confederate Railroad at the Du Quoin State Fair in Du Quoin, Illinois–because of the band's name. WSIL-TV reports the cancelation occurred after a political blog questioned whether it was appropriate for them to perform in the "Land of Lincoln." The August 27 show billed as "'90s Country ReLoaded Day" included Shenandoah and Restless Heart. Both Charlie Daniels and Joe Bonsall of the Oak Ridge Boys posted objections on social media. Several days later, Dan Shirley of Confederate Railroad posted on Facebook: "This was very disappointing as we have played this fair before and enjoyed it very much. . .. It has been brought to my attention that several people have asked both Restless Heart and Shenandoah to cancel their shows in protest of our cancellation. I have spoken to both acts and encouraged them to perform as scheduled. Live concerts are how we pay our bills and feed our families. I would never want to see another act lose a payday because of this." Shenandoah then posted, "100% of the comments Shenandoah has received have asked us to cancel our show as well, but we are contractually obligated. Plus, we wouldn't want to do that to our own fans that want to see us. This 'political correctness' has to stop. It's tearing our country apart."
On August 30, Legacy Recordings will release a deluxe five-CD set of musical highlights from the upcoming PBS documentary, Country Music — A Film By Ken Burns. The tracks feature artists in each of the eight episodes, from the Carter Family and Jimmie Rodgers to Randy Travis and the Judds. Portions of the collection, available on September 13, can be purchased on two CDs, two LPs, or in digital configuration.
Nash Country Daily reports Ray Stevens hosted Loretta Lynn, 87, and her group at his Nashville theater, CabaRay, on July 5. They dined and watched him perform. Ray introduced Loretta to the crowd by saying, "There are queens and first ladies of country music, but there's only one Coal Miner's Daughter. Bless you, Loretta. You are a treasure."
Rolling Stone Country describes how "Independence Day" by Martina McBride mistakenly became a patriotic anthem. Although the song takes place on the date named in the title, Gretchen Peters wrote it to tell a story of domestic violence. "Throughout the past 25 years," says Rolling Stone Country, "both McBride and Peters have watched as their song has taken on a life entirely of its own — not just in its cathartic impact for victims of abuse, but also in its misinterpretation for political means . . .. Peters, in particular, has been saddled with a patriotic anthem she did not write." Sean Hannity used the song on his radio show and Sarah Palin used it during her Vice-Presidential campaign. The lyrics are based on the story of a woman in 1977 who burned her husband in his bed after he repeatedly raped and beat her. She escaped the burning house with her three children and was later acquitted at trial, with a successful defense of temporary insanity involving battered-woman syndrome. This act of retribution for abuse is the "day of reckoning" in the song. The daughter discovers the fire when she returns from the Fourth of July parade. The song doesn't tell us what happened to the mother.
Another Hank Williams descendent is making his mark. Sounds Like Nashville recently interviewed singer-songwriter Sam Williams, 22, the youngest son of Hank Williams Jr. and grandson of Hank Williams Sr. He is a half-brother to Hank III and Holly Williams. "My dad didn't play music in the house," Sam says, "and it was a thing I had to grow into. I had to learn my family's catalogue on my own and see what it meant for me. My sister Holly is also a tremendous influence for me." When asked about recently performing with Vince Gill and Bill Anderson at the Bluebird Café, he says Vince "appreciated my writing and my voice and told me how refreshing it was to hear. Told the crowd I was royalty, which is weird for me to hear because I feel like an underdog." He adds, "I'm just a kid still."
LETTERS
Sandy Tennyson sends this correction: "In the story about the Johnny Cash statue, you wrote the Tennessee Two consisted of guitarist Marshall Grant and bass player Luther Perkins. That's incorrect. Marshall played the bass and Luther played the guitar. I was privileged to have attended 68 CASH concerts over the years, from Iowa to Wisconsin to Missouri, to Las Vegas to the Hollywood Bowl show. I knew Johnny and more importantly they knew me."
Diane: Thank you for the correction, Sandy. I copied the information without noticing the error.
Tom Kaufman of Denton, Maryland, writes, "As usual, I enjoyed this latest newsletter. However (and you may have already realized it by now) but there was one small error: you wrote about the bronze statue that was unveiled in Memphis; 'He and the Tennessee Two, guitarist Marshall Grant and bass player Luther Perkins . . .' In actuality, Luther Perkins was the guitar player and Marshall Grant was the bass player. Somehow I have a hunch you knew this; just want to make sure that other readers don't get confused. I did enjoy reading about the concert that the folks from Heart of Texas Records put on; those people know how to do country music. The Nashville folks would do well to take a page out of that book…if they wanted to; therein lies the problem: they don't want to. The Nashville folks (nowadays) seem to be intent on pumping out what they call country music but really isn't. Thanks again for a great newsletter."
Jeannie Seely says, "Thank you Diane as always, I appreciate your including me in your news. It was a very exciting night for me and I'm proud to represent our community. I loved the review on the Texas folks."
Jeff Chandler, former member of the Marty Robbins Band, writes from Arkansas, "Just wanted to thank you for the article on Lloyd Green. Because of it, I was able to drive over from Little Rock and attend the Midnite Jamboree. What a treat to watch Charlie McCoy and Lloyd…two lions working together again. Floyd Cramer's grandson was on piano. After the show I visited with Lloyd. We last met in 1982 when Katz Kobayashi introduced us backstage at the Wembley Silk Cut Festival. I appreciate your keeping us all informed."
Jan Manning in Trout Creek, Montana, writes, "I enjoyed your Jimmy C. Newman bull story. For many years when I worked in Nashville, Jimmy and Miss Mae were like surrogate parents to me, and I spent many memorable Sundays out at their Singing Hills Ranch, back when Jimmy was raising Appaloosas. I can just hear Jimmy telling the story you've shared with us."
Marilynne Caswell says, "I received the newsletter. I enjoy them so much. Especially liked the story of Faron and Jimmy Newman. My late husband and I enjoyed visiting with Jimmy and Mae (his wife), both at our home in London Ontario and their home in Nashville. No one could make Cajun food like Miss Mae. They were very special people."
Sue Zeune writes from Ohio, "Again another great posting! It's really good to hear about so many of the people who are not in the big spotlight but are such a big part of what made country music great and are still doing it. We have lost so many over the years but thanks to people like you they will never be forgotten. Keep up the good work. I will always look forward to the next newsletter."
Doug Lippert says, "In reply to your reader's question (Ms. Kozalinski) about a 'want ad' song (and this is a very long shot) all I can come up with is 'Escape' by Rupert Holmes. Perhaps a country artist recorded it, as well."
John Seiber in South Dakota responds to Lenore Koszalinski's request: "Possibly C.W. McCall's 'Classified" . . . definitely not a love song."
Jackie Thomas writes from Arizona, "Reading about Steel Guitar Players in your latest great newsletter, reminded me of Norm Hamlet who was with Merle Haggard for 49 years. Norm is 84 and still touring and playing with Mario Carboni, the Honky Tonk Rebel who's a great keyboard player and very popular with his audiences. Loved their show and can't wait to see them live again. When they played at the Mesa Arts Center there were about 1,000 fans there to listen. Everywhere Mario and Norm go, they look up old timers in the country music field to drop by and say hello. Sure enjoyed your newsletter again."
Moragh Carter in the United Kingdom says, "In answer to Tom Kaufman's query, Music Stack have a couple of copies of the album Lloyd Green and His Steel Guitar on CD listed here: https://www.musicstack.com/records-cds/lloyd+green. They aren't cheap though, presumably because they are rare. I loved the write up you did on Lloyd. I talk to Lloyd about once every couple of months and, though he had told me many of the things you mentioned, I still learned more things about him from your write-up. Thanks again for your great newsletters. I always enjoy them."
Tom Kaufman in Denton, Maryland, responds to Moragh, "Thanks for the note; I checked out the site; am either doing something wrong, but am still not finding the CD copy of that Lloyd Green recording. I found a vinyl copy (already have one) so as I said, perhaps I'm just not looking in the right place. Thanks again for alerting me to this place that seems to have lots of leads to stuff that is out of print."
Lee Shannon, Country Music Disc Jockey Hall of Fame member (1998), sends this update: "I'm pretty much back to my old self, which is not all that great as this old country D.J.is 85 years old. I'm so grateful I was in radio when Country music was COUNTRY."
Glen Schroeder requests, "Please add me to your email list for your great newsletter. I was getting it, but I've had trouble with my email, and it stopped."

Dominique "Imperial" Anglares writes from France, "Thank you very much for that welcome summer newsletter. Always great to read the news, the letters and the memories."
IN THEIR OWN WORDS
During a telephone interview in 2007, Okie Jones told me about his years of working with Marty Robbins. I met him when he came to the band reunion I hosted in 2009. Eugene "Okie" Jones, 87, died in 2017, at his home in Readyville, Tennessee. The Fort Worth, Texas, native served in the U.S. Army during the Korean War.
Marty used to sing some of my songs, like "Send Me a Penny Postcard." We both started recording for Columbia at the same time. We were pretty good friends. I met him at the Grand Ole Opry–first time I got to see him–I loved his voice, but to see him at the Grand Ole Opry, when the Grand Ole Opry had its 25th anniversary. We got acquainted and joked a lot, cut up, and he's a different person than you'd think. But that's when I first met him in person. I think he had come down to Nashville but didn't live there. It was funny because he wore a western-type suit with a regular tie; it kind of struck me funny.
When I came back to Nashville and I didn't have a job or anything, Marty was building a racetrack, and Louie Dunn got me a job building on the racetrack. It wasn't long till he needed a driver, and I went to work driving bus for him. It was 1960, I believe. Because I was working at the racetrack when I turned thirty.
We all worked for a dollar and a half an hour. Back then it was good money. All his band members was working on the race track at that time. In fact, my boss when I first went to work was Pete Drake. He was playing steel for Marty at the time. All of them needed to pick up some extra money when they wasn't on the road, so they'd go out there and work. But Tompall Glaser wouldn't go out there and work; he said some of his fans might see him working. Back then Jim Glaser would do anything for fifty cents. In fact, you'd be on the bus and you could ask for a cold drink or something, and he'd charge you fifty cents to go get it for you. He would do anything like that for a few bucks, and he made pretty good money. I guess he really needed it then. All of them did.
I built Marty a recording studio and a bunch of stuff. He asked me one time back in the '60s–I worked at the farm, I worked at his three publishing companies, and I drove bus, and I just did everything. He said, "Is there any one of those you would like to do more than the other? To quit having to do so much?" I said, "I kind of like doing them all." "Oh, good."
We had a couple extra rooms there, so I started building a little studio where we could cut demos and stuff like that. One of his favorite sayings was "You dummy." "Ah, you dummy." So when I put the sign up in there, I put "Quiet, You Dummy." We used to get into it, and I wouldn't speak to him for three days. When I'd get mad, I pouted and–I was a pain in the butt, I guess. But he never was one to apologize; he would be real nice. I said to him, "You want me to teach somebody to run this board?" He said, "No, I'll cut a hole in the floor and let it fall in the basement." When he was trying to make up, he said, "You think I can't get along without you. But I can hire three or four people to take your place anytime." That kind of broke the ice.
When he had his first heart attack, we was up in Ohio, and he came up to me on the bus and he had a towel over his head, and he looked at me, and he said, "Okie, you better get me to a hospital." So I drove like a maniac, trying to pick up a cop to help me get into a hospital. I was driving awful fast. I picked up a cop just as we pulled into the hospital. Marty went in there, and they were observing him, watching him. He said, "Is somebody going to do anything?" And this doctor said, "Well, I'm observing you." The doctor said, "You want something for the pain?" He said, "Yes! That's what I'm in here for." Bill Johnson said, "Oh my God, they're gonna give him a shot, and he's gonna think he's all right, and we're go do that show this afternoon." I said, "No, we're not either." He said, "Oh, yes, that's the way it works. He'll go do it." I said, "We're going back to Nashville." Sure enough, we got on the bus and Marty–he checked himself out–he promised them faithfully we'd go straight to Nashville. And we got out and got on the bus, and he said, "Let's go do the show." I started in on him, "You can't do that." He looked at me and he said, "Let's go do the show." And I knew we was gonna go do the show. And I had done made up my mind I wasn't going to, but I couldn't fight with him. We went on and done the show that afternoon, and the end of it he was out in the bus, between the shows. He was laying there, when I went in his room, he had his hands across his chest, like he was dead, y'know, and I went in, and "Oh, my God!" He said, "I'm not dead yet, Okie." He said, "I think I can make it till tonight." After the night show we was going toward Cleveland, and right out of Cleveland, he sent word up to me, he said, "Okie, you gotta get me to a hospital. Not quite as fast as you did this afternoon. I think I can make it." I got him to a hospital in Cleveland.
He had his operation. I didn't go–see, I have a thing about–see, nobody will come and see you when you're feeling good, but as soon as you look your worst and you're in the hospital, everybody comes to visit you, and it just irritates me to no end, that when you're at your worst everybody comes to see you. So I didn't bother him at all.
I went to work driving bus for Hank Williams Jr. I drove for him for five years, and then I went back with Marty. He came out to my house and wanted me to go look at a bus for him–this was five years later–because I had a bus service. I told him that old bus he was gonna buy wasn't worth a dime. He said, "Anything can be fixed. And the thing about it, you get to fix it." I liked that. It was '78, I guess, that I went to work with Marty again. Cuz I put in another five years–15 years all total. I was a pallbearer at his funeral.
I'm known as "overdo Okie." If I buy someone a pair of socks, I buy them a hundred. I don't just do a little something; I do a lot.