IN THE SPOTLIGHT – PIG ROBBINS
"Pig Robbins probably played more sessions than anybody ever did," Lloyd Green told me during our recent phone conversation. He gave me Pig's number so I could check in with the famous pianist and keyboard session player. When I called Hargus "Pig" Robbins, 81, and asked how he was, he said, "I don't do as much as I used to, of course." He enjoys listening to old-time radio shows through his computer. "I listen to old Gunsmoke, old Sergeant Preston, old radio shows, Life of Riley, stuff like that," he says.
Not very talkative, Pig did answer my questions. Does he still practice every day? "Oh, yeah, trying to keep them old fingers moving, y'know."
Does he get downtown much? "No, I don't go downtown unless I absolutely have to. It's so screwed up down there."
Did he ever work with Randy Travis? "A few times, yeah. He had a great career. I played with him, I can't remember what hits, but along the Roy Rogers time." When I asked if that was the Heroes and Friends album, he said, "We don't ever know the titles of albums; we just play the tracks."
About Lloyd Green, he says, "Yeah, they recognize him. He's well known in the steel playing world, and the blind world, and everybody's world, I guess."
He comments, "I have a lot of friends I talk with on Skype on the computer, like up north in Canada, they get your newsletter. Ray Fournier forwards them to me."
Pig lost his sight in a knife accident when he was three years old. Beginning at age seven, he studied classical piano at the Tennessee School for the Blind. As for his nickname, he once told an interviewer, "I got 'Pig' at school. I had a supervisor who called me that because I used to sneak in through a fire escape and play when I wasn't supposed to, and I'd get dirty as a pig."
Pig's first major recording was the session on which George Jones sang "White Lightning." Pig Robbins was inducted into the Country Music Hall of Fame in 2012.
NEWS
The 2019 Musicians Hall of Fame and Museum inductees will be honored with an October 23 concert at the Schermerhorn Symphony Center in Nashville. They include Steve Wariner and Alabama. The Engineer Award goes to Billy Sherrill. Don Everly's groundbreaking rhythm guitar opening for "Wake Up Little Susie" wins the Iconic Riff Award. Inductees are nominated by members of the American Federation of Musicians. Three groups of session musicians are included in this year's induction, which is the first since 2016. Recent focus has been on expanding and improving the museum in the Nashville Municipal Auditorium. Wariner tells The Tennessean, "I came to Nashville to be a musician. People ask me about the singing and the writing…but the roots, for me, is the playing."
Russell Smith, 70, co-founder of the Amazing Rhythm Aces, died July 12 in Franklin, Tennessee, after a long battle with cancer, reports Rolling Stone. The Nashville native launched his career in Memphis. In addition to fronting the band and later pursuing a solo career, he co-wrote Number One hits for Randy Travis ("Look Heart, No Hands"), T. Graham Brown ("Don't Go to Strangers"), Ricky Van Shelton ("Keep It Between the Lines"), and Don Williams ("Heartbeat in the Darkness"). His songs were recorded by many others.
Johnny Bush was recently awarded the BMI Songwriter's Special Citation of Achievement for over two million broadcasts of "Whiskey River" on country radio. A BMI representative presented the award during Johnny's performance at The Devil's Backbone in Fischer, Texas.
John Prine, 72, is rescheduling tour dates because of upcoming surgery. "In consultation with his doctors, John has been advised that he has an elevated risk for a stroke," his social media accounts say. "He will have surgery this week to insert a stent which will remedy the issue. He looks forward to a full and speedy recovery." He underwent surgery for cancer in 1998 and 2013. The Tennessean reports his European tour is still scheduled to begin August 23 in Sweden.
Allie Colleen, 22, youngest daughter of Garth Brooks, has released her debut single, "Work in Progress." She had promised her dad she would finish college before starting the country music career she has long wanted. "As a girl who struggles with confidence, it's the only thing I know I'm good at," she tells Cleveland.com. She lives in Nashville with her schoolteacher husband. When this song was introduced on my local radio station, I thought, "Wonderful! I get to hear a new song on the radio." Then the announcer said, "If you want to hear it, go to our Facebook page or website." I have to wonder–what is the point of a radio station that regurgitates worn-out songs and makes you go to the internet to hear fresh music?
Sheryl Crow and Luke Combs will join Emmylou Harris and Vince Gill for "All for the Hall Los Angeles" at The Novo on September 17. The night of songs and stories will benefit the Country Music Hall of Fame and Museum. "All for the Hall" events have supported the museum's educational efforts since 2005.
Johnny Lee posted on Facebook that he will have brain surgery in Houston because of his Parkinson's disease. The surgery will help him walk better. The first part will be on August 7 and the second part on August 21.
New members of the Canadian Songwriters Hall of Fame, according to CBA.CA, are Ian Tyson and Sylvia Tyson. They will be inducted individually at Calgary's National Music Centre on September 5. The Canadian folksingers met in 1959 in Toronto and then moved to New York. Known as Ian & Sylvia, before going on to solo careers, they gained fame in 1964 with "Four Strong Winds," written by Ian. Their inductions will coincide with the release of Ian & Sylvia The Lost Tapes, consisting of concert recordings from the early '70s and previously unreleased songs.
Crystal Gayle is releasing her first new album in nearly 16 years. You Don't Know Me is co-produced and mixed by her son, Christos Gatzimos. "It is filled with country classics that I grew up singing," Crystal says in a press release. "I feel very lucky to have known and worked with many of the artists who had the original hits." The album opens with "Ribbon Of Darkness," written by Gordon Lightfoot, a number one hit for Marty Robbins, and the first song Crystal sang on the Grand Ole Opry. "I was 16," she says. "Connie Smith also had a hit with it. So the night I was inducted into the Opry cast in 2017, I asked Connie if it was okay with her that I sing 'Ribbon of Darkness.'" The closing track is "Put It Off Until Tomorrow," written by Dolly Parton. Crystal sings it with her sisters, Peggy Sue Wright and Loretta Lynn. "It is a song we have performed together throughout the years," Crystal says. "This is the one and only trio performance on record. We performed together . . . but we've never actually made a record together. Peggy Sue still comes out on the road with me, singing backup harmonies." Loretta had her stroke not long after they recorded the song.
Alabama was forced to cancel two shows in Canada due to health problems of frontman Randy Owen, 69. Taste of Country reports he is suffering from severe vertigo and migraines. The band is midway through its 50th Anniversary Tour. Owen and Gentry perform all shows, and Jeff Cook joins when his Parkinson's disease allows him to do so. "We hope to return to both Ottawa and Oro soon, and apologize to all of the fans for not being able to perform," Alabama said in a statement.
This One's For You, the latest album by Luke Combs, has spent 41 weeks in the number one position on America's country albums chart, reports AceShowbiz on July 20, 2019. It is tied with the 1990 No Fences album by Garth Brooks for the third longest run at the top. The number one and two positions belong to Come on Over by Shania Twain and Always & Forever by Randy Travis. Luke Combs became a member of the Grand Ole Opry on July 16.
Darrel "Curly" Jones began driving for the Oak Ridge Boys on July 21, 1969, in a Silver Eagle named "Chocolate." His 50-year career came full circle on June 19, according to a press release, as he pulled into Mattoon, Illinois, behind the wheel of the new luxury tour bus of The Oak Ridge Boys. The band brought him onstage and presented him with an autographed photo of "Chocolate" and a guitar signed by everyone. Jones drove approximately five million miles in fifty years, never missed a show, and never had a traffic accident. He drove celebrities, sports figures, and music artists from all genres.
Charlie Daniels and his non-profit, The Journey Home Project, which finds funding for veteran organizations, is supporting a new art exhibit at the Pentagon in Washington, D.C. According to CMT Hot 20 Countdown, the exhibit is a gallery of combat and civilian photographs taken by veterans and their families. Titled "The Alliance Collection," it contains photos from more than 50 artists from around the world, with the purpose of highlighting veterans in the arts. The exhibit, which is free to the public during Pentagon tours, will be available through March 2020.
The 2nd annual Nashville Songwriter Awards will be held September 17 at the Ryman Auditorium, reports Nash Country Daily. Loretta Lynn will receive the Kris Kristofferson Lifetime Achievement Award for "contributions to the American songbook and inspiring the careers of others." George Strait will receive the President's Keystone Award for "contributions toward the betterment of all songwriters." Other awards will include Song, Songwriter and Songwriter-Artist of the Year, plus the "10 Songs I Wish I'd Written" award. The Nashville Songwriters Association International (NSAI), which has become the world's largest not-for-profit songwriters trade organization since its 1967 beginning, will present the ceremony.
Born in Titusville, Pennsylvania, and raised on a farm outside Townville, Jeannie Seely recently returned to her roots. She was invited as a special parade guest for the 50th Townville Old Home Days, with the theme Throwback to the Summer of 1969. She attended, for the first time ever, her class reunion. A press release states, "A cheerleader, majorette and honor student while attending Townville High School, Seely sang at local amateur contests and began performing at weekend dances throughout northwestern Pennsylvania." Jeannie recalls attending summer country music shows at Hillbilly Park near Franklin. "Mother would fry a chicken and fix up a picnic basket, and we'd just go there and spend the whole day and the evening," she says. "I was always on the ground in front of the first row, looking up at the stage." She became a member of the Grand Ole Opry on September 16, 1967.
LETTERS
Jim Webb, former Secretary of the Navy and U.S. Senator, sends this note from Virginia: "You are putting out a great newsletter that fills the void for a lot of people. And your narrative writing gets better and better. Also, this one came out on the anniversary of when I was wounded as a Marine in Vietnam. Fond memories of Tammy Wynette's 'Stand By Your Man' and Johnny Cash singing 'A Boy Named Sue'…"
Les Leverett writes from Nashville, "Thanks for the fantastic story you did on me. I am flattered and thrilled. Of course, as usual, I enjoyed every word in the letter. Let me correct a slight mistake. My photography show was not at the Acuff Theatre. It was bulldozed years ago. It was in the Acuff House, which Opryland built for Roy to live in after his wife, Mildred, died. He lived in it 'til he passed away at age 89, Nov. 29, 1992. My photography show was the first event held in the house, which was built perhaps a hundred yards across the plaza, sort of behind the Opry House. And the reception following was in Studio A in the Opry House, incidentally where the last years of Hee Haw were filmed. The show at Ernest Tubb's Midnight Jamboree that was mentioned, with Charlie McCoy and Lloyd Green, had as the bass player my son-in-law, Larry Crew. He and Charlie are good friends, and when Charlie found he was doing the show, he called and asked Larry to go on and play with them."
Marilynne Caswell writes, "You've done it again……what a wonderful story on an old friend of mine…..the genius behind the camera…..Les Leverett. Just think of the LP (vinyl) covers he photographed. He is the sweetest man and I am so happy he is getting recognized for work he has done. In the early years, he photographed most of the photos in the Opry Picture Books. His daughter's book, Saturday Nights with Daddy at the Opry, is a treasure of stories which any Opry lovers would enjoy. Don't know if it is still in print. I got my first copy at ET's but had to get a second copy for my son from the Bear Family, in Germany. I am so proud to have known this gentleman. Thanks again."
Maggie Couch says, "Loved your newsletter this month. I went to see Mo Pitney in Springfield, Missouri, on the 6th of July. What a fun evening. He was so entertaining and the crowd loved him. I got to talk to him for a few minutes. We talked about you and his interview and visit to your state. He is just the nicest young man and such a good singer. His new album is coming out anytime now. Plan on seeing him in September in NW Missouri. (Near La Plata). Please keep us updated on him. Always love news on Faron's family. Still kicking myself that I never got to see him in a live performance. I was at his club in Nashville one night….Faron wasn't there, but we got to visit with Webb Pierce and Ronny Stoneman."
Mike Embree writes, "Loved the Okie Jones story, got a couple of laughs, what a couple of characters they were. Can't wait to see the Ken Burns show. Thanks for continuing to put together such a great newsletter."
June Thompson says, "Thanks again for another great newsletter. I appreciate all your hard work, and your kindness and consideration you show to the country musicians, and fans alike."
Dominique "Imperial" Anglares writes, "Thank you very much for the good work done and all the info given/shared. Your newsletter is always welcome and much appreciated. Here's a nice record from the Armed Forces with Faron Young and Marty Robbins back to back. Nothing rare but funny as you wrote about these two Country greats. Best Country regards from France."
Sam Lewis requests, "Please subscribe me to your newsletter. Thanks. Keep it country!"
Jenny Jones from Texas asks, "I was wondering if you might know anything about BILLY and BETTE Walker's daughter, Kelly Brooks? The last I had word from her was last August, on my birthday. We have corresponded ever since BILLY and BETTE passed away. The last I knew she was taking care of the BILLY WALKER office in Hendersonville, Tennessee. I would really appreciate any info about her. She and I have been very close over the years. Keep up the great work and Country News and Music."
Diane: Readers? Does anyone have contact with Kelly Brooks?
Jeff Chandler posts on Facebook: "I'm working on a few original songs. The legendary Tim Crouch played fiddle, amazingly. Then the greatest steel guitar player who ever lived, Lloyd Green, added steel to them… in Nashville at Cinderella Sound, the oldest still operating independent studio in town."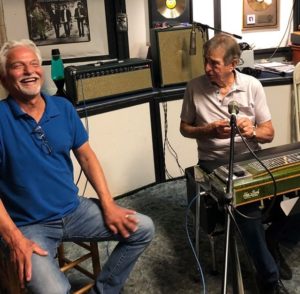 IN THEIR OWN WORDS
I never met Charlie Louvin or saw him in concert. I always liked his songs, such as "See the Big Man Cry," and in later years, I became a fan of the Louvin Brothers harmony. I don't recall how I got this telephone interview in November 2006, but I'm glad I was able to talk to him. Charlie died January 26, 2011, in Wartrace, Tennessee, at age 83.
I don't remember the exact year Marty Robbins joined the Opry. Whatever year that was, was the first time I met him. '53? Well, then, he beat me there a year, and I met him when I joined the Opry. I had the pleasure of working several show dates with him–my brother and I–through August of 1963, and then the brother team broke up, and then I worked a few individual dates with Marty after that.
I know we played a date once with–Ira and I, the Louvin Brothers–we played Denver. Jim Reeves had I guess it was "Four Walls." He was supposed to have been extremely hot then. The promoter, whose name was Bamford–everybody in the music business is familiar with that name–he came to our dressing room. We was in the dressing room with Marty. The crowd wasn't too good, and he was trying to get people to cut their daily price. Marty told him, "You're in the wrong dressing room. The Louvin Brothers, or Marty Robbins, wasn't advertised on this date. You spent all your advertising on Jim Reeves. So I think you're in the wrong dressing room. If you want a break, go to his dressing room." I thought that was very clever, because the lesser artist always is asked to take a cut. But the major artist, who is the most advertised–and in that particular case is the only one advertised–except Marty and the Louvin Brothers was "Many Others." So definitely if anybody lost the man money, it would have been Mr. Reeves. And Marty let him know that.
Marty was always a man that you didn't have to read between the lines when you asked him something, or he said something. He would say it plain enough that you didn't have to try to figure out what he meant. I think that's one of the best traits a human can have, and don't try to hide your message so that no one can figure it out. But he said it all, right up front, and I always respected him for that.
I was in Marty's home once, maybe twice, but I never met his wife until after Marty's passing. Because when his friends–the music people would come to his house to visit, she would stay in another room. She didn't associate with–so I never met her until Marty's passing. She kinda come out of her shell and actually associated with some of us poor hillbillies. I never asked Marty–didn't figure that was none of my business. I wasn't even privy to say, isn't your wife home, or where is your wife, or what. I only went to see Marty, and there he was, so I didn't have no gripes.
I think it was the biggest loss–or one of the biggest losses–that the Opry ever lost, would have been the passing of Marty Robbins. There've been others, naturally, but I think Marty was the biggest loss the Opry has took.
QUOTE OF THE WEEK
Jack Blanchard, of "Tennessee Bird Walk" fame, writing on Facebook:
WHY I BECAME A MUSICIAN… God looked down on me and said, "I think you need some help getting girls."