NEWS
On his 83rd birthday, Bobby Bare received a surprise from the Grand Ole Opry. He was on the Opry stage April 7, singing during the segment hosted by Jeannie Seely, when Garth Brooks walked to the microphone. Garth invited him to officially rejoin the Opry family. "I've got to tell you that this is quite a surprise," Bobby responded. "I was a member of the Opry for 10 years, but then I just drifted away." Bobby had joined the Opry in the early 1960s, but over the years his membership lapsed. His name was never removed from the list on the backstage wall at the Opry House. The Tennessean says Bobby performed on the Grand Ole Opry more than 10 times in the past year, as a guest.
U.S. Post Office 93301 in Bakersfield, California, is now the Merle Haggard Post Office. To celebrate the christening, a crowd of 300 gathered on what would have been his 81st birthday. Sister Lillian and widow Theresa Haggard were included in the list of dignitaries. Johnny Owens and the Buck Fever Band, featuring Norm Hamlet of the Strangers, played a set of Merle Haggard songs. "My dad was Buck Owens. He got the smaller post office," Johnny Owens joked with the Bakersfield Californian. Post office 93308 in Oildale was named the Buck Owens Post Office in 2007. It sits around the corner from Buck's recording studio and a few blocks from the Hag's boxcar home.
BBC Radio reports the death of renowned Irish country music singer, Big Tom McBride, 81. He passed away peacefully on April 17. He was the lead singer of Irish showband Big Tom and The Mainliners, formed in the 1960s. Their Irish chart hits included "Old Log Cabin For Sale," "Broken Marriage Vows," and "The Sunset Years Of Life." Big Tom was inducted into the Irish Country Music Awards Hall of Fame in June 2016. "I grew up all through Big Tom's career. We all referred to him as The King," says singer Daniel O'Donnell. Irish President Michael D Higgins called him "one of the most charismatic and influential artists in Irish country music."
Dana Haggard, eldest daughter of Merle Haggard, died in her sleep on April 10, at age 61. Her sister Kelli Haggard Patterson reported, "Her husband left for work early in the morning (Tuesday) and she was still asleep. When he got home later that day he found her, and she hadn't moved." According to the Bakersfield Californian, Dana Haggard is survived by her husband and four children. She lived in Russellville, Arkansas. Born in Bakersfield, California, she was the first of Merle's four children with his first wife, Leona Hobbs. Dana was a backup singer in her dad's band, the Strangers, for many years.
The remaining dates on The Gambler's Last Deal tour have been canceled. Doctors advised Kenny Rogers to cancel his 2018 farewell tour because of health concerns. Harrah's Cherokee Casino Resort in North Carolina said in a statement: "Kenny Rogers has been working through a series of health challenges. His doctors fully expect the outcome to be great, but they have advised him to cancel all performances through the end of the year to focus on recuperation."
The Independent Record in Helena, Montana, has announced Dwight Yoakam as the headliner for the annual Red Ants Pants Music Festival in White Sulphur Springs. Pam Tillis and Lorrie Morgan will join him at the July 26-29 event, which features 16 main stage and 14 side stage performers. Held in a cow pasture on the Jackson Ranch, the festival had 16,500 attendees last year. Proceeds benefit the Red Ants Pants Foundation, a nonprofit organization that supports women's leadership, working farms and ranches and rural communities.
The home built for Roy Acuff, next door to the Grand Ole Opry House, is being opened for the first time to the public. A limited-time exhibit (May-October) will showcase behind-the-scenes moments at the Grand Ole Opry. The exhibit, called Family Reunion: The Opry Family Photo Album, will display the work of 32-year Opry staff photographer Les Leverett. Artifacts and videos highlighting Roy Acuff's 50-plus years as an Opry star will also be on display. The Opry built Acuff House in 1983, and Roy lived there until his death in 1992. According to MusicRow magazine, "The Grand Ole Opry Archives acquired thousands of slides, prints, negatives, and color transparencies from the Les Leverett collection in February 2017. The collection contains . . . Leverett's handwritten notes pertaining to dates, locations, and subjects depicted; press clippings; and a homemade, typewritten index that contains additional details." Les was formally recognized by the Tennessee Senate in a 2015 joint resolution for his work in documenting the history and traditions of country music. Congratulations, Les!!!
"Until The Light Comes On Again" is an emotional tribute written by Bill Anderson for his longtime girlfriend, Vicki, during her fight with cancer. Bill tells Parade magazine, "I was searching for words with which to encourage and comfort her. When the words wouldn't come, I realized that throughout my life I have always expressed my feelings the best when I've set them to music. So I got my guitar, strummed a few chords, and began to write." Proceeds from sales of the recording and video, which features Bill and Vicki, will be donated to the Sarah Cannon Fund at The Community Foundation of Middle Tennessee. Bill says, "Sarah Cannon (Minnie Pearl) was one of the kindest, most giving people I have ever known, but she never sought the spotlight. She let Minnie Pearl do that! I can't help but feel she would be so proud of the work being done today at the center bearing her name. It's a way for her legacy to live on while helping other people to live productive lives as well. As a friend of hers, I feel this is exactly what she would have wanted."
Tayla Lynn took this photo of Loretta Lynn on her 86th birthday, April 14. Loretta's three daughters are Cissie, Patsy, and Peggy.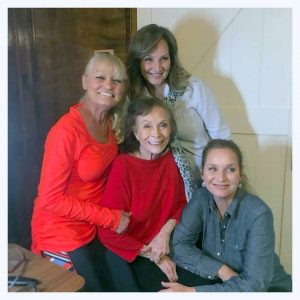 LETTERS
John Krebs responds to my comment about Carl Smith's induction into the Country Music Hall of Fame in 2003: "Here's Bill Mack and Ray Price's version,,, starts at 2:20 https://www.youtube.com/watch?v=Mk3quRpeDaY"
Mary Mitchell says, "Thanks for the article on Carl Smith. How could one not love him. His music was special. I, also, saw the Induction to the HOF. It truly disgusted me. I will never watch the HOF introduction again. So many have a big story before the announcement and don't deserve it. I think Nashville betrayed Carl. He left Music for a good reason. Never heard dirt about his marriage. He truly loved Goldie. May they both RIP."
Lee Shannon writes from Port Charlotte, Florida, "You may know this but I just learned that this past Saturday night (April 7), on his 83rd birthday, Bobby Bare was invited back on stage to be, once again, a member of the Grand Ole Opry. Garth Brooks did the honors."
Ray Rokita says, "I used to receive your newsletter and would like to be placed on your subscription list. Keep up the good work in the newsletter."
Margaret Freeman Couch writes, "First, I love your newsletter and you made me a fan of Faron Young. Just got back from five days in Nashville. Stayed at Opryland and did the sightseeing tours. We visited the Opry and Bill Anderson was on the show. Loved his singing. I just wished he had sung 'Still.' We visited Hall of Fame with only a guitar to represent Faron. The General Jackson cruise was great; the performers were good. Nashville isn't the same as it was back in the early '80s when most of the stars were still with us. The town is big and still growing. I guess it's for the new generation….not much left for us older ones. But, I will love the old country….till my dying day. She adds, "I read Jan's book a few weeks back. I do not know how this beautiful lady could have held up so well, living the life she lived, early on. She is my hero. Love ya Jan Howard and thanks Diane for this news."
Eric Calhoun in Los Angeles says, "I want to know how Gary Morris, Charlie Mclane, and Earl Thomas-Conley are doing? I'm trying to find out if they have Facebook pages."
Diane: I found Gary Morris at facebook.com/gary.morris1. I didn't find Charly McClain (note the spelling) or Earl Thomas Conley. My search didn't bring up websites for any of them.
Jessica Gonzales says to John Krebs: "Thank you for that information on how many songs Faron Young had. WOW!!! Just curious how might one be as educated as you are in this particular department? Are you as well a HUGE Faron Young fan? Perhaps good with numbers of this nature? Either way I am very happy to have learned this information, as well as my boyfriend."
John Dubay writes from Jacksonville, Florida, "Thanks for doing this. I look forward to all the news. Here in Jacksonville we have a new radio station 105.3 that actually plays real country and even Gospel. 52 minutes every hour commercial free. Florida really is paradise."
Carolyn Berry says, "Thanks for the information about Conway Twitty."
Dominique "Imperial" Anglares writes from France, "Thank you very much for your welcome newsletter. Very welcome and much appreciated."
QUESTION OF THE WEEK
Which one of today's singers (or groups) is doing the best job of carrying forward traditional country and/or western music?
COUNTRY MUSIC HALL OF FAME – 2004
Record producer and label executive Jim Foglesong grew up in Charleston, West Virginia. He was singing in church at age four and on the radio while in high school. He fought in the Battle of the Bulge during World War II, as a soldier in the US Army's 10th Armored Division. The G. I. Bill helped him get a degree in voice and music theory. After working as a singer and record producer in New York, he moved to Nashville in 1970 to run Dot Records. His artists included Freddy Fender, Barbara Mandrell, the Oak Ridge Boys, Don Williams, and John Conlee. Later, as head of MCA Records, he was responsible for the recording careers of Loretta Lynn, Merle Haggard, Conway Twitty, George Strait, Reba McEntire, Lee Greenwood, and Gene Watson. As president of Capitol Records' Nashville division, he oversaw the development of artists such as Mel McDaniel, Dan Seals, Suzy Bogguss, Garth Brooks, T. Graham Brown, New Grass Revival, Marie Osmond, Sawyer Brown, and Tanya Tucker. He served as chairman of the Country Music Association board of directors and the Country Music Foundation. He was involved in music education for the remainder of his life. Jim Foglesong died in 2013, two weeks before his 91st birthday.
Born in 1936 in Brownsville, Texas, Kris Kristofferson was the son of an Air Force major general. As a young adult, he boxed in Golden Gloves events, studied creative writing, and earned a Rhodes scholarship to study literature at Oxford. While there, he boxed, played rugby, and wrote songs. After graduation, he joined the US Army and became an Airborne Ranger helicopter pilot. In 1965, Captain Kristofferson turned down an assignment to teach English literature at West Point, resigned his commission, and moved to Nashville with the dream of becoming a professional songwriter. In an attempt to pitch "Sunday Morning Coming Down" to Johnny Cash, he landed a helicopter in Johnny's yard. The resulting recording became CMA Song of the Year in 1970. Kris and Johnny joined with Waylon Jennings and Willie Nelson in 1985 to tour as the Highwaymen, following their hit recording of Jimmy Webb's song, "Highwayman." In addition to his songwriting and recording careers, Kris has acted in numerous movies. In 2014, he was honored with a GRAMMY Lifetime Achievement Award and the PEN Song Lyrics of Literary Excellence Award.