FEATURED ARTIST
At a Texas Country Music Hall of Fame concert last August, Tommy Overstreet announced, "My career started 62 years ago in Houston, Texas, and it ends here tonight in Carthage, Texas." Although there would be no more touring, he is currently working on two new albums, one of which is totally acoustic. He and his wife, Diane, live in Oregon, where they moved from Branson in 2001 to be close to her family. "We love it here, " he told me when I called him several days ago.
His hit songs, beginning with "Gwen (Congratulations)" in 1971, include "Heaven Is My Woman's Love," "(Jeannie Marie) You Were A Lady," and "Don't Go City Girl On Me." Tommy told me about the evening he was a guest on NBC's Midnight Special, hosted by Marty Robbins. When Marty gave the introduction, he said, "Here's a friend of mine who sings only about girls. He's going to sing about one now. Please welcome Tommy Oversexed, I mean Tommy Overstreet." It was hard to sing when trying not to laugh.
Five years ago, Tommy experienced cardiac arrest due to a problem with his lungs. Although he stopped smoking 22 years ago, he now has emphysema. "My dad was a smoker and it ended up killing him," he says. "And I guess it will end up killing me. Unless there's a cure. I do believe in miracles."
He's been writing songs since age sixteen, and for 38 years he and a friend named Dale Vest wrote together. Back in the '70s, they'd written a children's poem that Tommy wanted someday to make into an animated film. After Dale's death in 2006, he decided it could be a book. With the help of a friend who did the illustrations, he published The Graham Cracker Kid and the Calico Girl.
He worked for awhile on an autobiography, but "it bored me to tears," he says. Diane suggested he write about the people he'd worked with throughout his career, and it took him just over a year to write his 65,000-word memoir, A Road Less Traveled. When I asked if he'd used a ghostwriter, he said, "I wrote every word."
A portion of the book is devoted to his mentor, Gene Austin, whose rendition of "My Blue Heaven" sold over eight million copies in 1927. Tommy toured off and on for six years with Gene, who was his grandmother's sister's son. There is also a chapter about Tom Parker, best known as Elvis Presley's manager.
To order autographed copies of A Road Less Traveled ($18.00) or The Graham Cracker Kid ($20.00), send a check to: Tommy Overstreet, PO Box 236, Hillsboro OR 97123-0236. His website, http://www.tommyoverstreet.com, covers his life and music but has not been updated to include his books. The friend who built the website died unexpectedly of a brain aneurysm.
At age 76, Tommy says he's had a wonderful career and no regrets. Although the business end can be "absolutely devastating," everything to do with the music itself has been wonderful. He is a Christian man who feels "God has blessed me."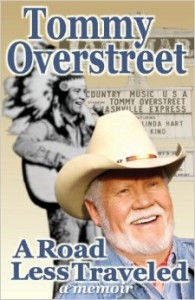 NEWS
Four years ago, Garth Brooks donated $500,000 to the Integris Hospital in his hometown of Yukon, Oklahoma. He made an anonymous donation for a new hospital building to be named after his mother, Colleen, who died from cancer in 1999. Garth has now filed a lawsuit in Oklahoma state court for breach of contract. He wants the money back because the center was never built.
The funeral for Courtney Cash was held Wednesday at Crest Lawn Funeral Home. The family asked that donations be made to her daughter through Cameryn Cash's Educational Fund at Bank of America, account No. 444016583559. Wayne Masciarella, 27, has been charged with her murder. He entered a not-guilty plea during a brief court appearance in Putnam County, and his court-appointed attorney plans to file a motion to keep news cameras out of the courtroom during the trial. Investigators believe Masciarella got into a fight with Cash and her boyfriend, William Austin Johnson, at their home before stabbing them. He is being held without bond in the Putnam County Jail in Tennessee.
Rayality TV is a new weekly webinar produced by Ray Stevens. He took his many hours of film footage and videos, sorted and rearranged them, and produced a series of 78 programs. In the debut episode, Ray gets a speeding ticket and is sentenced to serve time at a retirement home for entertainers–the Encore. Darrell Waltrip makes a cameo appearance. A new webisode of Rayality TV will be released each Friday.
LETTERS
Jean Seither writes from Chicago, "Diane, I was surprised and very pleased to read the letter from Tommy Overstreet. I'd love to hear more about him and what he's doing now. My husband and I who are blind are big fans. We met his parents in Nashville and his dad arranged for a tour of Nashville and asked the lady who did the tour to make it especially descriptive so that we could enjoy it more. It was a wonderful experience. On another subject, I hope Twentieth Century Drifter is recorded for the blind. Marty is another one of our favorites. We really liked reading about Faron Young. Thanks for all the wonderful work you do including this newsletter."
Diane: I hope you enjoyed reading about today's featured artist, Jean. I don't know the process for recording books for the blind. I was contacted about Faron's but haven't heard anything concerning Marty's biography. Perhaps you could contact your source and request it.
Linda Elliott Clark says, "A lot of sad news here. Father time is catching up with ALL of us. My heart goes out to Tommy Cash and his family. God help them all thru this sad and tragic time. Thanks for keeping us updated."
Maurice Bowers has a request: "I am looking for your help in finding a copy of Marty's films and shows, as these are the only four I have been unable to find. Any format will do. I am willing to pay reasonable costs to the United Kingdom for Country Music Caravan, AKA Country Music Carnival (1964) /Country Music Jubilee (1960) /Tennessee Jamboree (1964) /Country Music (1972)."
Diane: If anyone can help Maurice, please send him an email at mauricebowers@talktalk.net.
Mike O'Neill responds to my Hall of Fame question: "There should be a category for life time achievement awards. Pioneers in country. My 3 picks would Eddie Rabbit he had a number of hits 'Driving My Life Away.' He wrote songs that Elvis Presley recorded and Ronnie Milsap. Johnny Russell, long time Opry performer. wrote songs that Buck Owens and the Beatles recorded, 'They're Going To Put Me in the Movies.' Johnny Bush, long time Texas performer, wrote the song 'Whiskey River' and worked in Willie Nelson's band."
Steve Clark votes for: "Modern era: Ronnie Milsap — Veteran era: Hank Locklin — Pre-1980 : Leon Rhodes."
Jane Seymore says, "My choices for CMHOF 2014 induction are Modern Era Artist: Alan Jackson and/or Gene Watson; Veteran Era Artist: Dottie West and Songwriter: Dallas Frazier. This would be my dream team of Country Music Greats to go into the Country Music Hall of Fame!"
Mary Mitchell votes for: "Wynn Stewart. Many good songs and a beautiful voice. He is long forgotten. RIP Wynn."
Kelly Henkins says, "I'd love the opportunity to visit with Faron Young again. As I've matured in this business I find I miss him more then ever.  She adds, "I wanted to send you a link to the review I did of Bill Anderson's new album (http://kellyscountry.blogspot.com/2014/03/turntable-tuesday-bill-anderson-life.html). I've also reviewed the new Oak Ridge Boys album (coming out April 15) as well as Charlie Daniels' new album. I'll be getting Dolly Parton's CD in the next few days. Reviews post on Tuesdays."
Bill Clark writes from Stilwell, Kansas, "I subscribe to Doug Davis' 'Country Music Newsletter' and saw that you, too, publish a newsletter, and that I could get a free sample by sending an e-mail to you. Since I am an OLD country music NUT, I would like to check out YOUR newsletter. Please advise as to how I can do so."
Linda Price asks, "Can you put me on your newsletter email list please? Thanks!"
Don Holland in Orlando, Florida, says, "Please subscribe me to your country music newsletter."
Joyce Gakin says, "I would love to receive your newsletter."
Ken Burke says, "I'd love to subscribe to your country music newsletter."
Dirk Noel Theriault requests, "Please add me to your country music newsletter subscription list. Thanks!"
Al Couch says, "I just read about your Country Music News Letter in the latest edition of Doug Davis's Country Music Classics and would like to subscribe."
Jeff Shockley says, "I read in Doug Davis's 'Country Classics' newsletter, a blurb about subscribing to your newsletter. I would like to do that."
Kleo Stanley writes, "John Paron has recommended me to be added to your Country Music Newsletter. (John calls me Cow Girl Kleo!) I super enjoyed the copy of your newsletter that John sent me. Thanks so much for adding me."
Diane: Welcome to the group, Kleo, and it's great to hear about my old Navy buddy. I'm glad he thought of you.
Sharon Artz in Stickney, South Dakota, writes, "Thank you so much for including me on your list. I am so enjoying them. So glad I've gotten to know you girls and hey, while we were in Nashville, we were in the Ernest Tubb Record Shop and I saw your books there. How fun."
Dave Barton requests, "Put me on your mailing list……….I'm a retired booking agent and former Nashville Network director of outdoor programming."
And from Jeannie Seely: "Does this make any sense to you? It's a fun thing the marketing dept did…its been on the Opry.com site I think….anyway I thought you might think it funny! I understand they are making us a presentation at the Opry Sat night!"
Diane: Thanks for sending the poster, Jeannie, and readers can see it here: http://www.opry.com/actin. I watched your reading of "Fancy" on Facebook but missed the Opry presentation Saturday night. Congratulations!
SOUTH DAKOTA BANDS
I was invited to Toronto, South Dakota, to hear the Lonesome Rail band this past Saturday evening. It's a family band Rollie and Marie Trooien [troy' ien] started twenty-some years ago because they wanted to play mountain music. The players this week were Rollie on acoustic guitar and banjo and vocals, Marie on mandolin and bass fiddle and vocals (she sounds as if she came from the mountains), daughter Jill Moeller on fiddle, grandson Matt Trooien on bass fiddle and Johnny Cash vocals, grandson Dustin Trooien on acoustic guitar and vocals, grandson Derek Trooien on banjo, with Jon Ruby from Clear Lake on acoustic and electric guitar (with a Chet Atkins influence). They played to a full house, with fifty people in the audience. You can find them there most every Saturday night, from 6:30-8:30, in the Trooien tire shop along Toronto's main street.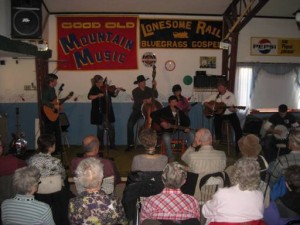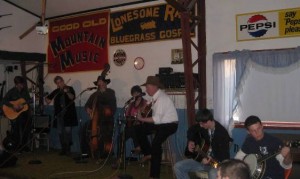 Jon Ruby, Jill Moeller, Matt Trooien, Marie Trooien, Rollie Trooien, Dustin Trooien, Derek Trooien
SONG OF THE WEEK
It tears me up every time I hear Ronnie Dunn sing "Cost of Livin'," and I always wish I had a job to offer the young Army veteran in the song. He's filling out a job application and trying to convince the employer to hire him so he can feed his family: "I got a strong back . . . what I don't know I catch on real quick." "I'll work weekends if I have to . . . whatever it takes." "I'm handy with a wrench, there's nothing I can't drive, nothing I can't fix." Ronnie co-wrote the song and it sounds so real.