My Faron Young/Marty Robbins e-mail newsletter has evolved into a variety of country music bits. Please forward to anyone who might like to read this. And let me know if you have suggestions for Featured Artist, Song of the Week, Sideman Sidebar, or Question of the Week. My next newsletter will be coming from my new Windows 8 computer with Windows Live email. I bought a new computer four months ago and am finally forcing myself to switch from the old one.
NEWS
One of the newest members of the Rock and Roll Hall of Fame is 67-year-old Linda Ronstadt, ten-time Grammy Award winner. She can't attend this week's ceremony in New York City because she is coping with the onset of Parkinson's disease. "I can't really walk well," she told a USA Today reporter about the degenerative brain disease. "The muscles don't get the electronic signals from my brain, not that there's anything wrong with the muscles themselves, It's just my brain." Her most comfortable position, other than lying down, is sitting in an oversized chair with an ottoman, She has published a memoir, Simple Dreams: A Musical Memoir. The Eagles formed as a band while serving as her backing musicians. In a new documentary, History of the Eagles, Don Henley thanks her for letting the band leave with good wishes. "I knew they were good, and you don't stand in the way of somebody's dream," she says.
Arthur 'Guitar Boogie' Smith died Sunday at age 93 at his home in Charlotte, North Carolina. His "Guitar Boogie" influenced generations of musicians. According to the obituary, Paul McCartney played it in Liverpool when he tried out for the band that became the Beatles. Smith also wrote "Feuding Banjos," which gained fame in the movie Deliverance as "Dueling Banjos." Because the movie gave no credit to the songwriter, Smith sued for copyright violation and won. He later owned a 42-foot yacht, and he liked to tell people Warner Brothers bought it for him. Obituary: http://www.charlotteobserver.com/2014/04/03/4815965/charlottes-arthur-smith-who-wrote.html#.U0GJUye9KSM
At the 49th annual Academy of Country Music Awards show this past Sunday evening in Las Vegas, George Strait won the ACM Entertainer of the Year trophy, an award he last won in 1989. He's also been named Artist of the Decade for the first decade of this century. Marty Robbins received the ACM's initial award in that category, for the decade of the 1960s.
The Academy of Country Music (ACM) honored Merle Haggard for his fifty years as a country singer, through the Crystal Milestone Award, which signifies a specific, remarkable achievement in the music industry. His first hit was "Sing a Sad Song" in 1964. He won 20 ACM awards over his career, including Male Vocalist of the Year six times, more than anyone else. In 1971, he won the academy's first-ever Entertainer of the Year award. At the Sunday evening awards ceremony, George Strait sang Merle's first No. 1 hit, "I'm a Lonesome Fugitive," and Miranda Lambert sang "Tonight the Bottle Let Me Down." Garth Brooks called Merle to the stage and announced that today was Merle's 77th birthday. As the Hag made his way down the aisle to accept his award, the audience sang "Happy Birthday."
The 50th anniversary of the Academy of Country Music Awards will be broadcast on April 19, 2015, from the AT&T Stadium, home of the Dallas Cowboys, in Arlington, Texas. The change in venue was announced by George Strait and Dallas Cowboys owner Jerry Jones during this year's awards show in Las Vegas.
LETTERS
Tommy Overstreet says, "Thank you for selecting me as your Featured Artist. I really appreciate it. You got everything right, with the exception of my last concert in August, 2013…it ended in Carthage, Texas…not Houston. It started in Houston 62 years ago and ended in Carthage. No big deal, just thought I'd let you know."
Jean Earle writes from the United Kingdom, "I always enjoy your newsletters and I see that you have kindly offered to have correspondence about your reader's favourite songs and artists, etc. Can I ask for your help? Back in the 70s and 80s, when we lived down in the south of England we always listened to 'Radio London.' We could hear all the news and songs from our favourite Country singers provided for us by a wonderfully interesting D.J. named BOB POWEL. He interviewed the visiting top Country artists, sometimes in his radio studio and sometimes during the popular Wembley Festivals. Bob also was the Editor of Country Music People, a colourful and most interesting monthly magazine. Bob has now retired and a book is being written and it is hoped that it will be put into print next year. Alan and I have helped…in a very modest way with some background details…..and I am wondering if any of your readers or artists that enjoyed talking with Bob back in those early days would like to send any message that could be included in the book . . . I have mentioned this to Bob today, and have told him you are kind enough to try to get some help for his forthcoming book. He was delighted. Faron was one of the visitors to Bob's studio and Alan and I were invited along to watch the programme being made. We enjoyed a fantastic afternoon.  Faron was such a lovely man…we still miss him very much. Bob always managed to bring out the best stories from his guests. They usually had some funny and amusing tales to tell."
Diane: Bob's published interview series was a great help to me in writing Faron's biography. Any readers who remember Bob Powel and would like to say something to him, send me an email with his name in the subject line and I'll forward your message to Jean.
And from Alan Potter in the U.K.: "I use your newsletter to keep my listeners updated. Fantastic. Also some time ago I suggested Wynn Stewart as a subject for your books as I'm a WS nut. I play him regularly on my radio show. I was so pleased to see Mary Mitchell's letter in newsletter, that's someone else who remembers one of country's greatest talents, sadly under rated."
Betty Smith writes from Ohio, "Just wanted to say love reading all your news about everyone. Just was reading latest couple. Wanted to tell you that my husband Chuck went to ER for awful pain in stomach thought was food poison, but was Gall Bladder. While in surgery had heart problem so they did a Special heart test and found he had 4 major blockages, so did Open Heart surgery. Could use some prayers as he has a ways to go. One day at a time. Keep your updates on the stars coming as it's great to know what's going on with them. Thanks Diane and God Bless you and all the entertainers who have brought us so much pleasure and Great music over all the years. And you know how we feel about Faron, He will always be family and number ONE."
Tom Barton says, "About 12 years or so ago, I was up at the Fort Worth Stockyards and the Tarantula steam locomotive and train arrived at the station. I have always been a train buff, so I hung around a bit. Shortly, the engineer got down from the cab and I introduced myself and started visiting with him. He gave me his business card and I did a double-take when I saw John Seay printed on it. I asked him, 'Are you the same John Seay as the singer?' and he grinned. We visited a bit more and then I had to get on. I was in awe, to say the least! Singer, steam locomotive engineer, crop duster… What else does a man need to do to have fun?"
Gerald Walton writes, "I love your newsletter. I am a Hank Thompson fan big time."
Terry Counts sends this note from White Bluff, Tennessee: "Wow!!!! You're gaining fame lady!! To the gent who wants some country shows from the U.K. I suggest he contacts Amazon.com.U.K. (I think that's how it goes) I get a lot of things from them and they're quite reasonable….or have him ask Alan Potter, he may be able to help…saw one of Faron's older appearances on HEE HAW last week, I always tape it, you never know who I'll find…the old man did several of them and Sam always made me sit in front row when I was there…I never know when I'll see him and it used to make me just cry and cry but now I can see it with a smile and remember the good times…and there were many. KEEP UP THE GOOD, NO…GREAT WORK!!!!"
Red Freeman writes, "Diane, really enjoying your newsletters as always and seeing the note from Sharon Artz reminded me of being in Stickney SD many years ago with Sherwin Linton's band when he got the inspiration to write one of his funniest (and longest titled) songs: 'Sick Sober and Sorry & Stuck in Stickney South Dakota Singin' Sunday Mornin' Comin' Down in September In The Rain.' It's on his It Happened In America CD along with a bunch of other very funny and interesting songs. Thanks for all your hard work."
SOUTH DAKOTA BANDS
Neither a band nor from South Dakota, but someone we South Dakotans drove to Sioux City, Iowa, to see at the Vangarde Arts Center. Valerie June is a Memphis gal (born in 1982) who grew up singing gospel music in church, the first ten years in a black church and the next eight in a white church. Same songs in a different style, she says. Her sound has developed into a mixture of folk, blues, gospel, soul, country, Appalachian and bluegrass. She plays ukulele, guitar, and banjo. She raised $15,000 through Kickstarter, the world's largest funding platform for creative projects, and then recorded an album, Pushin' Against A Stone. The title commemorates the story of her life and the thirteen years it took to become an overnight success.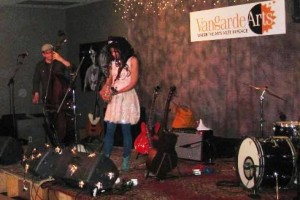 QUESTION OF THE WEEK
What was your most memorable concert experience?