This week we especially remember Faron Young, born in Shreveport, Louisiana, on February 25, 1932. He would be turning 87 on Monday.
IN THE SPOTLIGHT – HILDA YOUNG AND ALANA YOUNG
When I tried to catch up with Hilda Young and daughter Alana for a telephone conversation, it took several attempts to find the busy pair at home. "Miss Hilda has too many doctor appointments," Alana joked.
"I'm doing okay," Hilda said. "It seems like every time I get better, something else comes up." She had back surgery in August. Several discs had collapsed, apparently a result of childhood scoliosis, and the surgeons inserted cages to straighten her spine. "She's showing some signs of improvement," Alana said. "I'll take any signs of improvement at 81 years old."
Hilda is beginning to drive again, for short trips such as to the grocery store and drug store. "When she's desperate to do something," Alana explains. Hilda drove to the nail salon a few hours before our conversation, while Alana was attending her regular Wednesday morning Bible study at Brenda Lee's home. "I was desperate to have my nails done," Hilda says.
Alana celebrated her fiftieth birthday last month. She and Hilda recently had lunch with Marvis Husky and daughter Alana. In the late 1960s, Faron and Hilda Young and Ferlin and Marvis Husky were friends with Alan Ladd. Both couples named their daughters after Alan's daughter, Alana, who was in her twenties at the time.
Three years ago, Alana bought the house Brenda Lee owned when Alana was born. It's still on the Tour of Homes. Tour buses routinely drive past, even though Brenda hasn't lived there since 1972. Alana was looking for a single-level ranch-style house to enable Hilda to move in with her. "I went from living in a townhome for 18 years," Alana says, "and not having any yard responsibility, to buying this big old sprawling ranch on two acres."
She scheduled the closing for the anniversary of Faron's death. "I wanted to close on the 10th so I'd have a better memory of the 10th of December," she explains. "If for some reason my closing got pushed to the 11th, the 11th is Brenda Lee's birthday. So I was like, either one of those days will work. We did end up closing on the 10th."
Alana spent several months renovating the house, which included
completely tearing out the kitchen. She installed new insulation, new
appliances, and a wine refrigerator and wine rack. "There was this parquet wood plank flooring on top of three layers of linoleum," she recalls. "Then there was wood paneling that had been painted, and printed wall paper. It was amazing, the layers and layers stripped out of this kitchen, of what it had been like the last fifty years."
After she moved in, she sold her townhome, and then moved Hilda in. She renovated and sold Hilda's home on Anchorage Drive, where Hilda had lived since her divorce from Faron. My sister and daughters and I had visited her in that home whenever we went to Nashville on my Faron Young research trips. Her eldest son, Damion, lived with Hilda until his death from cancer.
"Mom's still fairly independent," Alana says. "She gets her own space in the house and can do her own thing, but she's not all alone. If something happens, we're here."
Alana started dating Sam C. shortly after Hilda came to live with her. They had briefly dated twenty years earlier, after being introduced by mutual friends. "One of those mutual friends was the reason we got together this time," Alana explains. The friend had mentioned to Sam, "I run into Alana sometimes." Sam took it upon himself to look her up. When they decided to get married, Sam's biggest concern was how Alana would handle being a stepmom, without having kids of her own. She reminded him, "You forget that you have to move in with your mother-in-law." He told her, "I like Hilda." She responded, "Well, it's a good thing!"
"So now we're all one big happy family," Alana says. "Me and Mom and Sam, and every other weekend we have an 11-year-old boy and a 14-year-old girl." Alana enjoys being the fun stepmom to Jacob and Annabeth. "I get to plan all our activities," she says. "We go on vacation and do things with them. I don't have the day-to-day grind, with the homework and all that good stuff."
When I asked if they hear from Kevin, Alana told me she and her brother are Facebook friends. Keven hasn't been back to Nashville in twenty years or so. He lives in Salt Lake City, Utah. "He seems really happy, truly happy," she says. "He and his wife motorcycle a lot together. They drive through all these beautiful canyons, and post pictures on Facebook of wild horses and mustangs, and things–he's loving it out there."
Alana and her other brother, Robyn, often get invited to Country Music Hall of Fame events. "A lot of us are there representing our parents now," she says. "Whenever there's a big new exhibit that falls within that same time table as Dad, we get invited. I'm friends with a lot of other kids of country music, just like Robyn is."
With Faron's upcoming birthday, we had to talk about that. "I always miss him on his birthday," Alana says. "I miss him all the time, but obviously that's one of the big ones. People reach out to us on Dad's birthday. They'll be like, 'Oh, we've been listening to your dad's albums all day.' We say thank you."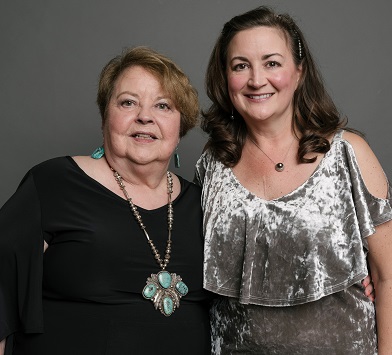 NEWS
Pioneering rock 'n' roll disc jockey and author of the memoir, Elvis: My Best Man, has died. George Klein, born in Memphis in 1935, died February 5 from complications of dementia, the Memphis Commercial Appeal reports. He was 83. He and Elvis became life-long friends while in high school and later participated in each other's wedding. As a Memphis radio personality, Klein hosted Johnny Cash's radio debut, booked the first black artists to play on local television (Fats Domino, James Brown, Sam Cooke), and introduced the Beatles at their Memphis performance. He was inducted into the Memphis Music Hall of Fame in November. No longer will he be heard ending his radio shows with this line: "The United States of America has had many Presidents but only one King, and here he is to sing . . ."
Eleanor Bradley, 89, died February 18. She survived her husband, Harold Bradley, by nineteen days.
Gary P. Nunn, 73, tells WFAA-TV in Dallas he will retire at the end of next year, after five decades of writing songs and performing: "My wife and I would like to have the opportunity to travel, snow ski, ride some horses, plays some golf, visit some family and friends." He was one of the founders of Austin's live music scene in the early 1970s. Austin City Limits used "Home with the Armadillo" as its theme song for years. The actual song title is "London Homesick Blues," a song inspired by a 1973 tour with Michael Martin Murphey. "The heat went off at 6:00 a.m. and went back on at 6:00 p.m.," he recalls. "That inspired me to write, 'It's cold over here and I wish they'd turn the heat on.'" The chorus began with "I want to go home with the armadillo. Good country music from Amarillo and Abilene." Nunn also wrote the 1982 Willie Nelson hit, "Last Thing I Needed First Thing This Morning." He plans to continue writing songs, saying, "I've got tons of stuff in my books that all I have to do is just focus on it."
Son of Richard Petty and grandson of Lee Petty, Kyle Petty is currently touring as a country singer. Before starting his NASCAR career as a Sprint Cup driver in 1979 at age 19, he grew up listening to singers such as George Jones, Marty Robbins, and Johnny Cash. It is the old country music style that most appeals to him. Petty plays his guitar and writes every day. "I've been playing the guitar since I was 12. Never got any better, but I'm still playing," he tells the Gaston (NC) Gazette. "I saw Marty Robbins play and I thought, oh my gosh, this guy is playing the guitar, how cool is that." In 1986, Petty signed with RCA Records and opened for Randy Travis and Hank Williams Jr. He also appeared on Hee Haw. Unlike his 30-year career as a NASCAR driver, he finds performing to be more relaxed. "The job I used to have, when you make a mistake, they haul you away in an ambulance," he says.
During last month's Country Music Cruise, Jeannie Seely and Gene Ward renewed their wedding vows at The Renewal of Vows Ceremony on the cruise ship. Jeannie had to cancel her appearance last year due to Gene's hospitalization. "So many of the fans, artists and personnel were on the cruise last year and were aware of how ill Gene was, and there were so many prayers said on our behalf," Jeannie says in a press release. "I thought it might be nice for them to see Gene standing up there looking so sharp in his suit. This opportunity was very special for not only us, but the fifteen other cruise guests that shared the event with us by renewing their vows at the same time." The couple was married on November 20, 2010.
The recent showdown between Donald Trump and Beto O'Rourke in El Paso illustrated the long-lasting connection Marty Robbins has with the town. Six decades after his hit song, "El Paso," his name came up in several news articles about the two rallies. Regardless of one's opinion of Stephen Colbert, this video brings attention to Marty: https://tinyurl.com/yxm8bl8r
"In honor of Valentine's Day," Miranda Lambert, 35, posted on Instagram, "I wanted to share some news. I met the love of my life. And we got hitched! My heart is full. Thank you, Brendan Mcloughlin, for loving me for … me. #theone" He is a police officer for the Staten Island station of the New York Police Department. According to TMZ, he will continue to live in New York City, and she will live on her 400-acre estate outside of Nashville. They will travel back and forth as they pursue their separate careers. They married in January, after meeting in November when she appeared on Good Morning America, where he was providing security.
During an appearance on Good Morning Britain, Dolly Parton, 73, said her husband isn't that fond of her music or watching her perform. She and Carl Dean, 76, have been married 53 years and he's hardly ever seen her on stage. "He felt like he'd get nervous if I messed up and all that," she said. Also, he prefers "hard rock and Led Zeppelin and bluegrass music." She previously told PEOPLE, "When people ask me what's the key to my long marriage and lasting love, I always say 'Stay gone!' and there's a lot of truth to that. I travel a lot, but we really enjoy each other when we're together and the little things we do." Those little things include picnic lunches in the Tennessee countryside and dinners at their favorite restaurants.
The country music winner at this year's Grammy Awards was Kacey Musgraves, 30, a Texas native. She won the all-genre Album of the Year and Best Country Album for Golden Hour, Best Country Solo Performance for "Butterflies," and Best Country Song for "Space Cowboy."
Reba McEntire will host the ACM Awards for the sixteenth time when its 54th performance occurs April 7 in Las Vegas. Reba returned last year, after taking a break since 2012.
Nash Country Daily reports Trisha Yearwood will celebrate her 20th anniversary as a Grand Ole Opry member on March 12. Rodney Atkins, Trace Adkins, Terri Clark, and Mark Wills will also perform. Trisha was inducted on March 13, 1999, by Porter Wagoner.
Plans for Nashville's Merle Haggard Museum and Merle's Meat + 3 Saloon, announced in October 2017, have fallen through. Instead, the space at 121 Third Avenue South, next to the Johnny Cash Museum, will house Johnny Cash's Kitchen and Saloon. Icon Entertainment, which owns the Johnny Cash Museum and Patsy Cline Museum, will open a two-story, 15,000-square-foot venue that features traditional Southern meat-and-three fare. Nash Country Daily reports there will be stages and bars on both floors. The Swett family, which has run Swett's Restaurant in Nashville for more than 60 years, will operate the restaurant.
A GoFundMe Page has been set up for Doug Supernaw, who is battling Stage IV lung and bladder cancer. With a goal of raising $10,000, the page states, "Doug has NO health insurance at this time. We have had to cancel upcoming shows. Therefore there is no income coming in."
The 2019 Country Radio Seminar in Nashville honored Blake Shelton with the Country Radio Broadcasters Artist Humanitarian Award for his charitable contributions. Taste of Country reports the award was presented by last year's winner, Dierks Bentley, during a Warner Music Nashville luncheon.
LETTERS
Alana Young says, "I appreciate what you have done to keep Dad's legacy alive,  and your newsletter has really been a hit all over. Congratulations to you on a continued job well done."
George Owens writes from Nashville, "Seems like forever since I've responded to your newsletter or contacted you for any reason, but I was reading this most recent post and saw my Name in print. Now that will Wake Up an old hillbilly singer and musician. I'll forgive you for not spelling my last name with an S, since I am the one negligent in our relationship. I did thoroughly enjoy the article about Johnny Russell and Faron that unleashed a lot of memories for me. Funny, ain't it, that one story sparks a lot of memories. I did, as the article stated, have the privilege of working with both these great talents and thankful for every minute on stage with them. I was working with Russell when he wrote 'Got No Reason Now For Going Home' and 'Let's Fall To Pieces Together,' and was lucky enough to be on the Demos for these two great songs. I think it was probably my being on them that got Gene and George's attention. HAHAHA. Just kidding, but I did do them. Enough of my name dropping, I really do read all your newsletters and think about you all the way up there in South Dakota, especially this time of the year. My wife, Pam, reads and enjoys them, too, in case I miss something, she'll tell me about it. You might want to post this, to let all your readers know that George Owens is still alive and kicking and playing golf every chance I get. I don't play music very often (not for lack of wanting to) but there's not much work for an old Bass Player anymore. Keep on spinning the articles and stay in touch with me, if only through the internet. Thanks for all you do to promote actual COUNTRY MUSIC."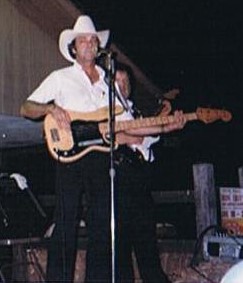 Erv Niehaus says, "I really enjoyed what Johnny Russell had to say about Faron. I met Faron at the airport in Phoenix years ago. He was changing planes on his way to Tucson. The same with my wife and me. Our 1st daughter had just been born and Faron just had a daughter born also. He commented that she had some heart problems. We had a real nice conversation."
Dominique "Imperial" Anglares writes from France, "Greetings for your great work. Nice to find here my longtime friend Sheree Homer who is a fine writer like you are and to enjoy Hoss' memories. Thank you very much for that newsletter and for the much appreciated tribute to Harold Bradley. He was a gifted musician and a very nice man. The Johnny Russell memories were very entertaining and welcome. About Jenny Jones's question, I am for sure familiar with Billy Thompson and his Westernaires. He backed Johnny Horton on several Abbott recordings and had a release on Wiston (108), a record label owned by Slim Willet. He also had at least two releases on Bo-Kay (104 and 115). Both record labels were located in Texas. He also had releases on his own record label Thompson (501). I have a couple of pictures of that very handsome country cat but I don't have much information about his musical journey. More info will be much appreciated."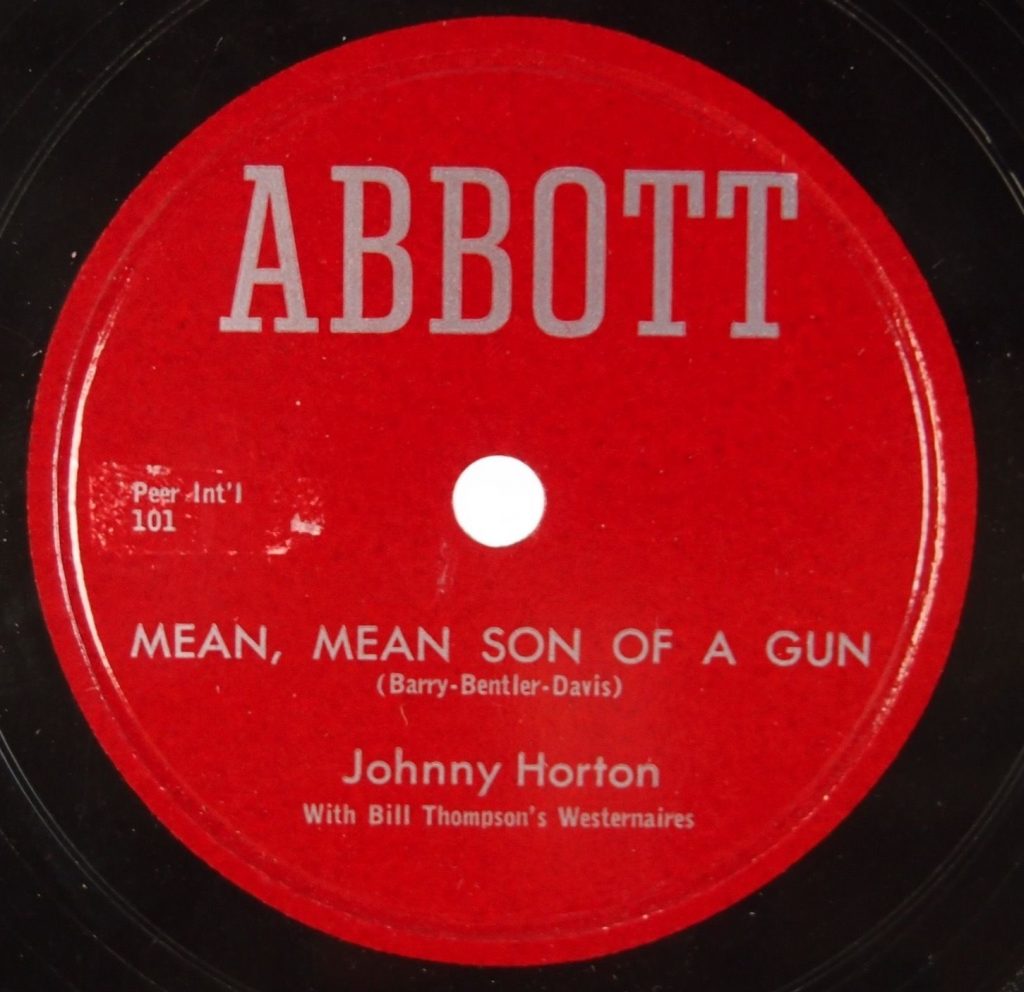 Alan Potter writes from the United Kingdom, "I've been a country music radio DJ for around 50 years and met and interviewed many stars, I am proud to say a number of great friends amongst them, but I still marvel at your info which is often staggering news to me. Bless you and may you continue this wonderful work for years to come."
Jenny Jones says, "Hello from Texas…. Enjoyed all the latest news. Sorry to hear about Linda Ronstadt. Hope all goes well for her. Looking forward to Randy's book and Waylon's book. I have been under the weather, but your newsletter always perks me up…Continue sending us the News."
Michael Smith from Royal Oak, Michigan, writes, "I got a copy of your
newsletter from one of your subscribers from Texas, Lenore Koszalinski. I think it's one of the most professional newsletters I have ever read. I am 67 years old and grew up in a country bar with my grandparents. I sang at the age of 7 in a country show called the Gobal Beer Country show up in northern Michigan. I happen to be totally blind and have my own radio show called 45's Alive and on Tuesdays I do a show called 45's Alive Country where I play a lot of the old stuff because that is where it is at. I broadcast from home on an internet radio station called MCBVI Radio. You can hear me at 4:00 PM eastern time until 6 on Tuesdays and the replay is at 1:00 PM eastern on Fridays. The website is www.mcbviradio.com. I would like to compile information from your newsletter to use on my show. If you give me permission to do that, you will make me look a lot smarter than I am. Again, your newsletter is fantastic and one of the most professional put together letters ever produced."
Dale Wiggers says, "I read your newsletter religiously and was wondering if you could tell me if Doug Supernaw is the same guy who used to work at a place in Whitehall, Michigan (Howmet Corporation). If I remember right, he worked there in the mid-eighties and left to pursue a music career."
Diane: It's unlikely, Dale. The internet bios say he's a Texan who dropped out of college in 1979 at age 19, worked on an oil rig and played in local bands, and then moved to Nashville in 1987.
David Markham writes from the United Kingdom, "Thank you on a good, and sad, read on Harold Bradley. When my wife Dorothy and I were on our very first visit on an invite to meet Mary Reeves, wife of The Late James Travis Reeves, in 1986, Mary decided we should meet later at the Tennis club at Hendersonville. Then Mary introduced us both to Harold and his wife to join her at the table while I watched them playing tennis. Then we all went inside for a late supper and I got talking to Harold when he was doing a U.K. Tour with his friend Slim Whitman. I was excited as I could match anything he mentioned to me about who he knew. At the end of the evening he said to me You know more about country artists than I do David and I play it. R.I.P. My friend Harold."
Mike Embree in San Antonio Texas, says, "My uncle, Fred Bessell, has been forwarding your newsletter to me for several years. Time for me to request that I be added in my own right."
Kate & Marty Davis write from Oregon, "Wow! Lotsa news this month. Thank you. And, yes, write the biography of Randy Travis!"
Kathy Thomas wonders, "The house you are talking about of Patsy Cline's, is it the one with the water mark of an airplane in the corner of her living room? I spent a lot of time at the house and have a lot of awesome memories."
Diane: Sorry, Kathy, I can't answer that question. Perhaps one of my readers can.
Barbara Day requests, "Please add me to your newsletter list."
Mark McBride says, "I'm Janet McBride's son. I'm down in Cullman, Alabama, and love you for putting this together each month."
Claude Hone, real estate agent #1 in South Dakota, and a WWII Corsair pilot who still wears his USMC uniform, writes on 6 February, "I turned 99 yesterday. How about that! Stay safe on those sidewalks and streets."
Debbie Dunnahoe, daughter of Lee Shannon, writes on 10 February: "I am sitting at Dad's computer while he is at the gym, in order to use his address book to ask for your prayers for Dad. Dad will be undergoing surgery for an aorta aneurysm on Feb. 26. In the summer of 2016, tests discovered a 'mass' in Dad's aorta. At that time, it was diagnosed as one to be carefully watched. His most recent, semi-annual exam showed it had increased in size to the extent it would require surgery. Some of you know Dad as Lowen Lee Slagle; others know him as Skip Slagle; still others, know him as Lee Shannon. Although, not my biological father, he became 'Dad' in 1973 when he married my Mom in Indianapolis (I was 19). We went last week for a consultation with Dr. Eileen de Grandis, a Board Certified Vascular Surgeon, who will perform the surgery. Although this is a fairly common surgery (her specialty), she explained there remains a 17% possibility of complications due primarily to dad's age (he will be 85 on 3/15) and the fact that he already has 5 stints in his heart. Dad's email address is lslagle102@comcast.net and his mailing address is 2275 Aaron St., B-102, Port Charlotte, FL 33952. Please feel free to call me at (863) 610-1073 or email me at debbiedunnahoe@gmail.com."
IN THEIR OWN WORDS
When I called Gordon Terry in January 2000 to request an interview about Faron Young, he told me he'd decided several years earlier not to do any more interviews. Because he was one of the few still alive who were part of all the history, he received lots of interview requests. However, Faron was important enough that Gordon called Robyn Young to confirm my credentials. He agreed to talk me, and we had several great phone conversations over the next years. In 2001, I visited Gordon and Virginia at their home in Pulaski, Tennessee. Gordon was on oxygen and confined to his house. He died April 9, 2006, at age 74. Virginia came to my book release party for Live Fast, Love Hard: The Faron Young Story in 2007. Faron and Gordon were both 22 when they got out of the U.S. Army in 1954 and started putting together the Country Deputies band.
I left Faron in the fall of '56. I had been recording vocals about a year, and that ain't what I wanted to do. Jim Denny, the manager of the Grand Ole Opry, got me a contract. All I was wantin' to do was fiddle.
Faron was a great entertainer. He could wake them up. His voice was getting better, the last time I heard him. He was one of the best singers in the business. Some of these guys now, they couldn't tune his guitar–course, he couldn't either.
Me and my Dad and brothers played the Grand Ole Opry when I was 9 years old, in 1941. That's when it was still at the War Memorial Building, a year and a half before it went to the Ryman. So I been in it for a while. That's the reason everybody wants me to write a book, because there ain't many left that knows the history, and all of these stories that you hear about what happened on the road. I was there when a lot of it happened.
Faron's done so many things, and things he should've been killed for. First, mouthy, and the piss and vinegar to go with it. He'd have somebody ready to kill him, and he'd be hugging their neck. I remember one time we played a state line club somewhere in Wyoming or Montana. This big old cowboy–there wasn't enough room for light left in the doorway when he come through it, and he wasn't fat. Faron would always pick the big 'uns. He said, aah, you big SOB, and this, that, and the other. Finally, the old boy said, "Now, Faron, I'm a big fan of yours, but I don't like that. Now don't call me that no more." Faron kept on, and the old boy's fixin' to get him. Faron said, "Hey, Terry, come throw this big SOB out." I was a little upset with Faron, what he was doing. I said, "No, Faron, he's a friend of mine. Why don't you throw him out?" He went over to this old boy, "Ah, I'm just kiddin'. You know I'm just kiddin'." The old boy nearly apologized to Faron.
We both ended up at Fort Jackson, South Carolina. We called ourselves the Circle 'A' Wranglers because Third Army, you know, A and then a circle. We was playing officers clubs, and the NCO and EM clubs on the base had a talent contest. We won the country talent at Fort Jackson. Then we went to Atlanta, and we won the country group in Atlanta, at Fort McPherson. General Bolling, three-star general, one of the greatest old men I've ever met in my life, and probably lucky that we had him, on account of Faron. When I was getting out, Faron said, "Terry, you're goin' back to the Opry, I guess." I said yeah. He said, "It'll be a couple months before I get out, but I'm puttin' a band together. Would you go to work for me?" I said yeah. So that makes me the original Country Deputy. When he got out, we went down and all met at Hubert Long's, which was his manager. I had saw Joe Vincent around. He had worked with Marty Robbins some, so I knew him, not real well. Of course, I knew the Wilburns. And Tom Pritchard was the bass player. We all met down there and started linin' up. The Wilburns opened the show, and done their show, but they was still part of the band. They dressed in Nudie suits. We all came together at the same time. We started rehearsing.
I take a lot of medicine. I've got diabetes, and the breathing problem, heart problem, blood pressure, so I'm a distributor for everything but AIDS and cancer.
A couple years after we got out, General Bolling retired. He sent a telegram to Faron, or Hubert Long, wanting all the people to come back and do the show the day he was retiring. We all planned to go and did go, but they sent him a telegram that said, sorry, with prior commitments, we couldn't make it. Bill Black got up and read it like a telegram that we couldn't make it. At this time we all walked onstage. Here comes the old man–he was way in the back of the building–comes up across the dance floor, and I mean he was bawlin'. It was really a touching little scene.
They had Elvis on a tour with us. I only had two records out, but he'd listen to the Grand Ole Opry, and anybody that was on the Opry was a big star to him. That's what he told me, "Boy, I'm tickled to death, I'm gettin' $50 a night. If I could do that the rest of my life–oh, I wish I could." I think he outdone that a little.
Colonel Tom would get pictures the night before. He'd let teenagers in, maybe give 'em $5 apiece to sit down on the front–this was right at the first of the tour now–and have them try to get up and tear Elvis's shirt off, and then he'd have a photographer get the pictures. Then he would shoot 'em over to the next couple towns we was goin' to, and have the newspapers run them. By this time the teenagers was primed for him. You could see Elvis was gettin' bigger every night, and gettin' more confidence in hisself.
We went out and filmed Hidden Guns in late spring [of 1955]. I had a little line in it. I had two or three, and they cut it to one. But I did get credit on the screen. Teddy and Doyle had one line, when Faron was fixin' to have a shootout with Carradine. They was out on the street, and one of them said, "Let's cross the street." That was like a comedy line–where we'd play the movie theaters and do a show after the movie. Teddy and Doyle had a lot of fans, and they all thought that was funny.
Faron flew into Salt Lake City, where we drove to do the first date after the movie. We was all in the limo, and Faron was sitting in the middle, and I think Tom Pritchard was drivin', and I was sittin' on the right, cuz Faron was short, and we put him in the middle. I had a couple records out on Columbia Records at that time. On the way down to the auditorium from the hotel, Faron told me, "Well, Terry, I see you bought one of them expensive shirts." We'd kinda been at one another's throats a little bit, cuz he was pullin' that big shot shit on me, and it didn't wear real well. But we was always doin' this, he'd say something and I was right back at him. I said, "It looks like you bought some, too, Faron." Faron said, "Well, I hope that damn record of yours hits, cuz the way you spend money, you gonna need it." And that just ticked me off. I said, "Well, I tell you what. You pay me what you're supposed to pay me, and I'll figure out how in the hell I want to spend it." He said, "You're fired." I said, "No, I ain't fired. I just quit." He said, "Well, I'll have Hubert get you a bus ticket when we get down to the auditorium, and send you back to Nashville." I said, "No, you're not gonna get me no damn bus ticket. I ain't no damn second-rate fiddle player, and you ain't gonna send me back second class. You get me a damn plane ticket–first class." That burned him up. Hubert was tryin' to calm Faron down, cuz he knew how he got. I didn't even work the show that night. I sit out on the front row just to irritate him. My plane wasn't leavin' 'til the next morning, and I sat on the front row and read a newspaper while he worked. On top of this, we were drivin' from Salt Lake City back to Modesto, California, the next day, drivin' from there straight back into Nashville. If I was gonna fire somebody, at least I'd made him be miserable ridin' to Modesto and then back to Nashville. So I was kinda happy it happened that way. After Faron got back in town, Hubert said, "Gordon, come on back to the office, and let's sit down with Faron and see if we can get him straightened out." I don't think Faron really ever apologized, but in a roundabout way–in his way–he did. Wanted me to come on back and go to work.
We kept Damion, or Virginia did, for two or three weeks while Hilda went to Mexico when Faron had hepatitis, making the movie. He wrote her a check for $35, and put on it, "for Damion's maid." I told Virginia to tear it up and tell him she wasn't his damn maid, that she'd done it as a favor.
Two towns in Alabama claim me, Decatur and Moulton. Decatur claims I'm from Moulton, Moulton claims I'm from Decatur. I want you to autograph me a copy of this book. Anything else you come across, and wanna chat about, just give me a holler.
SONG OF THE WEEK
I first heard "Your Old Used To Be" while working on Faron's biography, and it became one of my favorite Faron Young songs. It's listed on the BMI website as "BMI Award Winning Song" and written by Faron and Hilda. When I asked Hilda about it, she told me, "He was working on it, and I did help him finish it. In fact, I still get royalties. That was the only one I actually did help write. Some of the songs they put into the publishing company, I don't know why they put my name on them." It reached number 5 on Billboard in 1960 and stayed on the charts for 17 weeks. Listen to this wonderful song with harmony vocals by Donny Young (aka Johnny Paycheck): http://youtu.be/Xr32lmDePdU
BOOK REVIEW
Jimmy Capps has been a Grand Ole Opry guitarist since the early 1960s and is still going strong. From the Louvin Brothers band to a session musician to his current roles on Country's Family Reunion and Larry's Country Diner, he's had quite a career. As the man in back, standing behind the singers and playing his guitar, he hasn't received a whole lot of attention. That has changed, with Scot England telling Jimmy's story in the recently released book, The Man In Back: Jimmy Capps, The Autobiography. Here's my review: http://internetreviewofbooks.blogspot.com/2019/02/the-man-in-back-jimmy-capps.html. You can learn about the book at www.jimmycappsbook.com.