IN THE SPOTLIGHT – MARK CASSTEVENS
"The very nature of our job is to be invisible," says Nashville session multi-instrumentalist Mark Casstevens. Specializing in acoustic guitar, Mark accompanied over 250 artists in the recording studio from 1971 through 2010. "If you have an ego, you shouldn't be in my line of work. You have to be happy to be part of the wallpaper, and I was. I got paid for my hobby." He is one of Garth Brooks's G-Men, the group who played on Garth's first nine studio albums. "I have made it my life's work not to be in a video," he told me when I called him last week. "I'd rather be in the shadows. I want to be a supporting cast member; I don't want the limelight."
Going into a session, Mark would see all the great players around him and know he was accepted as one of them. "That's really the ultimate goal," he says. "You only get hired by your word-of-mouth reputation. You can't be a brother-in-law of the producer and get hired." He played on eleven Randy Travis albums. "When you wake up and you look in your book and see 'Randy Travis, 10:00 session,' you know it's gonna be a good day," he says. One of the blessings of being a session sideman is that three minutes after hearing a demo, there's essentially a finished record. They don't have to wait for recognition. "We get stroked every three minutes," he says. "The fruits of your labor are right there."
Mark graduated in 1971 from the University of Texas at Austin with a BA in English. As a senior, he reviewed records for the college magazine, and one of those was the 1971 album, Me and Jerry: Chet Atkins and Jerry Reed. "When I put it on the turntable, I had this epiphany that this energy is in my wheelhouse," he explains. "I'm a finger stylist and a finger picker, I absolutely loved Jerry Reed and I loved Chet Atkins, and I said I've got to get near that energy." He moved to Nashville immediately after graduation and worked at Opryland for two years. Hearing that Ray Stevens needed a banjo player for "The Streak," Mark auditioned and was selected. His Cinderella story is that Ray's two best friends were Jerry Reed and Chet Atkins, whom he met in 1975. He played banjo on "Misty," and that visibility started bringing in calls to play on sessions. He stayed busy with demo sessions until graduating to the master session pool. "I took pretty much every call that came on my phone," he says. "I wouldn't say 'no, I'm too hot to come play your demo.' Because every time you went to a demo, you would learn something. The pool in Nashville was so deep."
His only experience as a touring musician had been working with Ray Stevens in the mid-1970s, until he agreed to go on the road with Randy Travis in 1994. Randy had shut down his touring machine at the end of 1992, to take a break after seven years of travel. When he started again, he did it with a bang–a weekend at the new MGM Grand Las Vegas and then the Houston Livestock Show and Rodeo. To put together a band, tour manager Jeff Davis asked the session musicians for help. "I loved Randy so much I said I'm in," Mark tells me. "But I didn't really want to go on the road, so how can I get out of this gracefully?" He named a fee he thought was too high to pay. Jeff said he would ask Randy and then called back five minutes later to say, "Rehearsals are on Thursday."
Mark covered harmonica, acoustic guitar, and banjo on the tour. Every time "Is It Still Over" came up on the set list, Mark put down his guitar and picked up the banjo and then the harmonica. "I'm trying to copy parts by Terry McMillan and Bela Fleck, these guys are the best on the planet on their instruments," he told me. I reminded him no one in the audience was making that comparison. "I did, though," he said. "Session players are the hardest people in the world on themselves. We see music from a different perspective."
He quit playing twelve years ago, cold turkey, about the time he was diagnosed with a neurological condition called cerebellar ataxia. Along with affecting balance, it manifests itself in an insidious small motor degradation. When playing sessions, he says, "The joy was knowing you were as good as you could possibly be. The day I walked into the studio thinking 'I hope I don't screw up,' I wondered if I was starting to lose a step." He was playing in the Grand Ole Opry band, too, and requested some time off. "I walked off the stage in December of 2010 and I haven't played again," he says.
He then went into a depression that lasted six years. "It could possibly have been I defined myself as a musician so much that when I wasn't one, it messed with me," he says. He has recovered from the depression and is enjoying retirement. He feels relieved to no longer have to be perfect: "I had to be perfect, every take, every song for forty years. I'm the luckiest person; I would do the same things in my life–marry the same wife, have the same daughters, have those grandkids, play the sessions, and if I got this affliction, big deal, I got to do it."
The eight G-Men were inducted into the Musicians Hall of Fame in 2016. Mark pretended to play when they performed with Garth at the induction ceremony. It was a rare performance for that group to play together before a live audience.
"Garth has been bugging me for decades," Mark says, "to come to one of his big concerts and see what has transpired from our little records we made." Averse to the limelight, Mark always said no. Until his daughters told him they wanted to attend Garth's Gillette Stadium debut show in Foxborough, Massachusetts, last May. He got them a meet & greet and put them up in a hotel with the band. Then Garth called his wife, Esther, and said he wanted to surprise the daughters by flying her and Mark there. Mark couldn't turn that down. "It was one of the best experiences of my life," he says. "All I had to play was dah-dah-dah-dah, the first four notes of 'Friends in Low Places,' and the place goes ballistic. Now I know why he does this. He doesn't need the money, but gosh, that's a rush to have 80,000 people–and that much love. I stayed on stage and turned off my guitar and pretended to play."
Back in 1983, Chet Atkins signed Mark up for a convention where finger-style players the world over came and played for a week at a hotel. Mark recalls, "I played in '83 and didn't go back for twenty years, because I was so terrified at playing live." When he returned, he came off the stage after one performance and a man told him he needed to make an album. Mark asked why, when he didn't play anywhere to sell it. The man reiterated, "You need to record your songs." Mark took that advice and made a vanity album, although he wondered why he was spending money on such a project. Now he knows. "I can't play anymore," he says, "but I've got a record that shows at one time I could do it."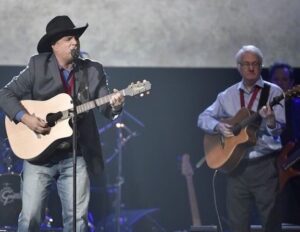 NEWS
Williamson County Sheriff's Department recently released a series of documents and photos relating to the death of Naomi Judd, 76, who died April 30 of a self-inflicted gunshot wound, after a long battle with mental illness. The Daily Mail reports she left her fortune and estate–believed to be $25 million dollars–to Larry Strickland, her husband of 33 years. She did not mention her daughters, Wynonna, 58, and Ashley, 54, in her will. Larry was in Europe at the time of her death. The three filed a lawsuit to stop the release of such materials, but they withdrew the lawsuit in December after journalists stopped asking for photos and body camera footage. Now, several celebrity tabloid outlets have published the released photographs, as well as texts and conversations Ashley had with Naomi's therapist that day. The images include blood-stained bedding, a gun on her nightstand, and a Post-It-style note that says, "Do not let Wy come to my funeral. She's mentally ill." Taste of Country reports Ashley Judd posted on Instagram to lambast the coverage as "the crudest monetization of a family's suffering and despair, and a flagrant, cynical disregard for public welfare." She urges journalists to follow the American Foundation for Suicide Prevention's suicide coverage guidelines, and she asks lawmakers and the public to support changes in the privacy laws that govern what becomes public record when a death results from suicide. The present law "serves only the craven gossip economy and has no public value or good," she states.
The day before Tanya Tucker was scheduled to appear in Davenport, Iowa, she tweeted, "To my friends in Iowa and Arkansas: I am fighting an infection that has knocked me down, but I'm slowly but surely getting better. My doctors advised me to rest, so I have made the difficult decision to reschedule these shows listed." KHAK Radio in Cedar Rapids, Iowa, announced the short-notice cancellation of that show and one in Forrest City, Arkansas. Those two have been rescheduled for March. Tanya expects to perform her February shows as scheduled.
Lisa Marie Presley, 54, the daughter of Elvis Presley and Priscilla Presley, died January 12 after suffering full cardiac arrest at her home in Calabasas, California. Her housekeeper found her unresponsive in her bedroom. Paramedics revived her and transported her to the hospital, where she died. Taste of Country reports she was laid to rest in the Meditation Garden at Graceland in Memphis on January 19, beside her son, Benjamin Keough, who died by suicide in 2020 at the age of 27. Her memorial service, open to the public, was held on the north lawn of Graceland on January 22. Her fourth ex-husband, musician Michael Lockwood, will get full custody of their 14-year-old twin daughters, Finley and Harper Lockwood. She was living with her first ex-husband, Danny Keough, at the time of her death. Elvis Presley would have been 88 years old on January 8, had he not died of a heart attack in 1977. Lisa Marie owned Elvis Presley Enterprises until 2005. She still owned Graceland.
McBride & the Ride are on the radio again with their first single in over two decades, "Marlboros & Avon." It was 2002 when Terry McBride, Ray Herndon, and Billy Thomas last recorded an album together. "We released our version of The Who song 'Squeeze Box,' and they didn't think that was the right message to put on the radio at the time," Ray Herndon, 62, tells PEOPLE. The trio stayed in contact, with everybody doing their own thing. Twenty years later, Herndon, who has been Lyle Lovett's lead guitarist since 1985, went to a show in Arizona to see Terry McBride. "Terry called me up on stage," he says. "We did 'Sacred Ground.' It's like we had never stopped." About recording together, he says, "We're still able and young enough and we all have the passion. So, we thought we should try to do this again." Billy Thomas, 69, has long been Vince Gill's drummer on the road and in the studio. McBride, 64, has been writing songs and helping to develop the career of Drake Milligan, America's Got Talent Season 17 runner-up. He says, "We don't have any huge expectations. We recorded some good music that we feel strongly about and that we are proud of."
In a recent interview with Taste of Country, Dolly Parton talked about her new song, "Don't Make Me Have To Come Down There," which she released on her 77th birthday, January 19. The idea started when she was watching television news and worrying about the state of the world. She wondered what God was thinking of us. That night, she had a scary dream. "You know how dreams are mixed up," she explains. "It was almost like my own dad, but it was a Godly figure." The frustrated parent in the dream said, "Go to your room and pray 'til you can learn to play fair / Don't make me have to come down there." One line is, "I am wondering whether I should take my Bible belt and whip you in the shed." She also said she gets asked every season to be on shows like American Idol and The Voice, but she turns them down, saying, "I would have a lot of trouble telling them yes or no — especially no … I just feel their little hearts. I hate it when they don't win." She announced she is starting her own network, and she has a vision for a televised singing show that doesn't involve sending contestants home.
Two years after filing for divorce, former Rascal Flatts guitaristJoe Don Rooney, 47, and his estranged wife, Tiffany Fallon Rooney, 48, are still battling. They have a settlement conference set for March. The couple married in in 2006 and have three children. PEOPLE reports both parties admit to adultery, and they have filed hundreds of documents in Davidson County, Tennessee. Joe Don initially cited irreconcilable differences and later amended his complaint to accuse Tiffany of cheating on him with her personal trainer. She responded with documents that said her affair was not the reason their marriage ended; it was his "habitual drunkenness and abuse of narcotic drugs." He was arrested in September 2021 after he crashed his vehicle into a tree line in Franklin, Tennessee. He pleaded guilty to DWI and was sentenced to two days in jail. Tiffany wants alimony in futuro because there's a chance Rascal Flatts will tour again. The documents say Gary LeVox and Jay DeMarcus have testified they would be willing to do so, but Joe Don "vehemently denies that the band has any plans to reunite."
The Ameripolitan Music Awards in Memphis, Tennessee, will honor Johnny Rodriguez, 71, on February 19 as its 2023 Master Award winner, joining previous honorees Ray Price, Jerry Lee Lewis, Charley Pride, Wanda Jackson, Billy Joe Shaver, James Burton, Johnny Bush, WS Holland, Junior Brown and Red Simpson. The Adams Brothers (the original Jones Boys) will receive the Founder of the Sound Award. Johnny is currently working on a recording project that will include duets with Dennis Quaid and Tanya Tucker. He was inducted into the Texas Country Music Hall of Fame in 2007, and he received the Pioneer Award from the Institute of Hispanic Culture in Houston in 2010. Saving Country Music reports there is a campaign underway to get Johnny Rodriguez inducted into the Country Music Hall of Fame. I'd vote for that. I've been his fan since he came on the scene in 1972 and still have his first LP. To participate in the campaign, you can write to: Country Music Hall of Fame Nominee Committee, c/o Country Music Association, 35 Music Square East, Suite 201, Nashville, Tennessee 37203-4516.
One of the latest inductees to the Songwriters Hall of Fame is Liz Rose, who moved to Nashville in the mid-1990s and began writing songs at age 37. One of her first hits was Gary Allan's "Songs About Rain" in 2003. She has co-written 16 songs with Taylor Swift, including "Tim McGraw" and the 2010 BMI Award for Song of the Year, "Love Story." The pair is currently nominated for a 2023 Grammy for Song of the Year with "All Too Well (10 Minute Version) (Taylor's Version)." She has written songs for Tim McGraw, Dan + Shay, Allison Krauss, Blake Shelton, LeeAnn Womack, Chris Young, Bonnie Raitt, and more. In 2015, she won CMA Song of The Year and a Grammy for Best Country Song for "Girl Crush," recorded by Little Big Town. MusicRow reports she will be honored alongside Sade, Glen Ballard, Snoop Dogg, Gloria Estefan, Jeff Lynne and Teddy Riley at the 52nd Annual Induction and Awards Gala on June 15 at the Marriott Marquis Hotel in New York City. She is not yet a member of the Nashville Songwriters Hall of Fame.
"Marshall Tucker never played a lick of music in the Marshall Tucker Band," says Saving Country Music. "For almost 50 years, Marshall Tucker was one of South Carolina's most trusted piano tuners. He tuned pianos for some of the most famous piano players ever, including Lawrence Welk and Liberace." Born blind and with perfect pitch, he was trained to tune pianos while attending a boarding school for the blind, after a piano tuner at the school discovered he could name any note he heard and tell if it was on pitch. After starting his piano tuning business, Marshall temporarily rented space in a warehouse in Spartanburg. Later tenants, in 1972, were Toy Caldwell, Tommy Caldwell, Doug Gray, Jerry Eubanks, George McCorkle, and Paul Riddle–a band that needed a rehearsal space and a name. One of the band members noticed "Marshall Tucker" inscribed on the warehouse key. They liked that name and decided to call themselves The Marshall Tucker Band. After one of Marshall's friends commented about his upcoming gig of playing music in town, the person and the band connected. The current Marshall Tucker Band has announced the death of Marshall Tucker on January 20 at the age of 99.
The Los Angeles County Department of Medical Examiner-Coroner has released the full autopsy report of actor Leslie Jordan, 67, who died in a car crash in Hollywood in October. His death was caused by sudden cardiac dysfunction, due to "moderate to severe" arteriosclerotic cardiovascular disease.
Wynonna Judd was scheduled to perform alongside Kelsea Ballerini at the CBS New Year's Eve Live: Nashville's Big Bash, but she pulled out earlier in the day, citing "an extreme bout of vertigo." PEOPLE reports she posted a video last week on Instagram to check in with fans who worried that she was overworking herself. She said she was "absolutely heartbroken and so sorry" to cancel her performance but was looking forward to touring with Ballerini in February. She said, "I am working so hard on my mental, physical and spiritual well-being. I have a great team and I'm really blessed and I'm broken and I'm working really hard at self-care, which is not selfish, it's sacred."
The heirs of Jerry Lee Lewis and the heirs of his former manager are arguing about who owns The Jerry Lee Lewis Ranch in Nesbit, Mississippi, where he died October 28, Saving Country Music reports. The 30-acre property, just south of Memphis, Tennessee, includes his home, a stocked lake, and a swimming pool styled like a grand piano. Jerry Lee willed the ranch to his son, Jerry Lee Lewis III, who currently lives there with his wife and two sons. Jerry Lee III was born in 1987 to Jerry Lee and his sixth wife, Kerri McCarver. There was a Jerry Lee Lewis Jr., who died at age 19 in an automobile accident in 1973. The will is being contested by Cecil Harrelson Jr., son of the late Cecil Harrelson, who was Jerry Lee's longtime friend and road manager, as well as once married to Jerry Lee's sister, Linda Gail Lewis. On a new website, Harrelson Jr. has announced the intended sale of the property. When Jerry Lee purchased the ranch in the early 1970s, he placed it in a life trust under the name of Cecil Harrelson–he wanted to keep it out of reach of the IRS and his ex-wives. The IRS seized much of his property but could not touch the ranch. Jerry Lee filed for bankruptcy in 1988, partly to alleviate his $2 million IRS tax debt. He was found innocent of tax evasion. Mary-Jean Lewis, daughter of Cecil Harrelson and Linda Gail Lewis, says the house was payment to her father in lieu of wages for his years of service. Jerry Lee Lewis III insists the ranch was put in Cecil Harrelson's name to ensure it could never be taken from Jerry Lee's family.
According to MusicRow, the Birthplace of Country Music nonprofit organization has received $1,050,000 in grants to help its expansion project for the Birthplace of Country Music Museum in Bristol, Virginia-Tennessee, where the 1927 Bristol Sessions took place. Local business owners donated a two-story building constructed in 1881 and located next door to the museum. The expansion project for this "Annex" will include a special exhibit area, climate-controlled archival storage, offices, restrooms, and event space. The Virginia Tobacco Region Revitalization Commission provided $500,000 as part of its mission to generate economic growth and attract new businesses to Southwest Virginia. The federal FY 2023 Consolidated Appropriations Act included $500,000 of Community Project Funding to assist with the building project. The Genan Foundation, a private foundation created by the owners of Worrell Newspapers, donated $50,000. The Annex project is expected to take 18-24 months to complete and will increase the museum's size to 41,000 square feet.
As a direct result of fan demand, Brooks & Dunn have added 17 dates to their Reboot Tour, which comes to the Denny Sanford PREMIER Center in Sioux Falls on June 2. The tour began in 2021 and takes its name from their 2019 album, Reboot. The first date is May 4 in Kansas City, Missouri, and the last June 17 in Greensboro, North Carolina. They always take younger hitmakers with them, and in 2023 that will be Scotty McCreery, who says, "Having been a huge fan of their music all my life, going out on the road with Kix and Ronnie is a dream come true for me." Scotty was spotlighted in my 3/9/22 newsletter.
LETTERS
Phil Davies says, "I would challenge the description of the talented Ian Tyson being 'Canada's greatest singer songwriter.' That without doubt belongs to my hero and CMHOF inductee Hank Snow."
Larry Delaney of Cancountry in Ottawa, Canada, writes, "Truly enjoy your Newsletter. Concise and factual reporting. Have been following your entries on inductees of the Nashville Songwriters Hall of Fame, and makes me wonder why Canadian born, the late RAY GRIFF (1940 – 2016), has continually been passed over for induction. Ray Griff's songs have been recorded by literally hundreds of Nashville (and Canadian) recording artists, including such 'stars' as Jim Reeves, Loretta Lynn, Jerry Lee Lewis, Faron Young, Mel Tillis, Gene Watson, Hank Snow, Porter Wagoner & Dolly Parton, Bob Luman, Stonewall Jackson, Conway Twitty, Johnny Horton, Dottie West, Mac Wiseman, Hank Locklin, Charley Pride, Johnny Paycheck…and the list goes on!! What does it take to get RAY GRIFF inducted into the Nashville Songwriters Hall of Fame???"
Mary Mitchell says, "Great letter. I was a fan of Carl Belew. Had a great voice. Thanks for mentioning some of old greats."
Carol Grace Anderson says, "I learn something from every newsletter of yours. I know I sound like a broken record. No pun intended."
Bob Jennings writes, "I am sorry about the typo–Dick instead of Leroy. I also apologize to Leroy Van Dyke–I don't know if Dick Van Dyke sings and if he could do the Auctioneer Song, but he is a Fine Star at Acting. I have written and published seven books on Fishing, Hunting, Shooting and Humor –it just shows to go ya that it don't matter how many times you proofread–there may still be a typo–but mine was a humdinger. Your Newsletter gets better with every issue–excellent reading–you are giving the Country Music People excellent information."
Bobby Fischer writes from Nashville, "Charlie Black, Austin Roberts and I sat down to write a song on January 17th (way back). 'You Lie' was the title. Recently, I went through some of my song files, and I noticed the day we wrote the song was my mom's birthday. I'm wondering if she didn't look down and say, 'Let's give those boys a little help down there.' She was always doing things like that extra for us, so I think it was a birthday gift in reverse. We were writing for an artist I was managing, Cee Cee Chapman. She made a great record on it—then shifted producers. I got it to Reba McEntire. Faith Hill did a TV tribute performance. Also google another one by Trisha Yearwood and Martina McBride. Also google Jake Hoot's winning performance on The Voice. Hey, Mom, Charlie and Austin said thanks. How about another one like that? Save a place for me." Bobby also says, "Our niece Margo Price had Helen and Lori and me over for her album release party. The New York Times did a story on her music and has a huge picture up on the Times Square marque. Her album is on top at iTunes and a song she wrote, 'Lydia,' is recommended."
Diane: Congrats, Bobby, on Reba's Billboard #1 in 1990 with your song. And I know you're proud of Margo.
Jim McQuisten in Sioux Falls says, "Very much enjoyed the latest Diane's Country Music Newsletter, particularly the article on Roger Brown. I find it amazing how people gravitate to becoming part of the music industry, either as a writer, producer, artist, or just a lover of music. Each has a story to share."
Dave Barton in Franklin, Kentucky, sends the obituary of Stan Hitchcock and says, "I'm going to be out of town for his service. I wonder if he had another stroke. I hadn't heard from him in some time. I emailed him but he never replied."
Erv Niehaus writes from Grove City Minnesota, "I have been playing steel guitar since the '50s. There used to be a publication called Hillbilly & Cowboy Hit Parade. Later on, the name was changed to Country & Western Hit Parade. Both of these publications contained articles about various country stars together with music of the latest county hits. I practically wore out these publications. In one of the issues from 1953, there was a short article about Faron Young when he was 21 years old and just starting out. I met Faron when my wife and I were living in Tucson, Arizona, and we were returning to Tucson from Minnesota. We had to change planes in Phoenix to get to Tucson, and Faron was also changing planes. I had a real nice conversation with Faron. My 1st daughter was just a baby and Faron said he and his wife had a little baby girl also. He said his little girl had some heart problems. I was so stupid, I should have asked him where he was performing, but I never did."
Joe Allen writes from Australia, "Have just finished your book on Marty Robbins. The work that went into it was tremendous and well researched. I finished the book in a week. Your newsletter is excellent reading. You cover many of the people who work behind the scenes to make the singers and bands the successes that they are. Back in 1978, my parents celebrated 25 years together. We six offspring got them a trip to California to connect with Dad's friend Stan Dugmore and his wife, Dottie. My dad and Stan served in the Navy where they became friends. Mom calls me and tells me their son Danny plays steel guitar with Linda Ronstadt. I had the Simple Dreams album and, sure enough, there is Dan in the picture. From that time on, when I get a record, I look at all the musicians and writers before playing the LP or CD. Stan and Dottie later moved to Las Vegas. I stayed with them until finding a roommate. I also got a date with Dan's daughter, who played five stringed instruments and later had a big role in discovering Garth Brooks. Dottie tried to keep me from moving to Australia, but I emigrated anyway. 33 years later, still married with 3 sons. Dottie was also a musician, playing accordion and ukulele. I met Dan last time on a James Taylor tour to Australia in 1990. Dan is well thought of in the Australian country music industry and has played on CDs for a few Australian singers. My little story on meeting one of the top studio musicians in the business."
Dominique 'Imperial' Anglares writes from France, "Thank you very much for that first newsletter for 2023. Great to read about my late friend Charline Arthur on Ron Mc Bride's letter. Charline was a kind of maverick and probably a too hot item to handle, just like Elvis Presley was in his prime. She was as wild as him on stage but more rough and rowdy off stage. Charline brought something new and loose to female country music and opened the way for rockin' teenage Janis Martin, cute Brenda Lee, and glamorous Wanda Jackson. Charline was not there to stand by her man and weep about her unfaithful honky tonkin' lover. Charline Arthur was inducted into The Rockabilly Hall of Fame in April 2007 (number 310). That's the result of lots of hard work done since 1985 by fans, friends, and Bear Family Records. That gal who never had an LP on US RCA Records had to wait until 1986 to have her first ever LP released out of a pressing plant in Germany."
Don Ewert says, "I'm wondering about singer Duane Dee. He was the first to record 'Before the Next Teardrop Falls,' before Linda Martell and later Freddy Fender. Duane's version went to #44 in Billboard in 1967. He also had a hit with 'How Can You Mend a Broken Heart' in '71, not sure if he recorded it before the Bee Gees. Duane was born in Hartford, Wisconsin. He performed regularly in Milwaukee. My former brother-in-law knew him before he started singing. I am also wondering whatever happened with the book being written about Dottie West."
Diane: Duane Dee (born Duane DeRosia) moved to Bradenton, Florida, in the early 1980s, where he remains active as owner/operator of Dee's Barn Recording Studio. His website is https://www.duanedee.net/. I don't have any information on the Dottie West book.
NASHVILLE SONGWRITERS HALL OF FAME – 1977
Johnny Cash was born the son of Arkansas sharecroppers in 1932. In addition to his long career as a recording artist, he is known for writing many of his hits, such as "I Walk the Line," "Folsom Prison Blues," "Get Rhythm," "Home of the Blues," and "I Still Miss Someone." He created a series of concept albums for Columbia Records, recorded live concerts at the San Quentin and Folsom prisons, and starred on his own ABC network television series. "The Man in Black" wrote and recorded a hit song with that title in 1971. In the 1980s, he recorded and toured in "The Highwaymen" with Waylon Jennings, Kris Kristofferson, and Willie Nelson. He was inducted into the Country Music Hall of Fame in 1980 and into the Rock and Roll Hall of Fame in 1992. He died in Hendersonville, Tennessee, in 2003, at age 71.
Woodrow Wilson Guthrie, better known as Woody Guthrie, wrote over a thousand songs, including "So Long, It's Been Good to Know You," "Oklahoma Hills," and "This Land Is Your Land." Born in Oklahoma in 1912, he grew up in a musical family that experienced the financial ruin of his father and the institutionalization of his mother because of Huntington's disease. Throughout the Great Depression, he hopped trains and hitchhiked, went to labor rallies and migrant camps, stood in soup lines and slept with hobos, and put his experiences and observations into song. He wrote "This Land Is Your Land" as an angry rebuttal to Irving Berlin's "God Bless America." Following World War II service in the Merchant Marines, he settled in Coney Island with his second wife and raised four kids. His health began declining in the 1950s from Huntington's disease, the congenital disease that had killed his mother. He died at age 55 in New York City in 1967.
Born and raised in Bakersfield, California, Merle Haggard started playing guitar and fiddle in 1949, when he was 12. His father died when he was nine, and he spent his youth in and out of juvenile detention centers. After a botched burglary attempt, he served two years in San Quentin—not for the seriousness of the crime but because he'd escaped from wherever he'd been held. Following his release, he got his first big break in 1962, singing with Wynn Stewart. His record of "Sing a Sad Song" placed him on the country charts in 1964. The #1 hits he wrote for himself included "Mama Tried," "Sing Me Back Home," "Branded Man," "Fightin' Side of Me," and "If We Make It Through December." He was elected to the Country Music Hall of Fame in 1994. He died on his 79th birthday in Palo Cedro, California, in 2016.
Kris Kristofferson is the third Hall of Fame member still living. Born in 1936 in Brownsville, Texas, he is a Rhodes scholar and Army helicopter pilot who chose songwriting over being an English literature professor at West Point. When he arrived in Nashville in 1965, he worked at jobs such as janitor at Columbia Records' studios and flying a helicopter for an oil company, all the while writing songs. In 1969, four of his songs became hits: "Help Me Make It Through the Night," "For the Good Times," "Sunday Morning Coming Down," and "Me and Bobby McGee." In 1970, he won both the CMA and ACM Song of the Year Awards. He signed a recording contract with Monument Records in 1971. He balanced his songwriting/singing career with being a Hollywood actor. He was inducted into the Country Music Hall of Fame in 2004 and honored with a BMI Icon Award in 2009. In 2012 the Nashville Songwriters Association International named its lifetime achievement award after him. Kris and his wife live in Hawaii.