IN THE SPOTLIGHT – SCOTTY McCREERY
After reading an article where Scotty McCreery said, "Little Scotty used to sit on the end of his bed with a guitar playing three wooden crosses, forever and ever amen, 1982, diggin' up bones and so many other Randy Travis songs till 2 in the morning," I knew I wanted to talk to him. When we connected, he told me he grew up as a kid from North Carolina who loved country music. "That's all my mom was ever playing in the house was that good ol' country music," he said. Scotty, 28, is from Garner, North Carolina, a suburb of Raleigh. He won the 10th season of American Idol, at age 17, in 2011.
"Forever and Ever, Amen" was one of the first songs he learned on guitar, and it was the first Randy Travis song he learned. Into the late hours of the night, even knowing his sister was right down the hall, he would be teaching himself country songs. "Forever and Ever, Amen" was one of his staples when he started playing coffee shops and other little gigs in Carolina.
He had the opportunity to sing that song for Randy during a performance at Billy Bob's in Fort Worth in 2017. "It was probably fifteen minutes before the show, and I'm kind of getting in my right mindset and getting everything together before the show," he recalls, "and somebody tells me there's somebody outside who wants to see me before I go onstage." He looked out the bus window and saw Randy Travis sitting there. "I had like a freak-out oh-my-god moment," he tells me. "We're about to go onstage, which means he's come to see us play a show. This is the same guy whose songs influenced me my whole life, and he was right outside my bus." It made for a nerve-racking but memorable evening.
Scotty still lives in the home state he shares with Randy. He flies to Nashville to write, record, play the Opry, and conduct other business. "Living in North Carolina somewhat grounds me," he says, "and lets me come back to earth a little bit before we hit the road or hit the studio." Being at home gives him needed headspace. "It's just an hour flight to Nashville, and an hour time difference," he explains, "so I can leave Raleigh at seven and get to Nashville at seven."
I asked Scotty how he became the only country music artist to chart a song without the backing of a record label. He told me he wrote "Five More Minutes" in 2015 and immediately tweeted, "Man, I think I just wrote my favorite song I've ever written." But he ran into a problem with his record label. He and Universal parted ways in 2016, and it took a year to straighten out the legal mess. In 2017, Scotty released the song independently. He then signed with Sony's Triple Tigers label. Together, they took the song to the top of Billboard in February 2018. "It wouldn't have gone to number one without Triple Tigers," he explains, "but it was the first song in AirCheck history to ever chart without a label, which I'm really proud of."
His newest album is Same Truck, and the current single from the album is "Damn Strait," which pays homage to George Strait. He had been working on an album in 2019, "and then the world shut down in 2020, and I wrote a whole new album," he says. "A lot happened in the world between 2020 and September '21." He's now looking at those earlier songs from 2019. "I still love those songs and want to give them a life," he explains. "That's kinda my project right now, going through and seeing what we can do with the songs, since we worked so hard on them."
Scotty says, "I hope everybody's enjoying the music, and I hope to see them on the road soon." He's on his way right now to the United Kingdom, Germany, and the Netherlands. Perhaps some of my overseas readers will see him there.
NEWS
Warner Mack (1935-2022)
"The bridge washed out, and I can't swim, and my baby's on the other side." Warner Mack, 86, died March 1 in suburban Nashville. He'd had health issues for many years, including eye problems and Parkinson's Disease. Born Warner Hensley McPherson Jr. in Nashville in 1935, the son of a Presbyterian minister, he grew up in Vicksburg, Mississippi. He taught himself to play guitar and wrote "Is It Wrong (For Loving You)" following a romance at age 13. A recording contract with Decca shortened his last name from McPherson to Mack and produced his top 10 hit on "Is It Wrong (For Loving You)" in 1958. Sonny James would take the song to No. 1 in 1974. Shortly after Warner's 1964 hits, "Surely" and "Sittin' in an All-Night Café," he was severely injured in an automobile accident during a snowstorm. His No. 1 hit on "The Bridge Washed Out" came in 1965. He toured England in the 1980s and released new albums in the 1990s. Bear Family Records reissued Warner Mack's rockabilly and teen-pop discs on a 2011 CD collection titled Baby Squeeze Me.
Visionary television producer Jim Owens, 84, husband of Lorianne Crook for almost 40 years, died March 4. According to a MusicRow obituary, Jim Owens Entertainment currently holds the trademarks for The Nashville Network (TNN) products as part of its 45-year library of original productions and raw footage totaling over 10,000 hours. Born in South Carolina in 1937, Jim produced country music's first fan-voted, big budget, live award show, the Music City News Country Awards. In 1983, he paired Lorianne Crook with Charlie Chase and developed This Week in Country Music. The pair became famous as Crook & Chase. In 1993, when Ralph Emery's Nashville Now ended, Jim negotiated with TNN to give the 90-minute slot to Crook & Chase, for which he produced more than 500 episodes of Music City Tonight.
The Kentucky Music Hall of Fame will induct Carly Pearce as part of its class of 2022, during a ceremony in Renfro Valley on October 28. The Taylor Mill, Kentucky, native is the current CMA Female Vocalist of the Year. Other inductees are Grand Ole Opry background vocalist Norah Lee Allen, Steel Guitar Hall of Fame member Tommy White, hit songwriter Marty Brown, and two posthumous inductions, bluegrass songwriter Pete Goble and producer Paul Yandell. CMT News reports previous members include Loretta Lynn, The Backstreet Boys, Florence Henderson, Rosemary Clooney, Keith Whitley, and Boots Randolph. Carly writes on Instagram, "When I was in 4th grade, I won my school talent show singing 'Blue Moon of Kentucky' in this costume my mom made for me. Today, I unveiled my exhibit in the Kentucky Hall of Fame & that costume was part of it."
Tennessee Music Pathways unveiled its latest marker on February 26, the 90th birthday of Johnny Cash. uDiscoverMusic reports the landmark is situated in Hendersonville, Tennessee, on Main Street at HALO Realty, which was the original site of the House of Cash music publishing company. Johnny lived for 35 years in his lakeside home on Caudill Drive and is buried in Hendersonville Memory Gardens. John Carter Cash said during the ceremony, "Having lived in Hendersonville my whole life, I am grateful and indebted to Tennessee for preserving critical music sites and noting the former House of Cash building as one of those."
"So Far, So Good" is the latest release from the new Jeannie Seely album, An American Classic, on Curb Records. The Whites, Sharon and Cheryl, join Jeannie on the recording. The song was co-written by Penn Pennington and Mitch Ballard and produced by Don Cusic. "So Far, So Good" is a great-sounding western swing number.
On February 28, Cody Johnson became the third artist to sell out the opening night of the Houston Livestock and Rodeo Show, CMT News reports. After the coronavirus pandemic forced the world-renowned rodeo to shut down for two years, approximately 70,554 fans attended Cody's show to help kick off the 90th anniversary season. It was his fourth appearance on that stage. Before becoming a singer, the cowboy from Sebastopol, Texas, worked the rodeo circuit as a bull rider.
Brad Paisley, 49, is bringing his Acoustic Storyteller concert to Wynn Las Vegas's Encore Theater this weekend for the second time. According to People, he helped re-open the 1,500-seat theater last June after its COVID-19 closure. He played two concerts alone, just him and his guitar. "Usually, people go see me with my band," he says. "This is something that's special because I really interact with the audience." Last summer, someone shouted "Toothbrush," an album cut from ten years earlier. Brad joked, "Look, sir, if you wanna contact the front desk, they'll get you a toothbrush. But this is not the time or place to tell us what you forgot to pack." The man said, "No, I want you to sing it." Brad said, 'Well, I don't remember that. I don't even remember ever doing it." But after another "Please," Brad pulled the lyrics up on his phone and had someone hold it so he could read the words as he sang. Brad's Acoustic Storyteller experience, while lighthearted and off-the-cuff, contains his biggest hits and the stories behind them. He also tries out new songs no one has heard, many written during the pandemic.
Time magazine released its list of the 2022 Women of the Year, featuring Kacey Musgraves and eleven other influential women who represent "leaders working toward a more equal world." Taste of Country reports Kacey was chosen because of her honest and groundbreaking music, through which she created her own niche. "I decided I'd rather go down in flames for something I really believe in than present a watered-down version of myself that may make me more money," she says. The Time editors, in discussing how they made their choices, said, "The pandemic underscored the ways in which broken systems hurt women, from rising domestic violence to disproportionate job losses. . .. We chose to spotlight leaders who are working to create a better future for women everywhere. Our 2022 Women of the Year list features 12 individuals who have reached across communities, generations, and borders to fight for a more inclusive and equitable world."
Morgan Wade, whose debut album, Reckless, was named by Rolling Stone as 2021's best country album, found her band in an unusual way. CMT News reports she was a 19-year-old college student in Roanoke, Virginia, when she started searching for musicians on Craigslist. One was a "super nice" police officer, but he wanted to sing. She sorted through potential options and narrowed her list to five individuals who had expressed interest. "The first time I sang in front of people I went down into this basement with five random men I found on Craigslist to start a band," she says. She had wanted to sing since first grade, when she found a tape of Elvis Presley singing "Jailhouse Rock." When she was old enough to form her own band — she did. The article doesn't say if those musicians are still in her band.
What's Up Newp (WUP) of Newport, Rhode Island, reports on the concert given by Marty Stuart and The Fabulous Superlatives at the Greenwich Odeum last Saturday. Reading the review made me want to attend one of his concerts, which I've never had the opportunity to do. I wish I could have copied a photo of the classy looking group. "The trio behind him is one of the best in the music business, county or otherwise," the reviewer says. "Labelled a traditional country act, the band moved through multiple musical genres, from surf to bluegrass, gospel to rock and roll." That included bass player Chris Scruggs playing lead on "Wipe Out." The reviewer gives "further credit to the band" during the encore, when an audience member "pleaded for Stuart to play the Marty Robbins classic, 'Poor Side of Town.' Amazingly, without any prior notice or rehearsal, Stuart found the right key and sang a few verses with the band right behind him. It was a memorable moment, seeing the band pull it together off script. You don't see that much anymore." I had never heard of that song, and it isn't in my Marty Robbins discography, so I went to YouTube and found Marty Stuart doing "a Johnny Rivers cover" of the song. Which explains why I hadn't heard Marty Robbins sing it.
A GoFundMe account has been set up to help with medical expenses for Bobby Flores, who has been diagnosed with Stage IV Esophageal Cancer. His website introduces him as "a multi-instrumentalist, vocalist, arranger / producer / composer, and first call session musician. He's recorded and performed on stage with Ray Price, Willie Nelson, Johnny Bush, and Doug Sahm, to name a few. In 2002 he received a Grammy Award for his string and brass arrangements and violin performances on Freddy Fender's CD, La Musica de Baldemar Huerta." Bobby is a member of the Country Music Association of Texas Hall of Fame, Western Swing Society Hall of Fame, and Texas Western Swing Hall of Fame. Notes of encouragement can be sent to Bobby Flores, P.O. Box 34625, San Antonio TX 78265. 
LETTERS
Andy Williford, boyhood friend of Faron Young, says, "Happy Birthday to my best friend, may he rest in peace. Today is Feb. 25. I look back and remember our great times together even when he became a celeb. I talked to him many times on the phone and on his bus in hopes that he would get through his depression. It was sad but when I look back, I remember the good times and not his life as an entertainer. He had a big heart and was happiest when he was with his friends back in Shreveport. I cry when I look at his autographed picture on my desk, 'Andy, I am proud to be your friend.'"
Jackie Thomas writes from Sun City, Arizona, "So sorry to hear about C.W. McCall being in hospice. Here in Arizona, we will be sending up prayers for him. Also so pleased to see mention of Waylon Jennings MacArthur Park, my absolute favorite Waylon recording. His voice soared to the Heavens on that one. Thank you again for the wonderful newsletter, always enjoy the read."
Bobby Fischer reminisces from Nashville, "Pictures here. Me and Johnny Carver at WBAP radio on the air with the great Bill Mack in Dallas. We had a remake of the song 'Tie a Yellow Ribbon' out on Johnny, and we were visiting stations from Nashville to Texas and Oklahoma. I loved road promo all across the country. Bill wrote 'Blue' for Patsy Cline years before LeAnn Rimes cut it and had the hit. Also on the pictures, I was promoting product at WJQS Jackson, Tennessee, with the on-air deejays. The song 'I'm Getting Ready to be Lonely,' I wrote with Charles Quillen he had hits on Barbara Mandrell, Ronnie Milsap, Steve Wariner and our neighbor Sylvia. This one is a great artist, Donna Meade. She sang ours at RCA studio; she was on PolyGram Records. She was singing down at Buddy Killen's Stockyards Nightclub and about that time she met and married Jimmy Dean (the sausage king) and they had heavenly breakfasts from that day on. I got to show Jimmy a song one time, 'It sure looks good on you.' He passed and said, 'Do you think people would want to hear a sad song up-tempo like that?' I said maybe not. However, Roy Clark cut it and it was on Hee Haw, so I got to tap dance a little on that."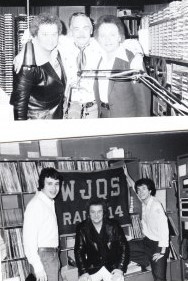 Carolyn Berry says, "Thanks for the wonderful newsletter. You do a great job. I love reading it each month."
Dominique 'Imperial' Anglares writes from France, "Thank you very much for that newsletter and for the words about Pig Robbins. An in-depth story about his work in the '50s will be soon published in an Australian magazine titled The Big Beat of the '50s. I am sorry to know 'bout Verna Gay's passing. Another witness and artist of the Louisiana Hayride has left the building."
VIDEO OF THE WEEK
CBS Weekend News just ran a great eight-minute interview of Dolly Parton and James Patterson talking about Run, Rose, Run. The book they cowrote has been released, along with Dolly's record album:
DOWNLOADABLE AUDIOBOOK – NAVY GREENSHIRT: A LEADER MADE, NOT BORN
One of my memoirs is now available as a downloadable audiobook. Navy Greenshirt: A Leader Made, Not Born covers eighteen years of my U.S. Navy career, from the time I became an aircraft maintenance officer until my promotion to captain. Robbin Sitten did a great job of narrating the audiobook. It is available on Amazon.com and Audible.com. If you are in the USA or UK and would like to download a complimentary copy, please email me for a promo code.