IN THE SPOTLIGHT – DALLAS WAYNE
When Dallas Wayne, 64, announced he had moved from Austin, Texas, to Bristol, Tennessee, I decided it was time for an update from the Willie's Roadhouse (SiriusXM) deejay. I'd last profiled him 18 months ago.
His new life in Tennessee is "full of cardboard boxes and antique store shopping," he tells me. "This is going to be a lovely place, but the next time I move, it will be in a casket. I can't imagine doing it again." He and his wife, Jo, now live in the town the U.S. Congress in 1998 declared to be The Birthplace of Country Music, in reference to the 1927 Bristol Sessions. "I love the history here," Dallas says. "The museum is wonderful, the people who are running it are great." He is talking about The Birthplace of Country Music Museum, an affiliate of the Smithsonian Institution.
"Bristol itself reminds me of Austin 30-40 years ago," Dallas says. "There's something happening here, and you see all the elements, and it's like okay, in three or four years this is going to explode." I suggested it's a great time to be planning for the 100th anniversary of when Ralph Peer recorded Pop Stoneman, the Carter Family, and Jimmie Rodgers in 1927.
I asked what will happen to the Haybale! band in Austin, with both him and Redd Volkaert gone. "It will go on," he says, once the Continental Club reopens. Haybale! played the last show in the Continental Club before the COVID-19 pandemic closed it in March. "We got word about halfway through the show that they were closing down," he recalls.
Dallas and Jo had been looking for several years for somewhere to move. "We knew someplace in the Blue Ridge is where we wanted to be," he says. Redd and his wife, Kathleen, had been looking in New Mexico. When the Waynes told the Volkaerts about the beautiful east Tennessee area, they went for a visit. Redd and Kathleen found the perfect place in Galax, Virginia, and moved there in December. "He beat me to it," Dallas says.
This move differed tremendously from the Waynes' last move, when they'd been burned out by the most destructive wildfire in Texas history. They lived in a wooded area near Bastrop. Two wildfires started when trees fell on power lines just before Labor Day 2011. Dallas and Jo thought the fire had passed them, but it hit the Colorado River and came back around, up the greenbelt behind their house. "We ran out the front when the back was on fire," Dallas says. "We got out of the house with two backpacks, two laptops, two cellphones, and a cat. And two guitars I had by the front door." The fire burned until October 10 and destroyed 1,691 homes.
Along with all other possessions lost in the fire were boxes and boxes of cassette demos. "I had all my demos from my very first record," Dallas explains. Garth Brooks and John Wesley Ryles were two of the demo singers. Dallas had carried the boxes from Chicago to Finland to California, and then to Texas, without unpacking them. "It took a house burning down for that stuff to all go away," he says.
One of his songs from twenty years ago is seeing new life. Jeannie Seely and Willie Nelson recently recorded "There's Not a Dry Eye in the House." Willie first heard the song on Dallas's album in 2008, and he commented he should cut it. "Jeannie had always liked that song, and she said it would be a good duet for her and Willie," Dallas says. "I'm really honored they chose that song to do."
Dallas's last two albums, Songs the Jukebox Taught Me, consisted of covers of great old country songs. His thirteen previous albums contained songs he wrote. "I'd like to do another original record before the next twelve months are out," he says. "I'm flirting with the idea of doing a more acoustic-based record, which I guess is part of being here in Bristol. Hopefully to showcase the lyric-writing." He plans to rerecord some of the music in his Warner/Chappell catalog and finish writing some of the songs in his work file. To learn more about his music, go to http://dallaswayne.com.
He will resume performing when the pandemic ends. Last year, he did 110 road dates, in addition to his daily SiriusXM radio show. His plans include building a professional studio upstairs in his house. He is currently broadcasting from his first-floor music room.
Dallas sees a future in venues such as Zoom, as a way for artists to promote upcoming live gigs. "People are getting used to filming these things and putting them out on the internet," he says. "I'd like to see it not stop, whenever things do get back to normal." He suggests artists could reach out to their fans once a month with a short Zoom or Facetime show.
During this period when there are no live shows, Dallas encourages fans to continue to support the older artists by buying their products. "You're keeping them healthy financially," he says. "You're helping out the writers, you're helping the singers lay the groundwork for when they can get back out and start touring." He doesn't want them to give up on performing or think they no longer have an audience. "I want them to have something to look forward to, so make sure that people support these artists they love so much." When touring does resume, "go out and see them when they come to your town," he says. "Make sure those shows are successful, so the promoters will bring in more of these artists. You've got to put your butts in the seat. If you can't do that physically, you can do it by making sure you buy the latest records."
"All of us are caretakers of this music," Dallas reminds us. "We have to make sure it stays healthy and make sure it doesn't go away."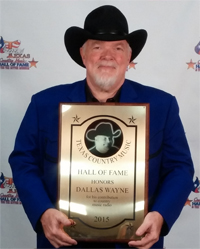 NEWS
Audra Elaine Pitney, the second daughter of Emily and Mo Pitney, was born July 14, weighing 7.5 pounds and 20 inches long. She was named after Mo's sister, Holly Audra Pitney. Mom and baby are happy and healthy, Mo tells Taste of Country, although "Emily's delivery was pretty difficult and long this go around due to the position of the baby." He says Emily also had a rough delivery with their first baby, when Evelyne Nadine arrived via emergency C-section due to a prolapsed umbilical cord.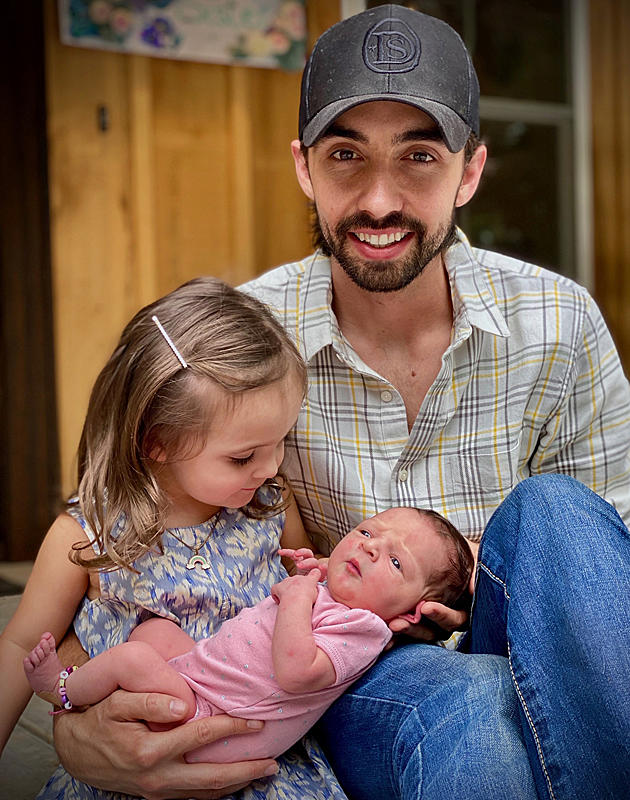 Eddie Stubbs, 58, is retiring this week from 650 WSM Radio and the Grand Ole Opry, after 25 years with Ryman Hospitality. I remember my disappointment when he left Washington, D.C, to move to Nashville in 1995. I'd listened to his country music program every Sunday afternoon on 88.5 WAMU. Never did I dream I would someday write country music biographies and have Eddie invite me to be a guest on his WSM radio show. Radio Insight reports he became evening host at WSM in July 1996 and is the longest running night host in the station's history. Eddie is a longtime reader of this newsletter. Best wishes, Eddie!
We've lost another country music entertainer to COVID-19. Kenny Dale, 68, died July 15 at a hospital in San Antonio, Texas, three days after being admitted with breathing complications. He lived in San Antonio. Kenneth Dale Eoff was born in Artesia, New Mexico, in 1951. His two biggest hits came in the late 1970s, "Bluest Heartache of the Year" and a cover version of Gene Pitney's "Only Love Can Break a Heart." He "was endearingly popular in New Zealand," reports Mark Walsey News in New Zealand.
"Bluest Heartache of the Year," his debut single, spent 17 weeks on the New Zealand charts. Kenny made a 13-stop tour there in 2005.
Drummer Jamie Oldaker, 68, a member of country-rock band The Tractors, died July 16 at home in Tulsa, Oklahoma, surrounded by family. Tulsa World reports he had been battling cancer for several years. Over the years, he worked with Eric Clapton, Leon Russell, Peter Frampton, Ace Frehley, Bob Seger, Stephen Stills, and the Bee Gees. He entered fellow Oklahoman Ronnie Dunn in the Marlboro Country Talent Search, which Ronnie won. In 1994, The Tractors signed with Arista and placed nine songs on the country charts, beginning with "Baby Likes to Rock It." Jamie was inducted into the Oklahoma Music Hall of Fame in 2010.
"Three wooden crosses from Mary and Randy Travis. We really appreciate it. — TeamC" was posted with a photo on the Charlie Daniels Twitter account. Randy, Charlie, and Fred Foster, all from North Carolina, were inducted together into the Country Music Hall of Fame in 2016.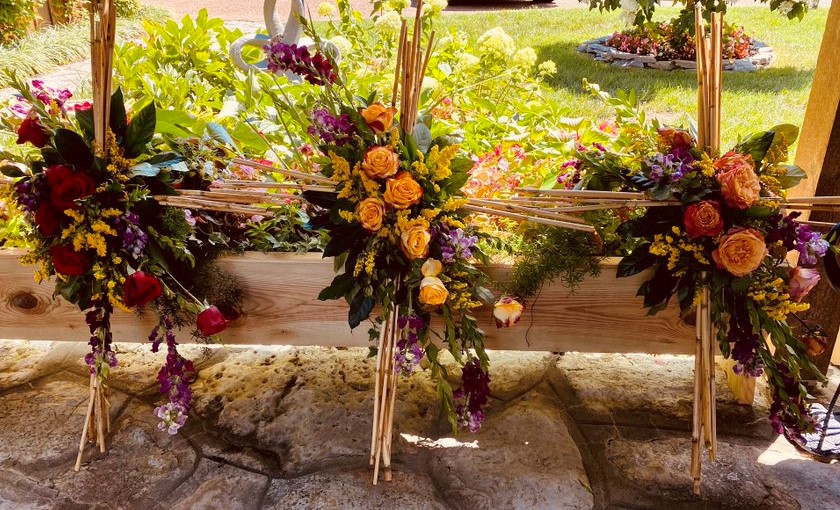 Hal Smathers of the Stoney Mountain Cloggers died July 18. I haven't found an obituary. He was the eldest son of the late Margaret and Ben Smathers. He was "a husband, a father, grandfather, great-grandfather, a brother, an uncle & a friend to many," says Pam Harp Sell.
"Live from the Drive-In" was a recent three-night drive-in concert series put together by Live Nation, with Brad Paisley as headliner. Nash Country Daily lists the venues as St. Louis on July 10, Nashville on July 11, and Indianapolis on July 12. The Nashville show was live-streamed on Facebook, and viewers donated $26,000 to The Store, Brad's year-round free grocery store that allows people to shop for basic needs. "This is how you do music in 2020, folks," Brad told his audience in the parking lot of Nashville's Nissan Stadium. The Tennessean reports it was the first major concert in Nashville in four months. Cars were parked in a checkerboard pattern, with barricades marking personal tailgating zones. Attendees brought their own food and drink; Nashville's mask mandate required them to wear masks when outside their vehicles. A stadium-grade stage sat on one end of the lot, with lights, a massive video screen, and a sound system that blasted across the parking lot.
Okay, so this isn't about country music, but it concerns my preferred alcohol. Country Music Nation announces, "The famous Scottish whiskey Johnnie Walker from Kilmarnock in East Ayrshire, United Kingdom that is owned by the company Diageo just announced they will be releasing new paper bottles of whiskey." Currently, all Johnnie Walker bottles are made from solid glass or plastic. Starting next spring, the company will implement a new way of packaging alcohol. Fully recyclable paper bottles will be made from wood pulp. The pulp will be pressurized in molds to form the bottles, placed in a microwave oven to seal the shape, and then sprayed with an internal coating. Diageo says their bottles will use zero plastic; this will contribute to cutting down on worldwide pollution.
Nash Country Daily reports Darius Rucker and wife Beth, who married in December 2000, are splitting up. They have two children, Daniella, 19, and Jack, 15. Darius posted on Instagram on July 11: "Beth and I would like to share that after much reflection we have made the decision to consciously uncouple. We remain close friends and parenting partners and continue to be each other's biggest cheerleaders. Our priority will always be our beautiful family."
The fight over the name Lady A continues. "Anita White has spent decades singing the blues as Lady A," Rolling Stone reports. "Weeks after Grammy-winning country trio Lady Antebellum changed their name to Lady A to acknowledge the former name's racial connotation, she worries she's being erased." She says she shouldn't have to fight to keep a name she's used for more for 20 years. Her revised settlement offer, in response to the band's lawsuit, includes a demand for $10 million, to be split between herself and a Seattle charity. The country trio wants a declaration that both parties can continue to coexist. White tells Rolling Stone, "I've worked too long and too hard to just walk away and say I'll share the name with them. They want to appropriate something I used for decades. Just because I don't have 40 million fans or $40 million, that should not matter."
Because this year's CMA Fest, originally known as Fan Fair, was cancelled in its 49th year, the Country Music Association teamed up with ABC to air three hours of highlights from past festivals. Luke Bryan hosted the CMA Best of Fest special on July 13. Sounds Like Nashville reports Luke and Darius Rucker sang to a totally empty Nissan Stadium — the Nashville venue usually full during CMA Fest. CMA Best of Fest featured a roundup of performances from the Nissan Stadium main stage over the last 17 years. CMA Fest will return June 10-13, 2021, and its 50th anniversary will be delayed until 2022.
Billboard's Top Country Albums chart originated in January 1964. Willie Nelson, 87, is now the first artist with top 10s in every decade, for a total of 53 albums. First Rose of Spring reached No. 5 on July 18. Country Favorites-Willie Nelson Style had been No. 9 in 1966.
According to a July 23 post on the Modern Music Masters Website, steel guitarist Paul Franklin and son Darrell are self-quarantined at home, after contracting COVID-19, probably from contact with Paul's parents, who are hospitalized for dehydration.
Three longtime friends will host the Grand Ole Opry this Saturday night, August 1, at 7 p.m.: Rodney Crowell, Vince Gill, and Emmylou Harris. I plan to be watching that show.
The younger son of the late Country Music Hall of Famer Jim Denny has died. MusicRow reports John E. Denny, 79, died July 21, after years of dealing with diabetes and Alzheimer's Disease. He and brother Bill assumed control of Cedarwood Music when Jim died in 1963. Jim, who managed the Opry, had founded Cedarwood with Webb Pierce in 1953. The brothers sold the company to Mel Tillis in 1983. John was one of the founders of the Reunion of Professional Entertainers. He received the R.O.P.E. Lifetime Achievement award in 2004.
When a group of healthcare nurses in a COVID-19 unit logged onto a video chat, they thought it was a routine work call. Until Tim McGraw appeared on the screen. "I know some of you guys are off and wondering why you're having to call in on a day off," he said. "Hopefully, I'm not messing it up too much." Tim, 53, had joined with Spotify for an installment of the streaming series The Drop In. In a clip shown on the Today show, Tim says, "I just wanted to say thank you and what great work you are doing." He then sang "I Called Mama," the lead single from his upcoming album, Here on Earth, to be released next month. The nurses joked that he has a good chance of making it someday if he keeps singing that well.
In the early 1980s, Charlie Monk, Milton Brown, and Keith Stegall wrote a song called "Fool's Love Affair." Charlie was cleaning his office in 2019, The Country Daily reports, when he found an old demo tape of the song. It will be released on July 29, as the newest Randy Travis single, marking the 35th anniversary of the release of Randy's debut single, "On the Other Hand."
LETTERS
Jeannie Seely writes from Nashville, "Thank you for the nice plug on the new release. I love this Dallas Wayne song, and to have Willie sing it with me was icing on the cake. And then he added 'Trigger' and that was definitely the cherry on top. I sure hope you…and everybody… likes it as much as we do. Great newsletter as always."
Jeff Chandler in Little Rock says, "Just read the newsletter. What a super job you did. Many thanks for all your support and help. Can't wait to share on my Facebook page. I love your book as well."
Tracy Pitcox writes from Texas, "Thank you for remembering Robbie Wittkowski. Robbie loved and lived Country Music his entire life. I first met him when he was working for Bill Anderson and hosting his Country Music Yard Sales in his backyard during Fan Fair. He loved selling things and would get excited just making five dollars. He loved the art of the deal. I was certainly honored to call him a friend."
Mary Mitchell says, "Another informative letter. I was so saddened by the death of Robbie W. I knew him very well. However, I have no idea what caused his death. Maybe God needed a Road Manager. I saw Carl Smith and the writer of TRADEMARK. I love that song too. Carl was a great singer."
Eric Calhoun from Los Angeles says, "Thank you for letting us know about the death of Charlie Daniels. I was at Countryfest in Lakeside, California, with KSON, in 2014. Natalie Stovall, the lady who does 'Baby, Come On,' did a cover of 'The Devil Went Down to Georgia' at the concert. At that time, if you paid $20, you could see a full day's worth of up-and-coming country artists. KSON moved the concerts out of the Lakeside Rodeo Grounds, and has moved them to Delmar, San Diego, and Oceanside."
Justin (Jud) McCarthy in Boca Raton, Florida, writes, "Thanks once again for your timely country music newsletters. Just a note to let you know I sent you an autographed copy of my book that recently went live on Amazon. The book is chronologically written about my experiences at IBM starting in 1956. Each chapter ends listing my favorite country music songs of the era. Thanks and regards from a long and avid reader of your newsletters."
Diane: Thanks for sending me Light Blue. I look forward to reading it.
Donna Mae Rokita says, "I would like to subscribe to your country newsletter."
Gene Burkhart says, "Such a great gift to read about the folks who were connected to country music. I also was very lucky and got to enjoy appearing at a drive-in show in Creston, Ohio. I was around 18 or so. Please keep up the great newsletter."
Dominique Anglares writes from France, "Nice to read your words. Yes, I knew Joe and Frankie Penny. Keep bringing us the news, good or bad. We enjoy those still with us and remember those gone. Take care and keep taking care of the business."
Pete Turner writes from Australia, "As usual, your Newsletter is like a shot of adrenalin. Your prior Newsletter spoke about Asleep at the Wheel. The Co-Founder with Ray was Lucky Oceans as you mentioned & he returned to Australia when he left The Wheel. He has since produced a project here which was a CD of Hank Williams songs sung by various Australian artists with Lucky on steel guitar, called PURPLE SKY. It is as scarce as Hens Teeth but I would be so pleased to send you a copy. P.S. Keep clear of that Virus & wear a Mask (but not in the Bank)."
Jean Seither in Chicago says, "I really appreciate it that the Marty Robbins book is on BARD, a web site for the blind. Now I would love it if you would write a book about Charley Pride. I just read an earlier autobiography by him. It was written several years ago and needs to be updated. Charley has been my favorite country singer ever since he began his career and I'd love to read even more about him. There's no one better."
Blake Brannon says, "I'm impressed with your hard work and the people you talk to. Thanks for the hard work. I enjoy the reading. Will you add my bride of 43 years, Cherri Brannon?"
IN THEIR OWN WORDS
Glenn Snoddy was the Nashville studio engineer who once hired Kris Kristofferson as a janitor. In 1960, he became chief engineer for producer Owen Bradley at the Quonset Hut. He was one of the engineers who designed fuzz tone pedals. He died of congestive heart failure, at age 96, at his home in Murfreesboro, Tennessee, in 2018. I called him in 2007 to talk about recording with Marty Robbins.
I was not around Marty a whole lot. The times I was around him, recording sessions, I think one time for some reason I went with him out to his home. I don't remember the occasion, but Marty was pretty busy at that time, and it probably had something to do with his going on the road.
My impression of Marty at that time was that he was certainly almost bashful. I think it showed on his personal appearances. He was good at singing and making some light banter, but it came difficult for him.
He was a funny guy, though. He had a really good sense of humor. He was always punctual for his recording sessions, and he got along famously with the musicians. He would joke around, and he would tell stories about things that happened to him on the road. I wish I could remember them, but I don't. He had a great relationship with all the musicians and the engineers, producers. I don't have anything that you would point to in his life that would be a negative, as far as I'm concerned, because the times I was around him and with him were just highlights of my life.
Many times I was backup engineer and maintenance engineer. I worked for Owen Bradley, and it was my duty to be there when sessions were going on. If it required maintenance or being the second engineer on duty, or sometimes mixing the session. I don't think I ever did mix one for Marty.
I'm 85 years old. I'm one of the last engineers of that era. Most of the other guys have passed on. That's too bad, but that's the way it is. Don Law is gone, his producer. Frank Jones is gone, his second producer. You don't have a lot to draw on, I'm afraid.
CD SONG OF THE WEEK
One of my favorite CDs is The Band Keeps Playing On, by The Back Behind the Barn Boys from Gatzke, Minnesota. Band leader Terry Ruud gave me a copy of the 1990 CD a few years ago, about the time I met the group. It's one of those CDs that grows on you, as you listen to it over and over. I don't get tired of hearing Perry Steilow sing the title track, or Gene Lunsetter on "My Heart Skips a Beat," or Terry on the song he wrote about his parents, "I'll Still Be Waltzing With You." Although no longer an active band, The Barn Boys still get together for an occasional reunion show. And the band keeps playing on.
BOOK REVIEW
Ralph Emery has written four books about his career, two autobiographies with Tom Carter and two memoirs with Patsi Bale Cox. First was Memories: The Autobiography of Ralph Emery in 1991, while Ralph was hosting the Nashville Now TV show. It stayed on the New York Times bestseller list for 25 weeks. Since Ralph had interviewed just about everybody in the country music business, there were a lot of stories to tell. The sequel, More Memories, was published in 1993. I didn't run across either of those books until more than a decade later. My parents gave me The View From Nashville, cowritten with Patsi Bale Cox, for Christmas in 1998. Ralph was the first person I visited in Nashville, when I was starting my Faron Young research and knew nothing about writing a biography. He offered encouragement to a beginner, and he later provided me with many hours of his taped interviews with Faron Young and Marty Robbins. Neither of my biographies would have been complete without Ralph's assistance. I was thrilled when he sent me an autographed copy of his newly released 50 Years Down a Country Road in early 2001 and said he hoped "this book helps your project." The stories were grouped by decade, the '50s through the '90s. I'm sure he still has enough information for a fifth book. He is also a longtime reader of my newsletter. I hope you're doing well, Ralph!