Publication Update: I received the copyedited manuscript of Twentieth Century Drifter: The Life of Marty Robbins on Monday. Finally! I'll be reviewing it over the next few weeks. The copy editor's note said, "What a pleasure it was to have copyedited this manuscript! Your descriptions of Marty Robbins's life and the people in it helped me picture him and them very clearly."
MARTY ROBBINS 60 YEARS AGO — FIRST OPRY PERFORMANCE
On June 30, 1951, Red Foley introduced Marty Robbins on the Prince Albert segment of the Grand Ole Opry by saying, "Tonight's guest is coming to us for the first time, and we're sure mighty proud to have him here. He's a native of Glendale, Arizona, and does all his fine radio and television work out there in Phoenix." After calling Marty onto the stage, he commented, "Marty, a nice looking bunch of people here, huh?" Marty responded, "There's a lot of them." Marty sang "Ain't You Ashamed?" and "Good Night Cincinnati, Good Mornin' Tennessee." It would be another year and a half before he moved to Nashville and became an Opry member.
FARON YOUNG 59 YEARS AGO — FIRST OPRY PERFORMANCE
On June 14, 1952, Faron Young sang "Tattletale Tears" and "Have I Waited Too Long" for his Opry debut, in the presence of Hank Williams and Ernest Tubb. Upon finishing the songs, he "ran–literally ran–off the stage," as he described the experience. Tubb grabbed him and said, "Son, when you're getting that kind of applause, you're supposed to bow. Keep bowing. Milk the audience." Faron later explained, "I was from a dairy farm. I knew how to milk a cow, but not an audience." He had come from Shreveport to Nashville to stay. He worked at WSM Radio and sang on the Opry until drafted into the Army in November.
LETTERS
David Corne writes from the U.K., "Thanks for the latest bulletin. Nice to see mention of Joe Babcock who wrote 21 songs recorded by Marty. Joe had two songs named for albums of Marty's namely 'Turn The Lights Down Low' and 'Just A Little Sentimental.' I doubt if there are many songwriters who can claim such a feat with an artist of Marty's stature who was of course one of the greatest songwriters during his long career. It seemed Marty could write any kind of song. The quality of some of these songs like 'Lonely Too Long', 'Tomorrow, Tomorrow', 'Las Vegas Nevada', 'I've Got A Woman's Love', 'Ever Since My Baby Went Away', 'Not So Long Ago', 'The City', 'She was Young And She Was Pretty', 'Seventeen Years', 'Walking Piece Of Heaven', 'Is There Any Chance', 'Jimmy And Me', 'Cigarettes And Coffee Blues', 'Too Far Gone', 'I Told The Brook', 'Camelia', 'Too Far' and many, many more show the sheer quality of his songwriting skill. I would like to add a few words in praise of Don Edwards who has recorded a whole album of Marty's songs called Kin To The Wind and on his latest has included a controversial song of Marty's called 'My Own Native Land.' Bernie Taupin who wrote or co-wrote many of Elton John's early work is on record as saying what a great inspiration Marty Robbins was to him, especially after hearing 'El Paso' which showed him how to put a story in song."
Ron Reagan asks, "Are you familiar with a singer from the 60s named Johnny Sea? I was playing a multiple artist LP from the 60s on the Design Label (same thing as Pickwick I believe) and it had a song by him on there.  He sounds a lot like Johnny Cash including the guitar sound of Johnny Cash. I tried Googling info on him and didn't come up with anything. Any help/ideas would be appreciated."
Response: Johnny Seay was in Leroy Van Dyke's movie, What Am I Bid?, and I interviewed him for Marty's biography. He reads this newsletter.
And, coincidentally, Johnny Seay sends this correction to my listing of Faron's movies: You forgot What Am I Bid? Leroy Van Dyke, Faron Young, Tex Ritter, Al Hert and Johnny Sea. Can't wait for the Marty Robbins book."
John Paron says, "What a wonderful link you are providing to people throughout the world. And what a wonderful way to pre-sell a book."
Jean Earle writes from the U.K., "Thank you for the latest newsletter. I  was very sad to read of the death of Phyllis Powell. Many many years ago when we made our first visit to Nashville, our ambition was to meet Faron and to see Music City. Living in England that was a BIG ambition! In 1975 we finally found ourselves in Nashville and the thrill of my life was to visit Faron's office in Pine Street.  Faron was there and greeted us warmly. What a thrill; I was speechless. We met Phyllis Powell and I remember how very kind she was to us. Later we exchanged several letters and I believe I still have them in my Faron Young File. Please give our sympathies to her husband….a lovely lady."
Don Powell says, "Thank you so much for the mention of Phyllis.  Ray Emmett sent me an e-mail the other day also. She is really missed around our house. Keep up the good work. I'm sure doing these books is a dream come true for you,,,, and the world needs them!!!!!."
Another note from Jean Earle: "We had a lovely surprise yesterday. Hilda Young very kindly sent us a copy of a CD by Robyn Young. LIKE FATHER LIKE SON a Remembrance. Robyn sings all songs made famous by Faron. I found it very emotional…I could keep hearing Faron's voice!! It is on Reflect Records from Studio 215 Nashville Tn. Robyn writes the note and explains his reason for the songs being chosen. Two nice, old pictures of Faron with a very young son."
Carol Blair (email: hummingbirdchick@aol.com) requests, "As for that list of Faron's movies….do you or anyone else know how to obtain them? I have a few of them but, would be nice to complete the set….Interested in some of my personal pictures of Faron, let me know….would be glad to share. When I was involved in Faron's fan club (Blair was not my last name then), Faron insisted I was made Honorary Vice President and my name was in the newsletters."
SIDEMAN SIDEBAR
I met Jim Glaser in April 2007 when Joe Babcock arranged for us to have lunch together. I'd always enjoyed the music of Tompall and the Glaser Brothers, and I knew they were from nearby Nebraska. So it was a thrill to meet someone so famous. Jim consented to a telephone interview for my Marty Robbins biography, and we've exchanged numerous emails since then. Although I understand he still performs, I've never had the pleasure of seeing his show. He lives in Nashville, as do Tompall and Chuck.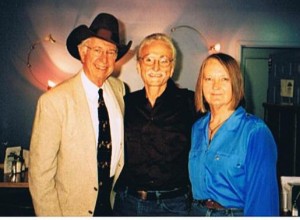 Joe Babcock, Jim Glaser, and Diane Diekman in Nashville – 2007