MARTY ROBBINS 35 YEARS AGO AT THE INDY 500
On May 30, 1976, Marty Robbins drove the pace car for the Indianapolis 500. Former winners usually filled that role, although actor James Garner had driven the previous year. "When it was first suggested to me that I was being considered, I didn't think I had much of a chance of being selected," Marty told an interviewer. "It's something that is really big to do." He spent a week in Indianapolis, attending various functions but performing no concerts, and he rode in the festival parade on Saturday. Marty had never before appeared in front of a crowd as large as 400,000 people. At the signal, "Gentlemen, start your engines," he climbed into the 1976 Buick Century Custom coupe. With a former Indy winner in the passenger seat, Marty led 33 drivers on the parade lap. The speed of 40 miles an hour allowed engines to warm up while drivers took one more look at the track. Then came the pace lap. Marty steadily increased speed while racers behind him stayed three abreast and evenly aligned. At the end of this second lap, Marty pulled off. "I was probably going 100 miles per hour when I left the track to pull into the pit apron," he said. "It was a pretty big thrill." He received accolades for getting the race off to a safe and smooth start. It began better than it ended; the race was called for rain at the halfway point.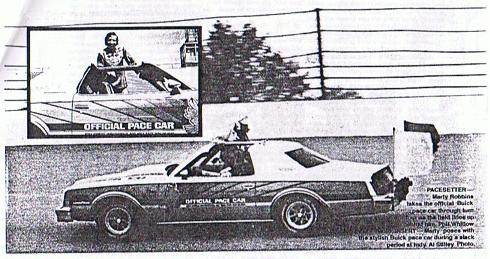 LETTERS
Don Powell sends this sad news, "I wanted to let you know that my wife, K. Phyllis Powell, passed away on April 13th. She had Parkinson's disease and was in a care center for over a year. I'm sure you recall she was Faron's secretary for several years. Since she made sure the band members were paid, most of the musicians will remember her. She used to tell me stories about artists that would come in to visit Faron, Roger Miller, George Jones, all his friends and she became friends with all of them. She was there during the time the Faron Young building was being built. She had to handle all the contractors, renting the offices, paying all the bills, even all his personal bills. She is greatly missed!!!!"
Response: Don, I'm so sorry to hear about Phyllis's death. Yes, I remember our phone interview and the stories she told about the new building.
Dorothy McGuffin wants to know what eleven movies Faron was in.
Response:  My list comes to 9 movies, with 12 names. Faron starred in the first four and was himself as country music star in the others: Hidden Guns (originally called Hired Guns), Daniel Boone Trail Blazer, Raiders of Old California (first called Stampede and then Six Guns and a Gavel), Country Music Holiday, Second Fiddle to a Steel Guitar, Road To Nashville, That's Country, What Am I Bid, and Nashville Rebel.
Andy Williford writes, "During one of our high school reunions, which Faron attended, they made a video in which the opening was a picture of the school, members of the class standing on the front steps, and various other memorable pictures of football games parties and of course the prom.  At the beginning of the tape and throughout, they played the duet that Faron and Willie Nelson made together, 'Funny how time slips away.'  You talk about a tear jerker.  Yes I did cry."
A reader named Audrey asks, "In all your research do you know if Marty Robbins ever sang the song 'Tiny Bubbles'? l could quit looking if l  knew that he never did. I am a fan and am trying to get a list of all his songs for my collection."
Response: He knew a thousand songs, and he may have sung it at some time on his shows. It isn't listed as anything he ever recorded.
Richard Spooner says, "Just a short mail to say thanks for putting me back in touch with Ray Emmett. We met up two weeks ago in Nashville when I was visiting. What a nice guy — so many Faron stories. I think I could write a book!!! Not as good as yours though, I read it from time to time just to remember the guy."
Jim Boatright writes from Mesquite, Nevada, "Faron produced an album for me in 1973 in his Hall of Fame Studio and Richard Bass played lead guitar. After the two day session, Faron convinced me to join him in a case of Country Club malt liquor. He then drove me back to my hotel in his blue Lincoln Mk4.  Corners didn't mean a thing to Faron. He just ran over them. I was sure glad to get there alive. I sure miss him, he was a great guy and a super entertainer."
Wanda Anderson says, "Well, the spring of 2012 is not so far away be sure to let us know how we can prepay and get the first book as they roll out.  Am anxious for this to be released. I hope you can work a day at Country Music Hall of Fame with showing of the Spotlight shows they are marketing now. I live in Nashville and would be happy to help you in some way."
SIDEMAN SIDEBAR
Joe Babcock left Nebraska and was trying to survive as a musician in Los Angeles in 1958 when Tompall Glaser called and asked if he wanted to work for Marty Robbins as part of the Glaser trio. Joe stayed with Marty for six years, as backup singer and piano player. "We played a lot of dances out in Texas, so I started playing piano on the dances," Joe recalls. "It was sort of a learn-as-you-go-type thing. I got to where I could play a few things, and got a little better at it. So that's how I became a piano player." Joe and his family still perform in Nashville. Check them out at http://thebabcocks.com/. Joe helped me arrange the Marty Robbins band reunion in July 2008, and he introduced me to Jim Glaser when we all went to lunch together.